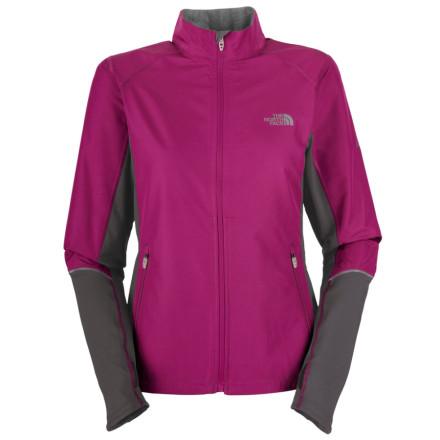 You're firing all cylinders when you're flying down the trail in The North Face Women's Swift Jacket. A lightweight layer of polyester faille protects you from wind and light precipitation, while strategically-placed stretch knit panels let you move freely and keep you from overheating. Thumb loops on the cuffs and a drop tail provide a little extra coverage on nippy days.
Some things I like about this jacket:
-The long sleeves with the thumb hole, for days when it isn't too cold the sleeves takes the place of gloves. And if it is really cold, the sleeves block the wind on my knuckles, hands and wrists. (Yes the sleeves are long. I am 5'8" and when I grab a post run meal in this jacket, I have to fold the sleeves up.)
-It doesn't swish when I run!
-It blocks the wind while still venting sweat very well.
-It blocks a light rain completely (haven't tested in a heavy rain- darn drought).
-It fits true to the sizing chart.
-It is cute enough that I find myself grabbing it even when I am not running. (I like that it is fitted through the waist.)
Is the swift jacket warm enough to wear...
Is the swift jacket warm enough to wear in the winter? I'm a teen and love the looks of this jacket but want it to be warm enough
Depending on how cold your winter is. It isn't lined or insulated, so it isn't super warm by itself. I live in Texas, so the winter's aren't that cold. But I found this to be perfect on a very windy 35 degree day with a light long sleeve layer underneath.
I loved the look and feel of this jacket, but I had to return it - the sleeves were ridiculously long! I am 5'2 and about 125 lbs., so I ordered the small. It fit perfect everywhere except the arms, which were probably 3 - 4 inches too long. I still love The North Face clothes, but this jacket was a disappointment.
I should order size L, even I wear size M all the time. Do know know why this one it is too tie.