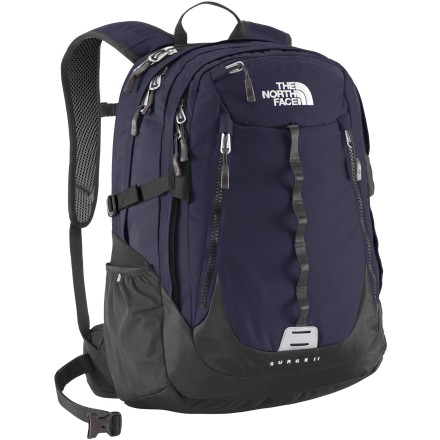 Whether you're cruising across campus, commuting to work, or pedaling to the coffee shop, keep your electronics, books, and gear safely stowed in The North Face Surge II Laptop Backpack. A padded 17-inch laptop compartment, neoprene tablet sleeve, and tricot-lined stash pocket provide safe scratch-free storage for electronics.

Air-mesh back panel with Spine Channel and a PE sheet provides comfort and support, and is endorsed by the American Chiropractic Association
FlexVent molded straps provide a comfortable carry
Stowable hip-belt and a sternum strap keep the load centered on your back
Separate padded compartment safely stows a 17-inch laptop
Additional padding at the bottom of the bag protects your computer
Neoprene tablet sleeve keeps your reader safe and secure
Large main compartment provides ample space for books, jackets, and a lunch
Tricot-lined stash pocket provides scratch-free storage for a phone or media device
Side pocket is designed to provide quick access to a power cord
Integrated light loop makes it easy to attach a reflective light for improved night visibility
perfect for the outdoor classroom
Familiarity:

I've put it through the wringer
This is designed ideally for bouncing around campus, however I found it on sale before a trip to Arches and it has become my summit pack. It may not be distinctly hydration compatible but the laptop retention sleeve fits a 3L Osprey bladder. It's compartmentalized design while again intended for text books and note books proves perfect for keeping all the supplies you need for an afternoon dash up a peak neat and orderly. The bottle sleeves found on either side will securely hold a 24 oz Klean Kanteen or really any bottle you'd put in a bike cage. Perhaps not being designed for high activity it's only fault is a little bit of sweat retention as it forms to your back. That being said its not enough of an issue to make me rethink my use of the pack. The back plate does include mesh padding to either side of the lumbar region, and the surface itself is actually channeled for breath-ability. The packs slim profile (aided by easy to operate retention straps) keeps the packs weight close to your body and hardly affects your center of gravity, perfect for steep grades.
Convenience and durability
Familiarity:

I've put it through the wringer
My fave backpack of all time. Perfect spot for an iPad and iPhone. Plenty of pockets and space in every compartment. Love the padded back built specially for a man. Can't beat a north face backpack in terms of durability and convenience. Have used this for school, travel, and a day pack in the Sangre de Cristo mountains. Would buy again.
upgrade
Familiarity:

I've used it several times
It was time to ditch my messenger bag. I wanted something that would hold both my 17" laptop and tablet in their own compartments. This does it. Perfect to stash other gear in too. Feels good on my back so I can lug this around the airport, office, town, wherever. Good padding in the shoulders and back.
Side pocket holds my Hyrdo Flask with decent support. Probably wouldn't bike with it in there though.. That's a bummer.
Great Value
Familiarity:

I've put it through the wringer
Received my Surge II on time. Works great for my everyday use as a college student. I have been using The North Face for over a decade but fell out of touch with their product since leaving New England and going to school in Florida. Reinvested in some North Face gear after getting disappointed with other outdoor gear during Florida's rainy seasons. The Surge II and Venture jacket. The Surge II's pockets fit my iPad and laptops perfectly.
My one fault with the product is one of the front zipper tracks lost 1 individual tooth because they are constructed out of plastic. All the zipper tracks are made of plastic but the front most 2 tracks, on the left and right, have larger teeth than the rest of the pack and is probably why that one teeth got chipped.
Great as a carry-on or daypack
Familiarity:

I've put it through the wringer
This pack is very versatile, and works great as a carry-on for business trips or as a daypack on hikes. It's very comfortable, incredibly tough, and offers a tremendous amount of storage.
What are the laptop compartment dimensions?
Best Answer
Laptop Compartment Dimensions - 16.25" x 10.5" x 2"
The ultimate backpack
Familiarity:

I've put it through the wringer
I used this backpack throughout high school and college. Awesome pack with plenty of space for books. The laptop compartment provides all the cushioning your laptop needs. The only minor downfalls to the pack is the zippers are a little flimsy. Also, it would be nice if the elastic water bottle pockets were large enough to carry a Nalgene and/or thicker sized bottles.
The North Face Surge II Video
Happy "Bag Junkie"
Familiarity:

I've used it once or twice and have initial impressions
I'm always looking for a better bag to travel with, and though I have yet to actually travel with this one, I've been "training" with all my gear packed in it for a trip up Kilimanjaro (in just 2 weeks, Yay!) With everything I'll need for a 2 week hike and safari packed in, it's very comfortable and breathable. Folks, I think we have a winner: The Last Bag I'll Ever Need!
Great backpack
Familiarity:

I've used it several times
I'm a traveling musician and this backpack is perfect for my needs. It's lightweight, easy to carry and has lots of useful pockets that are very easy to get to.
Perfect for My Needs
Familiarity:

I've used it several times
I travel a great deal and carry several computers and accessories. In specific, I travel with two I-Pads (in protective pouches), a Dell E6320 laptop (in a pouch), two Anker portable external battery charge backups, a Verizon jetpak (MIFI), assorted line and charging cables along with all of the components of a typical briefcase - pens, business cards, two 8.5 x 11 notepads, etc. This backpack carries all of this in individual compartments and isn't breathing hard. I might be tempted to say I could double this without fear of running out of space. At the same time, while this is my mobile office, the straps and clips used to enable the pack to expand and contract, hold these components firmly in place with no outward appearance that I have a bulky load. The pack itself is light so t adds little to the carry weight and the adjustability of the straps allows me to carry the bag in any position I find comfortable. I couldn't be happier with this decision. Forgive all of the detail, but one problem I had in deciding what to buy is that I couldn't really tell from dimensions how that would translate into actual experience. That's why I threw in some detail so if you know the products you will know the results.
Tons of Space
Familiarity:

I've put it through the wringer
This bag fits great on your back, even you load it down it still feels comfortable. I go to college and use it as my everyday backpack. I love the amount of pockets and space. I can fit my 17" laptop in the laptop sleep and it still have room for my textbooks. The laptop pocket is well protected and doesn't forfeit any space. Im glad I ripped my other backpack, because this is a GREAT improvement
Awesome general backpack
Gender:

Male

Familiarity:

I've put it through the wringer
I've been traveling for work, flying twice a week. I keep a backpack and a carry-on with me, and the backpack I take (walk) from hotel to office daily.



This is a very comfortable pack - even loaded up with a 15" MBP, tablets, chargers and other gizmos, it's not rough on my shoulders. It's got lots of different compartments, which is awesome for organization. The laptop compartment is adequately padded, there are places for pens, valuables, etc. It's big enough to hold some clothes in addition to my gadgetry, and I sometimes stuff my BD Access Hybrid in there.



At the end of the day it's still just a backpack and it's unlikely to completely blow your mind or anything, but as a dude who's lived out of his backpack, this is the best one I've ever had. If I ever wear it out (going on 2 years now, and it's still in perfect shape, with LOADS of use) I'll definitely get another of the same.



For what it's worth, I paid $125 (totally worth it), and I got it in plain black, which I don't see at the time of writing this review, but which looks nice.
Best BackPack to date
Familiarity:

I've put it through the wringer
Ive never had a North Face backpack and i can say ill probably never buy a different one. I love the laptop compartment on this one, the colors are sweet (prussian blue / spring green) and i can fit a ton of stuff in it. Great school pack, lightweight, and comfortable if i have to carry it around all day. Also, its waterproof which is sweet.
Super cool bag !!
Familiarity:

I've put it through the wringer
Eversince I got this bag I started thinking how I did before.

I have to carry my laptop all over, plus a bunch of other stuff. There's plenty of room for everything I need here!



I used it every single day now to go to work and carry all the cables, cases, pens, whatever I need.



The quality is awersome, it looks and feel it will last forever.



Also pretty useful for traveling, as a carry on bag
Great Bag
Familiarity:

I've used it once or twice and have initial impressions
We got this as a gift for my father-in-law. He needed a bag he could use if he wanted to go on a short hike or work travel. It has great pockets (laptop pocket is great for his work) and has great utility type features. (loops on pocket to clip gear to, interior pockets etc etc etc) He was very excited to get this bag. It was exactally what he wanted: Stirdy, large, laptop pocket, great for hiking with a waterbottle pocket, and roomey enough to cary all his gear. Very happy with the bag!
everyday use bag
Familiarity:

I've put it through the wringer
this surge II bag by the north face is phenomenal. it hold my macbook pro 13.3 inches, my gym sneakers, books for school and also some lunch! i couldn't be more happier with this backpack!
Great backpack at this price range
Familiarity:

I've put it through the wringer
Very durable material and seems to keep it's original shape/form after a month of school, road biking, and public transportation. It still looks new. It carry's weight well, much better than my North Face Big Shot II did. The pockets are great, this pack has a place for everything.
LOVE
Familiarity:

I gave it as a gift but have feedback to share
Let me start by saying that on any other website I would have paid $125 for this backpack. But I just paid $88. That in itself has made the bag WONDERFUL. THANK YOU BACK COUNTRY
This bag is exactly what I needed. It is an everyday bag for me. I have been traveling a lot over the last few months and this bag has saved me hundreds in "baggage fees". I can fit everything I need in this bag and my carry on. I liked it so much, that I purchased the woman's Surge backpack for my wife. So far this bag has met and exceeded all of my expectations. I love that there is a padded laptop pocket, with a tablet sleeve!