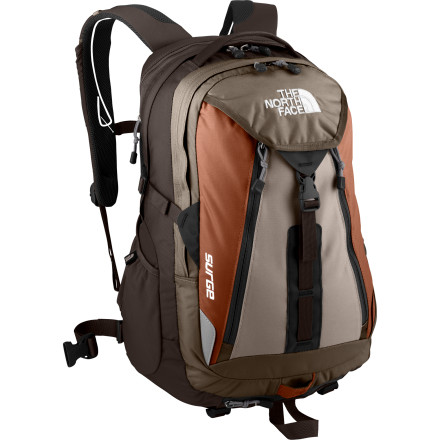 Description
This pack gives your gear worry-free protection for a day's worth of screen-staring.
The North Face Surge Backpack fits all your electronics for pre-exam library sessions or long nights editing photos. The top-access laptop sleeve and padded power-cord pocket on the bottom protects your high-tech equipment as you trek across campus, and the Surge Backpack's breathable mesh back panel lets the air flow during summer commutes. The North Face's angled BackSaver Technology keeps the pack load in the right place, and the hipbelt stows away when you leave the heavy stuff behind.
Share your thoughts
What do you think of the
The North Face
Surge Backpack - 2150cu in
? Share a...
Unanswered Question
I've had a pretty big Jansport for about...
I've had a pretty big Jansport for about four years and I'm not too worried about how big the backpack is, but this one is killing my back with the amount of books and my laptop I carry. Is this backpack any better?
I love everything about this backpack
I have absolutely no complaints
It has compression straps
Tons of pockets and storage area for pens, your camera, your phone, anything
The cushion to keep textbooks off your laptop works great
The pocket on the bottom for chargers and cords was ingenious and I use it all the time
I also like the pockets behind the water bottle pockets for your waist straps when you are not using them
If you need a good college backpack or just an all around laptop bag,
Buy this
I recently purchased three North Face Surge backpacks. One for each of my three sons in college. I did so because my first son told me that his last North Face Surge Backpack lasted six years and was the best backpack he had ever had. A lot of backpacks will last a year or two with the weight of books kids carry. He especially liked the padded section he used for his computer. We have had a lot of backpacks in our house over the span of 18 yrs. so when I heard my son brag up a backpack, I knew it must be outstanding.
How waterproof is this bag? I'd be using...
How waterproof is this bag? I'd be using it for bike commuting in Seattle - so rain pretty much all the time...
Best Answer
you would be better off with one of the PVC coated bags as this bag will definitely leak in prolonged rain. i believe blurr makes some good PVC commuter bags that would be perfect in a place like seattle. cheers.
Do the water bottle pockets on this pack...
Do the water bottle pockets on this pack fit nalgene bottles?
After searching forever for a durable backpack, I ended up buying this one, and have not regretted my decision. It's been 2 years now, and the backpack has held up and still looks like it did the day I got it. Great product, lots of space for all of my medical school books!
what are the measurements of this bag?
what are the measurements of this bag?
20" x 13.5" x 9.5"
(51 cm x 35 cm x 24 cm)
Very Pleased with Surge Backpack
This bag is excellent. I was really thorough in researching laptop backpacks currently on the market, both online and in local stores. (I'm in Arkansas, so we have quite a few camping gear retailers.)

This bag stood out as having the most padding, the best system of organization (for me at least -- I like the space broken up into pockets and different large compartments) and frankly, it looks really cool!

However, its appearance isn't why I chose to buy this one. It was the laptop padding. This bag has the most amount of padding for the computer compartment out of any North Face or other brand of bag I looked at in person. Trust me -- I dug through a bunch of them.

This bag is pretty large, but not too large for me to feel comfortable carrying. I'm 5'3 and female. I do have a long torso, so I like how the waist band hits me at the hips rather than at my natural waist. I did try this bag on in a store before ordering from this website it in the color I wanted (not available in the stores I visited).
Finally, an outdoor backpack that can hold my laptop... and not just hold but protect. this bag has more protection than any other pack i've ever had for a laptop. there is more than enough room for anything you want to do, i was nervous to buy it but because i thought it would be to small but it's massive, yet sits wonderfully on my back (i'm only 5"8')

if your nervous don't be, it's the best pack you could buy to take you laptop ANYWHERE rugged, did i mention there are close to a bazillion pockets in this thing. (that may or may not be an improper estimate, i haven't counted yet!)
Does this one have the Padded strip at the...
Does this one have the Padded strip at the bottom of the laptop compartment (to prevent the side of the laptop from hitting the ground when sitting upright)?
Yes it has a foam pellet filled cylinder at the bottom to pad your lap top when you set your pack down. This is probably the best lap top friendly pack the north face makes.
I don't know what this last dude is talking about, this is a GREAT back for school, especially if you're looking for a laptop bag! (why else would you think the main compartment is splint into a laptop sleeve and additional LARGE compartment?!) If you don't want a split compartment, don't buy a LAPTOP backpack (go for the big shot or something totally different). I love that the laptop compartment (the perfect size for my 15" macbook pro) is separate from my heavy books and very well padded. I agonized over what bag to buy for grad school (compared osprey resource series and mountain hardwear daypacks) and this pack is definitely one of the best I've seen. It has more pockets than I know what to do with, plenty of room for a couple of text books and binder in the main compartment, a nice little pocket towards the bottom front of the pack perfectly sized for my powercord, and even room for nalgenes (altho snug fit) in the side pockets.
If you're looking for a school/ work bag that'll hold your laptop, class stuff, and pretty much anything else, get this bag. (there are also some other great colors out there...I got the zinc grey which I totally love!)
Its main compartment is split up between a Laptop sleeve and a small main compartment1 I couldn't even fit a 1/2 inch binder in it! It's better for anything but school!
is this the largest north face daypack (i...
is this the largest north face daypack (i mean for school not camping) or are there any larger ones like the big shot, etc..?
No, it's not. The largest backpack for school will be the The North Face X Shot (36L). The similar packs to Surge would be Box Shot and Sure Shot, both at 35L. Big Shot is 33L.
will it carry a 16.4 inch sony laptop witha...
will it carry a 16.4 inch sony laptop witha neoprene carrying case?
Best Answer
It can hold up to a 17 inch laptop. So it will hold the computer just fine, however I do not think it will fit with the sleeve.
I'm 63 years old and travel a lot on business. I had 3 back operations so have been using a roller bag, problem is that you have to carry and lift it a lot. Used a cheap little back pack I got at a meeting and liked it so started looking. Tried several and the Surge was the best. Just got back from a business trip to Portugal and it met all my needs. Very good alternative to a roller briefcase.
I've put twice the weight into this backpack as I was lugging around in my briefcase, but it feels much lighter. There are so many compartments I have a hard time remembering where I put stuff. I'd like fewer, larger compartments, but this is a well-designed pack overall.
Do the compresion straps have buckles up...
Do the compresion straps have buckles up un clip them?
The compression straps on the side have buckles that clip.
Which pocket is meant to carry a compute...
Which pocket is meant to carry a computer?
There is a pocket closest to the back panel that is meant to carry a computer
It is a big backpack. Lots of compartments for accessories and to carry your everyday things. The laptop compartment is quite big. A lot of adjustments can be done to make it fit and not look so bulky.