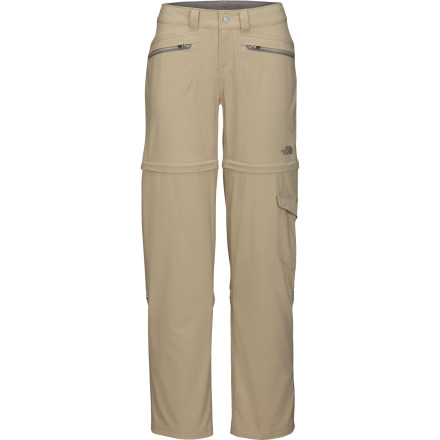 Detail Images
The rapidly dropping barometer on your handheld altimeter is indicating that it would be prudent to get on the trail heading towards home as soon as possible. Yesterday you were wearing The North Face Women's Sunrise Convertible Pant as shorts and enjoying the fine weather, but it looks like zipping the legs on for today would be a good idea. Pack up your gear as quickly as possible and hit the trail; if you decide to take the shortcut to save a little time, this soft shell pant's abrasion-resistant material will protect you from the undergrowth. It's water-resistant, too, which might come in handy if you don't beat the rainy weather home.
Four-way stretch and a gusseted crotch ensure freedom of movement
Front zip pocket includes decorative tape detail
Legs include roll-up feature in cuffs
I love the 4 way stretch of these pants. The sizing is small. I usually wear a 6 which was too small. There weren't any 8s available so tried the 10. They are a little big in the hips but doable. Also I'm 5'8" and usually between a 32" and 34' inseam but these are plenty long enough.
I first bought a size 8, but they were too small. The size 10 was perfect. I loved hiking in the pants and then wearing the shorts in town. My opinion is that these pants are fabulous!
what's the inseam? I need 34"
what's the inseam? I need 34"
I had to return these due to fit problems but the fabric and the cut are great.It has enough stretch to be comfortable, feels silky, heavy enough but not too thick so I would think they'd work in all temperatures.I should've paid more attention to the review below that says the thighs are tight.They really are and that's why they went back.The zipper is high on the thigh (would actually be fairly short shorts if that's a problem) so there's no give there. I'm 5'6", 120 lbs and ordered the size 4.Way too tight around the thighs.
I like the fabric because it isn't too heavy so it dries quickly and keeps you cool. There is a drawstring inside the waist of the pants which was nice. The fit around the thighs is a bit tight so if you are bigger in that area it may be too tight for you but it does seem to stretch a bit after wearing a couple times.