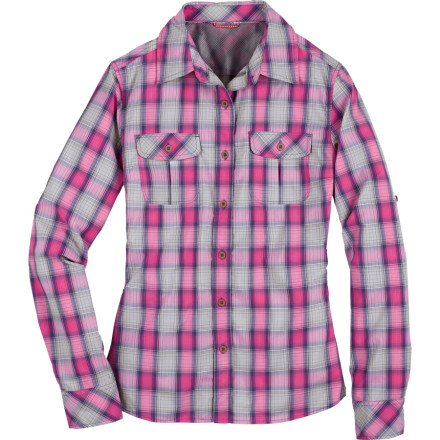 The North Face Stretch Boulder Jodey Woven Shirt - Long-Sleeve - Women's
View Larger Image
Community Images
Originally bought it to add to my teaching wardrobe - classy and yet I've traveled everywhere with it. Doesn't wrinkle, washes and dries easily, breathes and keeps me cool hiking, biking, running around an airport, etc. Definitely a must for anyone active looking for clothes that keep up with the grimy and polished sides of life.
This is my new favorite shirt for backpacking and hiking.....and even casual wear. I wanted something with long sleeves to keep the sun off, without being too hot. This is perfect. I wore this shirt backpacking in Idaho and it was HOT! It wicks moisture when things heat up, and can be worn all day and into the evening to keep the chill off. The perfect shirt for the active girl. LOVE IT!
So happy I found this shirt
I have been looking the perfect "flannel"-style shirt for several months, and I have finally found it. This shirt is super lightweight (nothing like a true flannel), which will be great in the summer. It also has a cleverly designed back vent. It is very stylish and super cute, so I will wear it for both hiking and going out with friends.

Note on the color: the actual product is just a tad lighter than the provided photos. This is true of the Guava Green I ordered, and I also noticed the same when examining the user photo vs. the provided photo of the Ink Blue color. This doesn't bother me though, and I am going to order the Ink Blue as well.
I love wearing this for whatever. Hiking, camping just hanging out. This shirt it perfect.