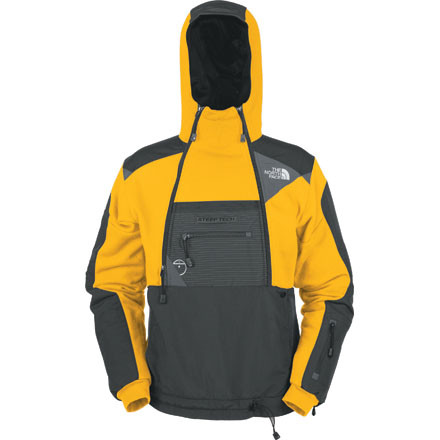 Detail Images
Just received my hoodie. The color was not what I expected. I got TNF red. I thought it would be a darker shade. Any way, This is my second steeptech hoodie and it is far better than the last one I got two years ago. Its alot heavier and I like the increased hyvent areas.Standard Northface quality and Backcountry is the best. Cant wait to test it out on the slopes
very nice looking jacket for winter weather
When I saw this item, I thought it was a premium styled North Face fleece with some nylon patches and a pocket. It's really more of a jacket than it is a fleece. For one, it has a HyVent waterproof liner and the interior of the fleece is all lined. Yeah, it is deceptively heavy, but it is really well built. It will be great for use during spring skiing as my outer jacket. And in the coldest parts of winter, it'll make a burly liner. I am glad that I picked this item up. TNF Red is a great color. It's too bad North Face is using Cardinal Red and Indian Clay on current products because TNF Red is so much nicer, in my opinion.
My sons love them, They are very warm and look great. I just might buy a womens version for myself maybe in pink.. : )
Its designed for snowboarding not trail walking!!!
I must be just about the only person in the UK to own and love my TNF ST hoody. Not sure what your all on about, it was designed for use as a snowboarding garment, of which it excels. Asymmetrical zip, gives stylish functionality for venting off it you get a bit too hot. Cold hands? That's why snowboarders wear gloves. Looks great also.

I wouldn't buy a alpine ice axe for technical climbing and then give it a bad review because it didn't work for the purpose I used it for.
Unanswered Question
Whats the temperature rating on the North...
Whats the temperature rating on the North Face Steep Tech fleece hoodies?
I bought 2 of these Hoodys and just received them today My son's have not worn them yet but so far by look and feel the quality and style is Awesome.. My son's will Love them. I will be back with more reviews after they wear them
Unanswered Question
, ☃bcs_badge_alumni_label☃
Testing again
Testing again
This jacket is fine for around town and such, but is not for any trails or efforts where weight and convenience of use is important. It is heavy, much heavier than anything I will ever take on the trail Base Camp, if not carried up there by me, sure, on the trail, not on your life. The inconvenient zipper location, angled along the side and under some snaps that take some work to get through, and would be a total pain with gloves on , is a technical problem. Again, it looks nice, it is warm, and it does all the things advertised. It's just heavy and a pain in the but to get on and off. As long as you are just looking at warmth and a little bit of winter fashion, this is your potential choice.
this hoody is a beast in cold weather and holds its ground in light rain!! generously sized and built to rock thru the streets in new york winter months and sporty enough to wear in fall or spring.i loved the materials used (heavy fleece,reinforced hyvent..my only qualm is the hood--it just flops an has no tension to keep snug to your neck.also the hood is mad huge like if my head were the size of small vw beetle then it would fit fine otherwise my head is lost in it and the front of the hood pretty much looks like a canopy hanging over an into my chest!!! lol great overall though...
the steep tech hoody is stylish, but the medium fits like a large, i recomend a size lower than your regular jacket size
LOVE TNF, BUT NOT THIS ONE
If you want just an original great-looking jacket this one is for you. Only be aware that it is awkward, surprisingly heavy, and costs too much for the benefits it is providing. There is a reason why all good jackets have a conveniently located full-length front zipper in the middle, not between the middle and your left shoulder, slanted in an angel, and blocked by a few snaps at that. Instead of hand pockets, absent in this jacket, you have a pouch with openings on both sides, so anything you put there will be lost, given enough time. Utterly uncomfortable, but fine-looking piece.
This hoody is warmer than I thought it would be. Great to wear by itself with a sweatshirt or thick clothing and perfect to wear underneath a larger jacket. Not too crazy about the pouch in the front. It doesn't really keep your hands warm, but that's real minor. A must for TNF fans.
I will make it short! It's all that, a bag of chips and 2 Snapples to go! You will be more than satisfied!! Buy it now!!
I got the grey North Face ST Hoody Fleece for Christmas and he loved it! I originally got it in the wrong size and sending it back was easy and I got the new one fast, I was very impressed. Unfortunately the same day I got it back I put it in my car to bring it to him after work and someone hit me on my way home. My car flipped and as lucky as I was to survive I was surprised at how well the jacket held up. It was filthy and saturated in anti freeze and stunk! My boyfriend took it to get dry cleaned and it's as good as new...I couldn't believ how well it cleaned up!