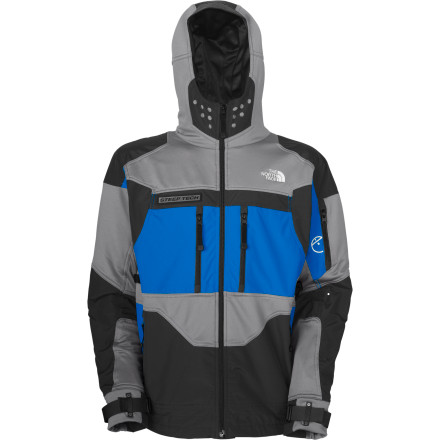 With The North Face's water-resistant ST Hooded Sweatshirt, you can plan for the worst while you prepare for the best. Feel free to use this versatile, aggressive-looking top as an über-burly sweatshirt, a ski-and-snowboard jacket, or as a layering fleece under a waterproof shell.
Heavyweight polyester fleece fabric seals in the warmth and blocks out the cold, and the HyVent weather protection provides resistance against water and wind
Breathable fabric wicks sweat away from your skin and helps shed excess heat
Padding in the elbows increases durability and can help in the event of a spill
Adjustable cuffs and drawcord hem help block snow and cold from entering
Adjustable hood comes with a fixed brim to shield your eyes from sun and stormy weather
This sweatshirt makes Terminator look like a girl scout
Let just say I wear this sweatshirt just about every day this winter and I plan on wearing it for as long a I can or in tell the spring heat makes me take it off. This jacket would be something you'd see 007 wearing while jumping out of a window, swing off a power line, and landing on a train all while shooting at some international terrorist that has a anthrax bomb that could take out the whole west cost. With all that being said. I now have bought all the ST jackets and sweatshirts. A must for any North Face collection.
the north face st hooded sweatshirt- men's
I have always liked the north face products. This one is no different. the fit is perfect. In Texas I can use it as the only jacket and it works fine. In Montana I can use it as a midlayer and it is great!

I have a relative that sells outdoor equipment, but I have never bought anything from her. I always buy from Backcountry because they are always easy to deal with, and HONEST! It is one of the best run companys I have ever seen. Nice job Backcountry.
The North Face ST Hooded Sweatshirt
Received this jacket on 12/23 and fell in love with it. I had originally purchased the ST Agent online before seeing this one. Mark H. at Backcountry.com made the exchange effortless! Yes, the jacket is missing the arm pocket as described in another review, but I have arm pockets on other jackets and have never used them, so no big deal. What is a big deal is the fit, warmth, head turning ability of this jacket. There is certainly a cool factor. The buckle arrangement at the cuffs had me a little worried at first, but as it turns out, is a pretty slick arrangement. A little pull on the buckle to loosen and then pull on the strap to tighten back up. Much better than velcro closures only and velcro-elastic combinations are only slightly better. A shell fits nicely over it for really cold days on the slopes or for wind and rain conditions. I won't get tired of this jacket any time soon. I highly recommend it!
This hoodie looks and feels awesome. Very comfortable in a large, and I'm 6' and 180 lbs. Extra padding at the elbows felt secure, and the weight seemed like, with a heavy merino baselayer and a balaclava, I'd be ready to carve some pow.

However, the "adjustable" hood, isn't. There is nothing to adjust it with at all. Also, the photo shows a pocket at the left bicep, and mine didn't have one. Thirdly, the adjustable cuffs function kinda like a belt being inserted into a loop, rather than a more functional velcro closure. I had high expectations for this pricey midweight hoodie, but it arrived without the necessary adjustments to convince me to keep it. Backcountry returns was very helpful and professional.