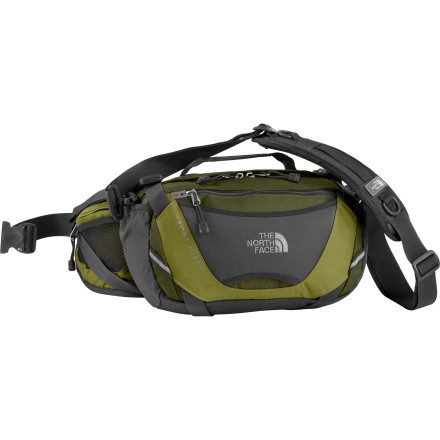 Description
Don't lug a half-empty backpack down the trail. Pack your water and snacks in The North Face Sport Hiker Lumbar Pack instead.
When you just want to bring water, snacks, and your music player on a dayhike, grab The North Face Sport Hiker Lumbar Pack. The airmesh back panel keeps your lower back from getting sweat-soaked, and zip mesh pockets on the hip-belt keep power-gel snacks handy. The Sport Hiker Lumbar Pack's stretch water bottle pockets hold your energy drinks, and a three-point compression system on the hip-belt steadies this lumbar pack when you quicken your pace. A removable shoulder strap and the tuckable hip-belt convert this lumbar pack into a shoulder bag.
Share your thoughts
What do you think of the
The North Face
Sport Hiker Lumbar Pack - 550cu in
? Share a...
great pack! just the right size !!!
Used the North Face Sport Hiker Lumbar Pack for a quick skin-up, ski-down Mt. Lassen. Pack is excellent with easy on/off, accessible pockets incl. two water bottle pockets. Comfortable and light enough.
I highly recommend it!
He loves it, I dont like it
I purchased two of these a few weeks ago. One for me and one for my husband. Made really well, very sturdy. It is perfect for a day hike, it has lots of room. More than expected. outer pocket for knife,flashligh, sunscreen, keys, etc. Two water bottle holders, although very snug around my camelback bottle. It is hard to get in and out for me. My husband absoluteley loves his, as it fits his slr camera, snacks, even a small lunch. I do not like mine at all. It just doesn't fit right. It doesn't fit the small of my back adjusted all different ways. So any way I have a very short waist, maybe that is the problem, not sure.. My husband highly recommends it, and me............. if it fits,
Any suggestions for easily removing the...
Any suggestions for easily removing the shoulder straps? I tried in the store and couldn't get it off. I would like the versatility of using it for hiking and as a large purse while traveling.
yes!! just push the little wire catch back just a little ' then push down gently on the clips and they come right off!!
This is my Mountain Bike gear garage. It has plenty of room for tools, spares, wallet, phone, nutrition and fluids.

Regardless of load, it snugs up and stays comfy for the duration of the ride. I really like the side pockets, and the stretchy back panel for quick draw items.

It would be even better if it were more weather proof, or came with some sort of rain/mud cover. Unless I carefully tuck them away before departure, the excess webbing from the waist belt is constantly flopping around and getting in my way, whether biking or hiking. TNF should study and emulate the waist strap keepers on the Osprey Talon 4 lumbar pack, which neatly solve the problem, and provide the added benefit of having the waist adjustment always at hand.

All in all though, a great bag.
What are the dimensions? in. x in. x in.
What are the dimensions? in. x in. x in.
Best Answer
8in. x 14in. x 6in.
Great man bag and for excursions
My husband and I each have one, and we love its spaciousness and versatility. When we travel, we like the convenience of a waist pack - you can access it w/o taking it off. The lumbar straps are very supportive, even with my short torso, and the mesh keeps you from getting to sweaty. It's extremely roomy and well made. The front pocket has credit card slots, space for your cell phone and Ipod, and two larger pockets. I tried using this as my "wallet" at a recent Walt Disney World trip, and didn't work well because there is no way to secure your cash or change, so I'm not sure why there are credit card slots. The inner pocket had plenty of room for our camera in its massive case, a light jacket, a hat, and a bunch of other random things. There is alot another pocket between the rear padding and the bag for things like maps. We used it mainly as a shoulder bag, and it was very comfortable to carry.

I know some folks think backpacks are supposed to be more comfortable, but in some respect, waist packs are better for heavier loads because you want the weight on your hips, not your shoulders. This bag is very good for that. If you want something smaller than a backpack but with alot of functionality, I highly recommend this pack.
Do the side pockets of the Sport Hiker...
Do the side pockets of the Sport Hiker hold full size (32 oz.) water bottles or only the smaller 16 oz size?
Best Answer
I think 32oz water bottles will be a tight fit. Plus with nothing in them, the pockets are only 6" deep.
What do people put in the stretchy section...
What do people put in the stretchy section in the front? Is it supposed to be a replacement for a bungie cord system? Thanks!
If it were me, I'd store a light rain coat in it or an extra layer in case it got cold. Obviously it'd be hanging out, but if you kind of fold it in half in there it shouldn't go anywhere.
Write your question here...]which is more...
Write your question here...]which is more comfortable for a day hike -- a small back pack or a lumbar pack Do you have enough room in this lumbar back to put a lightweight shell jacket?
I agree that backpacks are more comfortable, but this pack is large enough for a packable shell jacket. If you don't need to bring a change of clothing, just a shell, it would be fine. I had a shell, a camera, wallet, hat, microfiber towel, and still had room.We have two of these and like them very much. My brother-in-law borrowed one and used it as a cool diaper bag when they went to Hawaii last year. It's a good man-bag.One convenience that waist packs have over backpacks is that you don't have to take them off to access their contents.
I totally disagree with sandyandda1227589, well engineered and well thought out offering a lot of carrying capacity in what is still an relatively small waist pack. Have used it from day hiking in temperate conditions, in the deserts of the middle east, long-haul airport travel, trail / road running, to a day to day urban man-bag / pack. Admittedly it isn't perfect and have tweaked the pack a little (strap keepers, elastic bungees to hold water bottle secure, day glow zip pullers, etc), the outer wind-breaker jacket holder could have been better thought out (bigger and adjustable with strap or bungee retention to hold items secure) and the internal storage could be better compartmentalised (mesh pockets with zips for instance) but on the whole i liked it so much i bought a spare one in case they stop making it.
While the pack is well made, has nice features and good attention to detail, it suffers from overengineering which actually impedes its functionality. For instance, the 3-point side compression straps run directly across the hip belt pockets making access to the pockets difficult. Retrieving items from the pockets is also cumbersome; the pockets lack width and the zippers should have been placed at the top of the belt rather than along the side. Finally, the top compression straps & buckles are located right where the water bottles go, making it even harder to get the bottles back into the stretch pockets while on the go. Overall a nice looking pack that doesn't function well.
After many hours of online research this pack is a winner. I received mine today, the order handling and shipping was extremely fast and perfect from BACKCOUNTRY. I put a lot of stuff in this bag, small first aid supplies, and many other things. The material is high quality and well made, I mosthly use it with the strap shoulder. Hey North Face gays please make the next generation with removable side hips straps with sippers. Otherwise this is an awesome and very usefull product.
It's nice that you can use the shoulder strap, or as a lumbar pack. It also has a bunch of pockets and will hold a lot of stuff (including a water tight music pocket). I thought that it was too big though, and looked pretty dorky.
Use it everyday and think it's the heat for my needs. Plenty of room for all my kit. Fits well and is comfortable, even over a long period of time. Good North Face quality!
Cannot be used as a Fany Pack
Too Big and Too Bulking for long hikes. Material did not seem to breath well and easily cut shoulder strp.

Never puchase another item from Noth Face, only paying for the name .
Well-made,sturdy, secure, and well-organized with plenty of room for small equipment, snacks, and water for my field work. Much easier to reach items in the field than a backpack, and MUCH easier on my back. Good for shorter hikes.
The North Face Sport Hiker Lumbar Pack - 550cu in
Excellent quality, lots of room for gear. Comfortable. I loved my pack and bought a second one for a friend as a gift.
I have ALOT of stuff stuffed into this pack. With the shoulder strap it comes with, it's a huge relief. However, when I put it on my back with THAT much stuff, it does get difficult to keep it on my back.

I'd recommend this to anyone that has to lug alot of stuff, but don't want a full sized duffel bag or backpack...