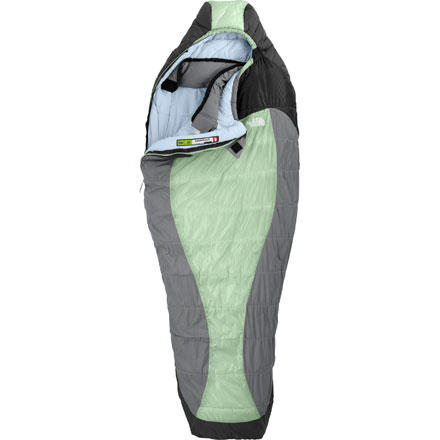 The North Face Snowshoe Sleeping Bag: 0 Degree Climashield Prism - Women's
View Larger Image
With a slim gal's fit in the hips and shoulders, plus increased insulation in the hood, The North Face Women's 0-Degree Snowshoe Sleeping Bag represents an optimal combination of warmth and weight for all-season backpacking. Overlapping shingle construction eliminates cold spots by evenly distributing insulation, and a breathable silken lining keeps you cozy all night. The North Face's Firestorm shell defends against abrasion and grit, prolonging the life of this synthetic bag. Adjust the draft collar and use the one-hand pull cord to cinch down the Snowshoe Sleeping Bag's hood. Store your watch in the chest-level pocket and drift off to dream.
I used this bag for Rainier in July. The length of the regular is snug (I'm 5'6"), if you have the mummy hood up. I used the Thermarest ProLite and it was around 0-20 degrees at night. I was very cold after a couple of hours even with my down jacket and all my layers on. I learned my lesson about the necessity of closed cell mats on snowy ground. Overall the bag was maybe comfortable to 25 degrees on the snow and the length and width are snug but not too constricting. The zippers don't catch as badly as the older models.
It worked well. However, I don't think I gave it a good trial as it was over 80 degrees that weekend and it was very warm. This weekend we are going on on another trip and it is supposed to be in the lower 40 degrees temp. I could review better at that time.
I'm looking for the perfect Kilimanjaro...
I'm looking for the perfect Kilimanjaro bag for my girlfriend. I think this might be it. She is 5'7" and most women's bags states sizes put her just beyond a 'regular' (says fits up to 5'6"), but I' afraid a women's "long" (usually 6') will be too roomy and she'll loose too much warmth. Will she be okay in a small bag? We were also looking at the MH Lamina 0°. It's not women specific, but the small is also for 5'6 and it is extremely well reviewed (I'm probably going to get the long myself). She has an athletic figure BTW. I'm not sure she needs a W bag. Obviously it would be great if she could try it on, but she's leaving and has no time. I'm meeting her in Africa in a month... with whatever bag.
My girlfriend is a similar size, and I ended up buying her the one of the MontBell Burrow (or Hugger if you want down) bags. They're nice because the bag has some elasticity to it, so it maximizes thermal efficiency. They're not women's specific bags, but they have a drawcord on the bottom baffle to make the bag shorter. My girlfriend actually has found that she likes the "bootie" effect that pulling the cord around her ankles gives her. I would recommend that bag 100%
This bag did fine down to about 25 degrees.. but the night it was 10 degrees I was pretty cold even with a couple layers on in the bag. Also, the tightening mechanism for the head-piece is a little frustrating to work while in the bag.