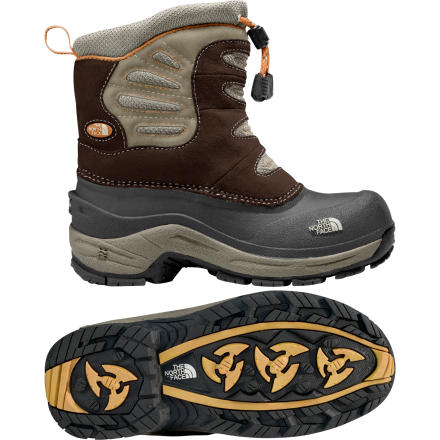 The North Face boys' Snow Plough Pull-On boots are tough waterproof kicks for kids who love the snow. Designed to keep feet dry through conditions ranging from deep snow to playground slush, the Snow Plough's built with double-adhesive latex seam-sealed construction, waterproof pig suede, and a HyVent waterproof membrane. Heatshield Optimal Technology insulation and a fleece lining keep tootsies warm and toasty down to –25F/-32C. The top drawcord prevents snow from invading, and the tough tread gives the traction needed to avoid spin-outs.
My two boys fight over the one pair we got from a friend last year. They like the fact that the boot supports their ankles and they can put them on fast.
I just returned this item.. Too heavy for my 9 yr old. I exchanged it with the Kamik instead, very light, he loved it!!!!!!!!!!!!!
My son loves these boots cannot get them off of him. Very waterproof
Unanswered Question
My son is 10yrs old, what size should he...
My son is 10yrs old, what size should he wear? he normally wears size 1 or 2. Thank you.
Unanswered Question
do you have size 2 for The North Face Snow...
do you have size 2 for The North Face Snow Plough Pull-on Boot- boys?
Please reply ASAP.
My 8 year old loved the boots, first he thought having North Face boots was cool, second the fact they looked like Dad's boots vs. having Spiderman on them & third they were easy to get on and off. After skiing all day 8 year olds don't want to wrestle with their after ski boot. If his foot grows this summer I will order him a bigger pair for next year!
Unanswered Question
My 6 year old son wear size 13 toddler or...
My 6 year old son wear size 13 toddler or equivalent to size one boy. My question is the North Face snow plough boot list size 13 is that toddler size or 13 size boy or should I get the size one as equivalent to 13 toddler? Thanks for ans.
They boots have a wide opening and a short length. My son put them on and we could barely tighten the top up around his leg, He played in the snow and when he came in he had snowballs of snow in the boot. His ankles were icicles. What a HUGE disappointment. These are better off as rain boots.
Great boot for Alaska kids
We have had these boots for 2 YEARS now. No broken string as other poster had. These are a daily worn item for 2 seasons now. Feet stay warm in -10 (I don't like them to play outside colder then that). They have totally held up. I love that they are slip on and that there is NO inner liner that gets scrunched up or lost. They are icy water proof as well... tested out! Another problem I have had with other boots is that your feet sweat and then your toes get cold... not a problem with these. Worth the money for sure. I'm a working mom with 3 kids and these are worth the money if your kid wears them every day.

Only thing I would like to see is that North Face make them a little higher up on the calf.
Unanswered Question
Can I get it in size 32 Eur?
Can I get it in size 32 Eur?
The North Face Snow Plough Pull-On - Boys'
Just moved to Western Michigan and wanted to be prepared for the snow so bought "top notch" equipment for my kids. Overall I have been dissatisfied with the Snow Plough Pull-On Boots. One pair had the pull string break with no apparent way to fix, and the boots do not appear to be waterproof as advertised.
TNF Snow Plough Pull-On Boots - AMAZING
I purchased these Snow Plough Pull-on Boots for my active 7-year-old son. We just had our first snowfall in New York, and I'll tell you after two days of playing in the snow, I can't use the old "Your feet are getting soaked it's time to go home" line. These boots are amazing, the warmth and dryness that they provide is unparalleled to anything else that I have purchased in the past. I am considering getting them in larger sizes to stockpile (so I'll have reserves when he gets older and out grows the current ones). Once again, thanks for outstanding customer support.