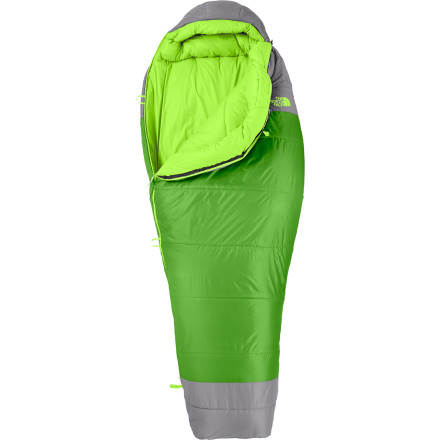 Description
Call up your editor and say you'll be staying awhile.
On day 15 of your Himalayan adventure, you realized that tracking down the elusive snow leopard for your magazine's photo spread would prove more difficult than anticipated. It's a good thing that you brought along The North Face Snow Leopard 0-Degree Synthetic Sleeping Bag—loaded up with synthetic Heatseeker Pro insulation, it'll keep you easily comfortable down to 18 degrees, and relatively fine all the way to zero. You probably wouldn't want to use it alone on a 20,000-foot peak in a blizzard, but in alpine basecamp or lower-elevation winter settings, you're golden. Even if it gets wet, the Heatseeker Pro will keep you warm—something down won't do—and the whole thing will pack down smaller than any super-warm synthetic bag has any right to do.

Even though the Snow Leopard's certifiably lightweight, it's stuffed full of features that'll have you using it even if you're in your own bed at home. The shaped hood, draft collar, and draft tube seal in the warm air and lock out the cold, and the anti-snag zipper (yeah, it has a glow-in-the-dark pull) will make getting in and out of your bag hassle-free. You won't wake up frozen on the floor, either, since the Snow Leopard has loops that hold your sleeping bag in place, and an internal pocket that'll keep any small things—lucky charms, midnight snacks, or shiny pebbles—close by while you're snoring.

Synthetic Heatseeker Pro insulation
EN-rated comfort to 18deg
Lightweight mummy design
Shaped hood with drawcord
Draft collar and no-snag draft tube
Pad loops for sleeping pad attachment
Internal pocket
Anti-snag zipper with glow-in-the-dark zipper pull
Compression and storage sacks included
Warm & Toasty but Heavy on the Back!
Familiarity:

I returned this product before using it
This bag delivers on the promise of Zero F and is well made. Where it failed me was for backpacking ... just too heavy! Great sale price - would definitely consider it for car camping.
Great sleeping bag...
Familiarity:

I've put it through the wringer
Unlike it's competitors, this thing boasts a zero degree temperature rating and with a sleeping pad between you and the ground, it accomplishes its task!



I've had mine a year with heavy use and it's still doing the job. Also, you can actually wash this thing at home rather than having to dry clean it, a feature I found amazing!



(Pic-Sport climbing trip January of 2014 in Pennsylvania. Temps in the teens and the bag did its job perfectly. No complaints!)
AMAZING
Familiarity:

I've used it several times
I was so cozy in this sleeping bag on a pack trip!! Yes, it's a little bulky but unless you have to backpack with it, who cares. Super warm and comfortable.
OK bag for a budget
Familiarity:

I've used it several times
I bought this bag in college when I was broke, but couldn't stop from backpacking any chance I got. It works very well. It's warm, and even when condensation gets the better of you, it stays warm. I like the zipper, how it's big and glow in the dark. The hood and neck baffles are well designed, but then there is the size of it. It does not pack down well. I have a -25F down bag, and that is smaller than this in the stuff sack. Unfortunately I almost refuse to use this bag now due to the shear size of it. Also that size comes with weight. It takes up half of my 65L and it's like carrying a snow leopard in my bag. It is highly recommended if you need a cheap, durable, warm sleeping bag that you don't plan on lugging up a mountain. As for car camping, or at a base camp it works well, but not recommended for backpacking.



Down is commonly recommended for backpacking because it's lightweight, pack-able, and more breathable. If you are still stuck on a budget, check out the Rab Ascent 900. It's specs are reasonable and should work well at the price (either full or sale price). I can't speak too much on it's warmth and comfort, but I know Rab makes a good sleeping bag, and should do the trick.
Warm but bulky
Familiarity:

I've put it through the wringer
As a New Englander, I tend to drift towards using synthetic stuffed products as the weather here is often wet, damp, moist and just sort of gross: all unexpectedly. Down does not often fair well in the weather out yonder, so when looking for a zero degree bag I opted for this synthetic one. Not my best choice. Don't get me wrong, it's a good bag. It gets the job done.

In hindsight, I wish I had gone with an alternative company (as TNF has a history of live plucking) and I wish I had gone with a down sleeping bag. As cozy and warm as this bag is, it's bulky, heavy and sort of a pain in the butt. Perfect for snoozing in a hammock or a bivy. Not meant for long distance hikes, at all. Honestly, I bought this bag because I was working at The North Face and needed a new bag. So, I opted for the in-house deal and my stubborn New England brain overtook the smarter portion, saying that I was better safe than sorry. Now my question is to myself, safer than what? Having a happy back is safer than being uber dry in your super nice-well-working tent with a heavy-but-you'll-be-totally-dry sleeping bag? Oh well, lesson learned.