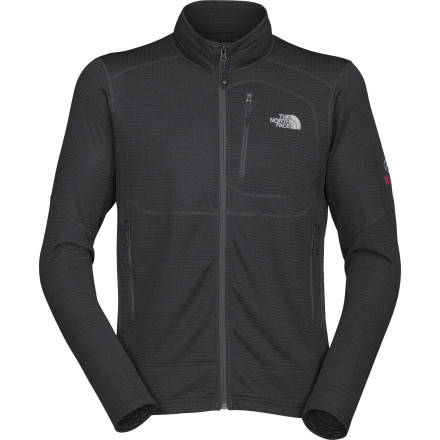 Detail Images
Far from your run-of-the-mill jacket, The North Face Men's Snake Eyes Fleece Jacket uses Polartec Power Dry fleece that insulates and wicks sweat on the inside, and dries quickly on the outside—it's like magic, shazam! Athletes will love the alpine fit that's cut with a more streamline silhouette for easy layering and precise movement. At just 10.5-ounces you'll be hard pressed to leave this fleece behind whether you're backcountry ski touring, backpacking or making a push to the summit fast-and-light-style.
What do you think about this product?
Have questions about this product?
Great weight but leave off the branding
This is one of the lightest fleece jackets you can get. I would call it vented fleece jacket yet it does provide wind protection and warmth. When you put it up to a light, you can see through the fleece patterns. The approx. weight is 10.5 oz / 297 g. When worn snug, it wickers the sweat and allows perspiration to escape through the sheers pattern yet providing wind barrier.



This jacket is light and compact. It feels like a light sweater with three generously sized pockets with the full-zip. It's a neat versatile jacket.



The weakest part about the jacket are the TNF logo all over especially the logo on the back side on the shoulder blade. The front chest, left arm, back left. The logos on the arm does make it look technical. However, I wished that they would have left off the logo on the back. With this many logos, TNF should pay the customers for advertising. LOL. What is the deal with TNF. Is The North Face going through a Middle Age insecurity ,as a company, with so many brands out there? I think they should focus on making innovative products through design and research and not through excessive branding.



I like this jacket enough to get used to their branding. Feels light and very comfortable. If comparing to a baselayer, I would say somewhere between mid-to heavy weight.



Pros

+ Light fleece design

+ Unique textile design

+ Versatile / Multi-purpose use

+ Worn as base, mid or outer

+ Design & Styling

+ Functionality

+ Light weight

+ Sweat wicking

+ Fast drying

+ Good Fit

+ Large pockets



Cons

- Too many logos placement

- Expensive

- Zippers difficult to open one-handed
Better than the R1, first TNF product I've bought in years.
I should start that I generally dislike The North Face and have not purchased one of their products in years. Most of their stuff is pretty sub-par, IMO, especially for the stuff.

But some of the things TNF makes, are absolutely stellar pieces of gear that will last you years, even under abuse. I'm talking about "proven" pieces like the Redpoint Optimus, Basecamp Duffle, Cat's Meow sleeping bag, and the Big Fat Frog tent. Count Snake Eyes in on that list.

For the past 3 months, I've lived in this thing. From climbing, commuting on my bike, to evenings on the town (goes well with collared shirts). I find it better suited for warmer climates than the Patagonia R1. The Snake Eyes uses a thinner and more spaced "waffle pattern" which optimizes drying and wicking. Great by itself on cool nights, and awesome under a shell: truly a 4 season jacket.

+1 for the chest pocket, the R1 jacket lacks that.

I am 6"1 and 190lbs and wear the L. if you want something baggier size up.

Pros:
- Exceptionally breathable and compressible
- zippered handwarmer pockets and chest pocket
- Layers well

Cons:
- Branding. Seriously, TNF. Stop putting your logo over everything….