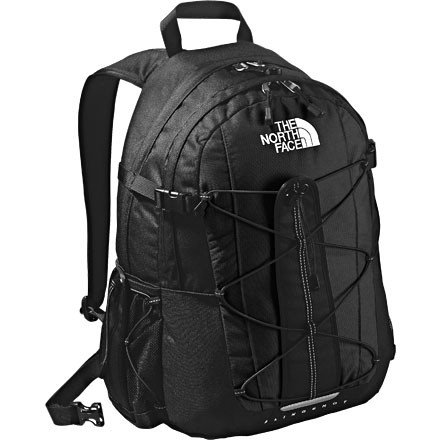 Description
Pull on The North Face Slingshot Backpack and enjoy your day exploring the trails.
Pack some layers, water, and snacks in The North Face 2000cu inch Slingshot Backpack, and hit the trail for a day away from the urban sprawl. The Slingshot pack's large main compartment and full-length front pocket easily hold all your necessities for a day of hiking, while the two water-bottle pockets help you stay hydrated. Remove the waist-belt to trim down the Slingshot for a day in the city. After all, you have to go back some time.
Share your thoughts
What do you think of the
The North Face
Slingshot Backpack - 2000cu in
? Share a...
I bought this bag for my son for school. He fits everything in it. It is very durable.
Phenomenal Backpack. Durable and Versatile!
I've had this backpack for six years now...and despite constant abuse, it's still kickin'!. From the Canadian boundary waters as an expedition personal pack, to the colorado rockies as a summit fastpack, this backpack is versatile and durable! It has yet to show significant signs of wear, and is suitable as a daypack in a school setting (it's original purpose). In addition, the side pockets can each hold a nalgene one liter bottle...very helpful for good access. Overall, a great backpack...durable and versatile.
Great Backpack for School
I bought this backpack for my daughter to use in high school. She carries books, notebooks, purses and any number of other items to school everyday. There is room for everything and the bag is very well constructed, so it should wear well. We're very pleased with our purchase
I was wondering if you can fit a laptop...
I was wondering if you can fit a laptop in here.
Best Answer
you could fit most size laptops in this pack
Great deal for the price.
I was looking for a backpack with a decent amount of space but that was inexpensive, and I think I've found that in this backpack. I've been using it for a little over a week now and I'm really happy with how much stuff I can carry around. The side pockets and the straps on the front are really handy. The construction of the backpack seems to be good quality as well. My only complaint is that I wish there was a little more padding on the shoulder straps--it's a little thin for my preference. But, overall, I think this bag is a great deal for what I paid. I'm very happy with my purchase.
this is a spacious and not too heavy backpack. it's perfect for as a daypack or for use as a school backpack.
Bought as a gift for my husband. He often cycles to work and uses a pack everyday. He is very satisfied with this pack. Holds personal electronics, lunch, paperwork, coat, etc. without problem. So far, so good.
how much weight can this bag hold
how much weight can this bag hold
hm...this bookbag is ok but i'm not satisfied cuz i have a lot of books n it looks a lil too bulky
other than that, it's fine
This is my second slingshot bag. I carried the first one all the way to the bottom of the Grand Canyon, then back up -- in the midst of a hurricane of all things! Rivers rising below us, boulders falling above us. Then my daughter decided it was perfect for her. So I had to find a replacement. Too bad they've discontinued the style and colors -- it really is a useful, elegantly designed backpack. --dw
This backpack is used by both my daughters to carry their books and other essentials around campus. It holds a lot of books, has outside pockets for water bottles, a cellphone/iPod pocket on the strap, multiple pockets inside and the handy elastic cord on the front exterior helps with other last-minute or oft-used items. The girls were glad the waist belt was removable, too. I recommend it as a great value over the first 6 months!
Anyone got the dimensions of this bag?
Anyone got the dimensions of this bag?
I use this as a diaper bag actually. It holds everything we need for our baby. Materials are very durable. No fraying of the fabric. Nice shoulder straps with universal fit and adjustablility.
You Can Hit A Bullseye With The Slingshot
I really had an opportunity to review a lot of choices for my cycling pack with Backcountry, and being able to enlarge the picture really helped. I knew I wanted The North Face brand and felt really good that I got the best. The Slingshot has one large compartment and a full length front pocket. No silly laptop sleeve to mess with, that's for the kids and suits trying to look hip. What I really like, is the flaps over the water bottle pockets and the front bungy cord. Just the right size for a man and very comfortable to wear. Oh yeah, the small organizational pockets in the large front pocket, are really helpful, too.
what are the dimensions of the northface...
what are the dimensions of the northface slingshot backpack?
Dimensions : 18 in x 13 in x 9 in (46 cm x 33 cm x 22 cm)
This North face pack is a really great item if you are looking for a quality daypack. I like that it has two side water bottle holders that adjust to a wide nalgene bottle or a real skinny bottle by pulling the cinch cord. It also has a cinch cord in the face of the pack so you can store a jacket or another item of clothing. The shoulder straps are lightly padded and feel comfortable when there is weight in the pack. The only thing that I would have liked on the pack that is not is a chest strap. It comes with a waste strap but I no chest strap. In my opinion, this would make it feel even more secure on my back. However, this has not stopped the performance of the pack and its comfort when using it.
This backpack has performed great over the past 18 months. I will admit to probably over packing it and taking it almost everywhere with me, but it is already starting to show signs of separation at the seam between the strap/handle/bag at the top. I am disappointed in the quality of the backpack.
Great backpack, wouldn't trade it for anything.