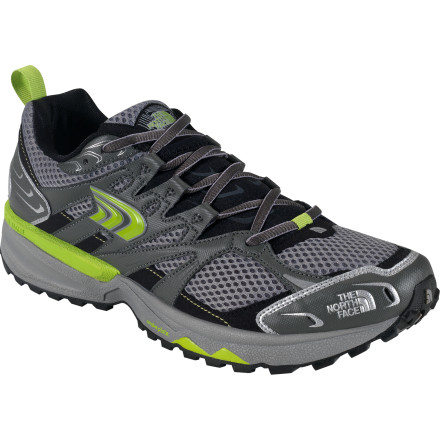 Community Images
When your road to running heaven is paved with many stones of all sizes, pull on the North Face Men's Single-Track Trail Running Shoe to protect your tender feet. This lightweight training and racing shoe features the ESS Snake Plate that provides forefoot protection along with plenty of flex, so the bottom of your foot is protected without being immobilized.
Neutral design is ideal for mechanically sound runners
X-Dome Cradle cushions your heel and puts a little spring in your step
Tenacious™ Grip high-abrasion off-road sticky rubber provides excellent traction on uneven terrain
Northotic footbed enhances stability, support, and comfort
External tongue scree-collar prevents small stones from working their way into the shoe
The shoe grip well on rocks up and down the trail
I am using these shoes to run and so far they are great. My favorite thing is the external tongue screen-collar, it helps the laces not dig into my foot and makes them extremely comfortable for me. I have worn North Face shoes for over 10 years, my only concern with these is to see how well the sole stays attached to the shoe over time (only an issue with TNF soles, the Vibram soles always are awesome) - granted my last pair of TNF shoes is much improved over the prior seasons. I would buy these again.
These are my favorite road running shoes now. I have had many and also train with a pair of Newton Gravity. This pair caught me completely off guard and I am lucky I stumbled into them.

The main reason is guidance or lack thereof. These are VERY flexible in the sole and have good cushion. They do not have much as far as guidance goes and that is one of the biggest reasons I like them. The heel is the best feeling heel.

This shoe does not interfere with your stride and lets your foot land naturally and gives just enough cushion. TNF nailed it for me!
I'm ruuning for 20 years and trail running for the last 13 years.
This review is after the first run.
They r stable on loos ground and on rocky ground. they hold the foot well and in place. Great sock absorb and rebound, very soft cushioning.
I use them on dry land and not yet on wet.
Size info-in "Salamon" I'm size 44. in TNF I'm 44.5
Great shoe with nice support and super light as well.
Nice and light, but fit isn't 100%
These shoes are very light and that's probably their best feature. I'm returning these because no matter how tight I lace them my heel still feels loose. Great fit though my arches and toes though. The mesh upper also does a good job of keeping things cool.
These Look Cool, but That's About It
Compared to some of the leaders in trail running shoes (in my opinion- La Sportiva and Salomon), these are just too bulky and too similar to a road shoe with a big bulky sole. The tread is mediocre and doesn't stick amazingly well on rock, which was also disappointing. For casual wear, these are nice looking and decent. These aren't for serious trail runners.
Yes, it is true that this is the lightest trail shoe that North Face sells. But, if you do any running on rock gardens or technical terrain, I wouldn't recommend this shoe. I used them on 4 runs from 1 to 3 hours on Mt. Diablo in California. At the end of each run, my feet were sore from all the pounding. I felt every rock and root. Every trail runner stubs his toe at one time or another and if you do it wearing this shoe, expect to see a black toe after your run is over. I ended up giving these away and sticking with my Salomon XA5's.
I love these shoes although the soles wear fast.
I'm sure this shoe will work for many, I'm not so sure it works for me. Great quality and feels light. This is a pretty flexible shoe. I'm not sure that it is enough shoe for me. I have been experiencing hot spots after about 2 miles. They perform really well on the trails and decent on the road. A nice hybrid really. I'm hoping they will break in for me in the next couple of runs.
Great shoe, I have been running in then the past 6 months. Awesome on and off road.
I bought for a 50-miler trail run. It's a comfortable shoe...if your trail is dirt only. Race day trail was a rocky affair and 26 miles in the bottoms of my feet were beaten up from navigating through the rocky path. I had to switch to an older pair of shoes to get a break. Good thing about them, I could lace up tight and protect my toes; plenty of room in the toe box. Be wise in what you want them for. If it's a hot day on dirt, these are your shoes. If you suspect some rocky stuff, choose more padding.
I ran in this shoe for the Deadwood Marathon on the 5th of June. I cannot say how much this shoe impressed me, it was light, I did not slip and did everything I asked it to do. It is not a hard rock course shoe but an average trail runner's shoe. FYI, I won my age group and this shoe was a factor in it.
This is probably The North Faces best long distance trail running shoe, and is Neutral, yet supportive, and it's breathable and light. This is also a great light hiking shoe. I'm psyched on my Singletracks.
The North Face Single-Track Video
Great Neutral Shoe Not Just for the Trail
I usually wear Adidas cushion running shoes but tried this shoe the past season. 4-5 miles per run, strictly road. Very light and capable even for a regular road running routine. I alternate these with my Adidas Supernova Glides and from a cushioning perspective, I can't tell a difference: both are supportive and solid. However, this not a stability shoe, which I don't need. If you need a stability shoe TNF has other models available--they look similar to this one, so don't get them confused.

I realize that the racers out there might not like the weight of this shoe, but it seems to be on par with other running/training shoes and is relatively light for a "trail" shoe.

My only complaint is that the laces never stay tied/tight. I had my mommy double knot them but she got tired of doing that--I'm a big boy now. The factory laces are a little more robust for durability, but I had to change them out. No matter how tight I tied them, they came loose within the first mile.