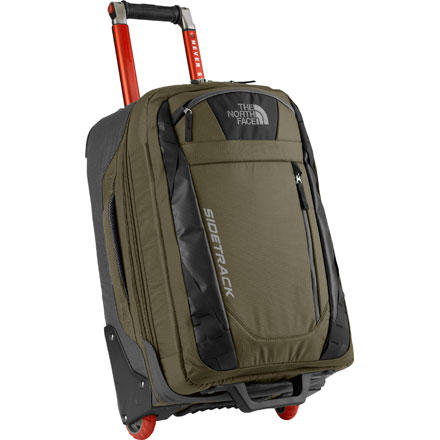 I fly a lot and this bag is really working for me. The handle is long. You don't kick the bag when walking briskly thru terminals. The wheels roll smoothly with almost no resistance on hard surfaces. There are a reasonable number of pockets (4) so you can be organized but not have to search a dozen places. It's fit in every plane in the US with space to spare so far (about 15 flights), but it might be a little big for Europe. I haven't had to check it yet so I can't say much about abuse resistance, but I haven't babied it and it still looks new. It will be all I hoped for if it hold up like my other North Face gear.
I'm a big fan of North Face products, and this roller bag is no exception. I just got it in the mail (which shipped quickly as always) so I haven't had the chance to fly with it yet. So far it looks clean, somewhat sturdy (but not the sturdiest), and has a quality pull up handle which is it's beat feature I believe. I hate pull up handles that don't pull up easily, or don't look into place easily, or just feel flimsy. This bag's pull up handle has it all, plus it's a nice contrasting color.

I'm very happy with it and I believe you will be too. If price is an issue, perhaps the lifetime warranty helps.
Does anyone know whether this bag will fit...
Does anyone know whether this bag will fit into the typical overhead on a 737, A319/320, etc. with the top facing out like it's supposed to? Or do you have to lay it in there sideways and eat up the whole overhead space? Thanks!!!
I used it on both the Boeing 737 and an Airbus A320. It fit in the overhead of both (a little tight in the Airbus). It needs to lay flat on its backside with the top facing out.
This was a great purchase! It's the best carry-on I've had!