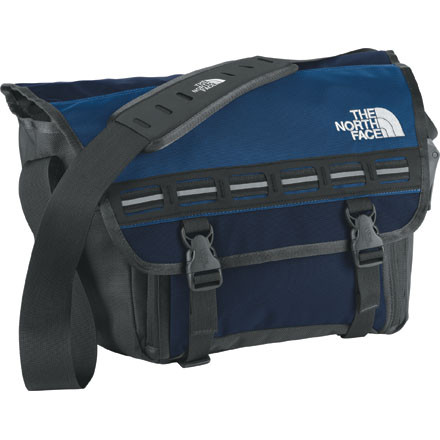 I love this bag! The compression straps are great for the small loads, so you can downsize when you need to. I think it is fabulous that you can lock the shoulder strap down, to the length you want, and with the padded strap, it doesn't slip off your shoulder. It looks great and I have the ablity to take as much or as little as I need. It is the perfect size for work files, and my laptop. I like the fit, and the style of the bag.
The bag looks pretty cool, but will it fit...
The bag looks pretty cool, but will it fit a laptop and 4 school books (not more than 100 pgs??)
thanks
Yeah, this bag really expands pretty amazingly, My engineering bags were pretty stout and I managed to fit everything. This bag also gets really thin when you don't have much in it, and the bag itself is really light.

The shoulder strap is good, and its a great bag to throw stuff in and jet. However, keep in mind that messenger bags have one strap, and even with a waist strap, carrying a lot of books can get heavy.

My only complaint with this bag is that the waist strap is just webbing, so its not very comfortable.

That all said, its a great messenger bag for the price point, but I always wonder if I would have been happier if I had spend a little more and went with a Timbuk2.
Oh, and the laptop pocket holds my 15" Mac Book Pro perfectly.
Been using this for school, so its nice to have a bag big enough that holds all my stuff. Really nice material, nice padded shoulder strap, and a waist belt which works great when your hauling on your bike late for your 8:00 class.
This bag does the trick alright! its got a super comfy shoulder strap (so far) and the front pockets hold all my stuff nicely. I use it for class on certain days. It will fit about a few 2 inch textbooks and a bunch of folders or notebooks. But i do not think its worth more than 45 bucks. Thats all I paid and I am totally satisfied!
So I'm about to be a senior in high school and I wanted to get a messenger bag that will last through college. I scoured the internet for three days looking for a quality bag that was stylish and that would last. I finally decided on the shifty bag because of its size. I looked at the Ruckus bag but decided that it may be too big for what i needed. I was SO RIGHT. I'm so glad I decided to get the shifty instead. The Ruckus would have been wayyy to big. The shifty bag is on the big side as well. I haven't started school yet, but I tried some books and binders in it and it worked well. I have been to the gym a few times and carried my things in it. there is SO MUCH ROOM! I have also used it as an overnight bag. All in all I love this bag, but there are some minor things I would change/add. First off, I got the dalberg yellow color and, although I love it, it doesn't look too much like the pic. The yellow color is actually a soft lime green, and the blue part is a bit lighter than it looks on the computer. I would add a pocket in the back for easy access, a cup holder/ bottle pouch on the side, and a pocket on the front flap for a cell phone or something.
Now, because the inside of the bag is not shown on this sight, I will explain it. When you open up the flap, there is an organizer that holds many pens, cell phone, camera, even big enough for a small agenda book. Because the flap sits over it, its completely shielded from the weather. In the main compartment, there is a sleeve at the back to hold a laptop. But if you don't have a lap top, it works very well as a divider. Another thing I would like to point out is that if you do have a lap top, you may want to invest in a lap top sleeve to add more protection to your computer. This bag isn't too terribly padded. But... I like that about it. It makes it not specifically a lap top bag. When I want it to be a lap top bag I can use the extra sleeve, but when I want it as an overnight bag, there is no extra padding that I dont need.

I hope this has helped!
I like most things about this bag, for one the straps that buckle down the flap serve as compression straps for the main compartment, so when you don't have much stuff it compresses pretty small to stay out of the way when you're pedalin'. The only thing is though, that the waist strap doesn't connect to the shoulder strap, but instead to the other side the bag, making it kinda akward if you have a lot of stuff in it. I just disconnected the strap and hooked it onto the shoulder strap anyways, which works pretty well.
This bag was exactly what I was looking for. Not to big, fits everything perfectly. Highly recommend
Unanswered Question
How long is the waist cord? Someone in a...
How long is the waist cord? Someone in a review mentioned it was 'short.' What exactly does that mean?
Great bag with a few drawbacks
First of all the pros... the material is very durable, like most North Face products. The large compartment has a divider to keep your laptop separate from everything else. It will fit a ton of stuff in there. There are two smaller pockets in the front that are perfect for students. Comfortable shoulder strap even though I carry 4 text books and my laptop. Now the cons... the waist belt is a good idea but it is a very small strap and if you don't want to use it there isn't really any place to put it, it will just dangle there. There isn't any padding in the laptop compartment, I bought an extra laptop case just to make sure it didn't get banged around too much. I think the bag would be much better if there were handles in addition to the shoulder strap. Overall the bag is great for students but there is a lot of room for improvement.
Will my 17" MBP fit in it?
Will my 17" MBP fit in it?
Best Answer
"No. The Bag Dimensions are 11 x 16 x 7in"Correction: Yes, it will. Laptop screens are measured diagonally, The actual size is 1.0 x 15.4 x 10.4 inches.
This would have been perfect but the shoulder strap would not adjust long enough. I have broad shoulders and it did not work for me.
It's a cool bag, the size makes it very versatile. Only wishes: a longer shoulder strap and a couple of internal pockets and an external pocket for a bottle. But great quality as expected.
Typical good quality North Face product. Light weight and durable. Has a large dbl zip pocket on outside of bag under flap, but I wish it had internal pockets in the main compartment. It's messenger bag, not a laptop bag, but it's big enough for one.
Will this bag fit a 15" laptop with 9 cell...
Will this bag fit a 15" laptop with 9 cell battery?
Best Answer
yes it will. its 16" wide so it'll fix snuggly inside
The bag is OK. I bought the brown one and was disappointed to find out that it was bright yellow inside the bag, and on the inside of the flap.
This bag is great! It holds my 15 inch widescreen laptop, a cooling pad, all the cords and has plenty of space for more. The shoulder strap is comfy and I love the wide range you can adjust the strap. It's another great, durable product from TNF. The only issue I have with it is it could use a grab-handle on the top. Otherwise, I would have given it a 5.
I am using this as a train commuter and love this bag. There is sooo much room that I can use it for both work and for gym items so I no longer need a second bag. I also like that it is NOT a backpack which makes it more flexible on a crowded train. The interior is not cloth/it is a washable vinyl so it can get cleaned if you spill anything. It comes with a waist band for couriers, but I just took that strap off. Great choice- plus it's Northface so anything that goes wrong they will repair as long as you own the bag - can't go wrong.
This bag is great! My laptop fits just fine, and it still has plenty of space to carry other items. The North Face consistently makes durable items, and I know this bag is no exception.