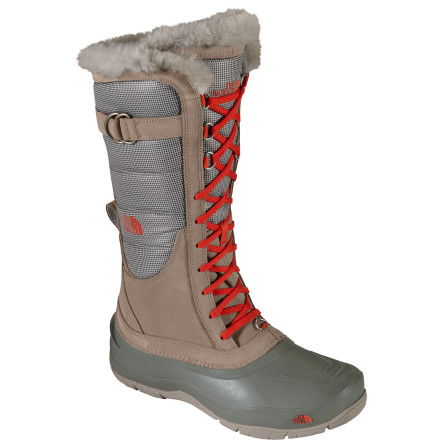 Detail Images
It's not easy being The North Face Women's Shellista Lace Boots. These boots takes their job of protecting your feet from the cold and wet quite seriously ... plus they have to look good at all times of the day. But for you, it'll do anything.
DWR-coated leather and waterproof outsoles allow you to trudge through snow and melted puddles without even thinking about it
PrimaLoft Eco insulation keeps your toes snug and warm throughout the day
The North Face Winter Grip and IcePick outsoles provide you with exceptional grip and traction on sketchy terrain
Dual-density polyurethane midsoles and nylon shanks for support and shock absorption
Above-calf height and stylish look makes it easy for these babies to be your winter bar-hopping boots
Absolutely Love!
Familiarity:

I've put it through the wringer

Fit:

True to size
I live in the Northeast and wanted to buy a sturdy boot that keeps your feet warm and dry and is high enough that a they can be worn in heavy snowfall amounts. I bought these after Christmas and am so glad I did. The subzero temps began and snow has been piling up. I wear them almost daily and find them comfortable and warm. They are also very stylish so they can be worn with jeans or dress slacks. I wear a size 9 and ordered that based on other reviews I've read. They are a perfect fit even with extra heavy socks. The only drawback is they can be tight around the ankle but since I have narrow feet it's not an issue and can probably be adjusted by loosening the laces. My personal wish was they were a bit more colorful so I added colored laces and they look great. I strongly recommend these boots and Backcountry as well. They shipped very quickly and were a very reasonable price when compared to other comparable boots by Sorel and Patagonia.
Are these made for avg or wide width? I...
Are these made for avg or wide width? I have narrow feet and find it impossible to find boots to fit.


Hi Barbara,

These will fit more of an average width foot. I have a semi-narrow foot myself, and find North Face footwear to fit great!
I have narrow feet and they fit really well.
I love these boots!! Nice and warm with good traction! I've used for hiking in snow, and day to day to and from!
Do these fit people with wider/muscular...
Do these fit people with wider/muscular calves?
They have a shaft circumference at the opening of 13 inches. So if that works for your particular leg then the boot will work for you.
My Boots
Familiarity:

I've used it once or twice and have initial impressions

Fit:

True to size
I was happy that my boots arrived quickly. The fit were true to size. However, since it isn't cold yet I haven't tried it in the elements yet. They are cute,
I wore these for 5 hours outside in 25 degree weather & an occasional breeze and my feet were very cold! I even wore wool liner socks. I usually wear an 8.5-9 but decided to order a 9.5 instead. Good thing I did or these wouldn't had fit at all. I'm returning them & getting a pack boot which I know will be warm!
EXCELLENT boots for cold weather!
I purchased a pair for my self and my daughter. I spent a week in Chicago in 20 degree weather walking around outside downtown and these are the warmest pair of boots and they kept are feet dry. I would highly recommend!!!
My first priority in looking for a boot - was something that was cute and fashionable. The second (and probably the most important for others) was something that would protect my feet in snow/slush/freeze temperatures!



When the boots arrived ( I got the black ones) I was very impressed with how they looked! I can easily slip them on over my jeggings/leggings and wear them around on the weekends while I'm running errands or heading out to lunch. They are perfect for some extra warmth and if it was a little wet outside way better than my hooker boots or Uggs. The biggest test came when we had multiple snow storms. I live in Wisconsin so that means a lot of snow! I have worn them several times now and have had no issues. My feet have never got wet or cold and I only had on 1 pair of socks.



These boots are perfect! True to size, fashionable, and keep my feet protected.
I almost didn't buy these...
based on the reviews! (And BTW, I never write reviews.) I purchased two pairs of these shoes, one for myself and one for my daughter. (One of each color in sizes 9.5 and 11. The brown ones are nicer looking.)

First of all, I was told they were true size, which indeed is correct. (I only needed to wear one pair of smart wool socks.)

Secondly, they are very nice looking.



Okay, on to the things that really matter.

We just returned from Quebec City, Canada where they had a record low of -38C = -36F! It as COLD. It was in the negative numbers our entire trip. We were out and about starting first thing in the morning and returning to our hotel late at night. Most of this time was spent outdoors. We went to the winter park, the Carnival, dog sledding, the Hotel de Glace (ice hotel), snow shoe hiking, walked up and down lower and upper town Quebec City, and so MUCH more!!!



Finally, the most important part...our feet NEVER got cold. (I purchased feet warmers, but never used them.) We were told if you gear up right, you will be fine. We did just that: thermal base layer, no cotton, multiple layers, good jacket (Marmot and North Face 3-in-1, which we purchased from Backcountry as well.), gloves (a good pair is a must), scarves, and hats.



I really appreciate the time Backcountry spent online chatting with me about how to prepare for our trip. I wish people would give all the facts when writing reviews to help the next consumer. So the bottom line, the boots did the trick, I didn't have to wear multiple socks because I had on the right kind, and I geared up correctly.



THANKS!

Kim
I was ALMOST swayed by bad reviews...
Gender:

Female

Familiarity:

I've used it several times
...but I'm so glad I took a chance. I had heard horrible things about North Face boots, and having read reviews on 3 other websites, almost passed these up. I wear dresses to work year round, and wanted a pair of winter boots that wouldn't look too out of place paired with a casual dress. I have to brave recess duty as a middle school teacher, and was looking for higher boots to keep more of my legs warm.



I heeded advice and ordered up in size. I'm normally a 9, but went for the 9.5 and still have plenty of room for a pair of thick socks.



The traction isn't magical, but it's much better than my other winter boots. There was a pretty decent snowstorm the day after I got them, and my feet and legs were toasty warm and comfortable. I taught in them all day!



I haven't worn them trekking through snowy hill and dale, but for my uses...commuting, shoveling snow, walking around, just existing in the winter in NY...they've been great.



Customer service was wonderful. They helped me navigate multiple gift cards, and I had them 2 days later.



I'm not only very pleased with the boots, but also with the company. This was my first experience, and they've earned a customer for life.
I love these boots because they are so warm. I have worn them out in the blustery Northern Michigan weather this year. They have kept my feet very warm with just one pair of socks. The only thing I don't like is how long they take to lace up.
I bought these at the end of Nov (ish) 2011. My parents own a Christmas Tree Farm so I needed warm boots for the snow. These were absolutely terrible. The bottom of my feet and my toes were almost instantly wet after walking on the snow. If I stayed on dry pavement, then my feet were fine.
The boots look awesome - everyone asked me where I got them, but I had to tell everyone they sucked. Maybe my pair is defective? I don't know how refunds/returns work online??

They are formfitting, snug and very comfortable. But Now I'm out $140.00 for trusting an online site.
I am a photographer, so when I go out to photograph I need to be warm and have stable footing. These fit the bill perfectly. I am a slim 5' 7" with an athletic leg build. I wear a size 9- 9.5 shoe and ordered these in a 10. They fit great. I can wear thick socks or regular socks, depending on the need for layers. I have plenty of lacing to get a snug fit, these come to about 3 inches below my knee, and are wide enough to not aggravate my bad feet. I got to try them out for the first time this past weekend- 15* weather with a windchill in the single digits in 2 inches of snow and ice. I was outside walking in these conditions for over an hour. Not one toe was remotely cold, let alone numb from cold like my previous boots. I think these were money well spent.
even though they are lovely boots, they were a tad too small in strapping area of the boots
Very disappointed with my $130 purchase. Am I able to return them? I bought them at the end of November and wore them December 8th - Dec 21st.
They are not waterproof at all. My toes got wet and cold every day within 5 minutes of being outside; and there was only an inch of snow (or less) on the ground. I do not recommend this boot, and if anyone can help me with how to get a refund, that would be great. Thanks!
I love these boots. They are exactly what I expected and then some. They are super warm but the best thing about them is that they are the most comfortable pair of boots I have ever owned. You have won my business. Keep up the good work. One more thing...I bought my daughter a pair of boots awhile back and she never wore them so I returned them. That was the easiest return I have ever made. That was the main reason why I came back and bought these. You guys are great!!!!
Love them . They are everything I expected and more. They haven't been any snow days but I am ready and waiting for it to come. I would recommend these to any woman who is looking for a warm, comfy reliable, good lookin boot.

Rene (NYC)
I read some reviews about this boot on other web sites. They say The North Face sizes shoes small so, am usually an 8 but listened to the reviews and bought a half size up, 8 1/2. They fit just right. I could have actually bought a 9 and It would have beenbol too. I love the boot, very warm and look great!
Super cute but bend at ankle
These look great but are big in the ankle so when you take a step they fold in on themselves and start to rub. I had to return.
I just moved to North Dakota from the deep...
I just moved to North Dakota from the deep south and need WARM winter boots, preferably knee high. Problem is I need them in wide width and can't find any.
Help would be greatly appreciated!
Thanks
These are warm and knee high. But very narrow in the toe. Try sorrels, they seem to be more wide width.
I live in Williston and I bought these this year. They are very warm. I bought them 1/2 size larger than my normal shoe size and they fit great. I don't think these would be considered wide though. I'm 5'5" and these are a couple inches below my knee, but my legs are long for my height. I think if these are wide enough for you, you will love them.