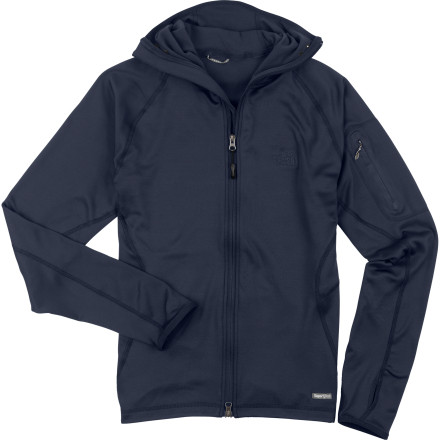 This is the best hoodie I have ever worn! It's light weight and super comfortable. I want ten more of them, but there sold out!
I haven't taken it off (except to wash!)
This is an invaluable layer for winter sports enthusiasts. If you ski in any conditions, you can't go wrong with this hoodie. The ninja hood keeps your face protected, with breather holes that help prevent goggle fogging.

If you usually wear a medium, get a small. Etc...It's best as a base layer with a tight fit.

Excellent.
I like hoodies, but LOVE this hoodie.
I was hesitant to buy such an expensive hoodie, but after using it, I have no regrets...this is an awesome product. It's become one of my favorite layering pieces for cold climbing sessions because it's lightweight, breathes exceptionally well, and keeps me warm on the move.

The stretch and flexibility are perfect for climbing and the fit is slightly slimmer, which allows it to hug your body. The ninja hood and thumbholes are super functional, and will keep you warm during down-time. The mouthpiece on the collar (bottom part of the hood) has lasercut holes that you can't really see in the picture, which eliminates moisture build-up when exhaling.

The version I own only has a bicep pocket without front pockets, which I'm fine with, as I like the streamlined quality...this aspect is preferential. Seriously a great, high quality hoodie that provides function, comfort, and style.
Nope, this is just a comfy warm jacket for the bluebird days.
, ☃bcs_badge_alumni_label☃
It's alright
I use this thing for mild to cold weather hikes, and sometimes a layering piece for skiing. It wicks moisture fairly well and doesn't smell too bad after. It doesn't do too well in the wind, but it is not really made to. It can also be a sweet climbing piece if the weather is just above freezing to mid 50's