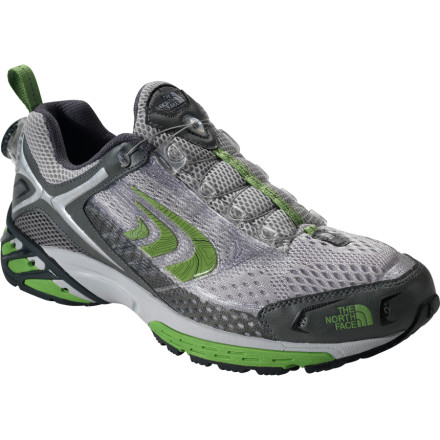 There's nothing more annoying than having to stop in the middle of a race to tie a loose lace; avoid this frustration with the North Face Men's Sentinel Boa Trail Running Shoe. The cutting-edge Boa lacing system features aircraft-grade steel wires that adjust with a turn of the knob at the heel, so you can literally dial in the perfect fit—and they'll stay that way until you say so.
Terrain Harness design gives medium-arched pronators excellent stability on varied terrain
Thrust Chassis technology stabilizes the rear foot and adds propulsion power to the midsole
Extra cushioning in high-impact areas helps you run longer and farther
UltrATAC rubber outsole provides excellent traction over rough trails
I have the Boa shoes and I have been running in them for the past 4 years. I probably put over 3000 miles on them and they are still my favorite trail running shoes. I have some minor holes on the outside but they still do the job. Thanks TNF for the great build of the shoes.
Not only are they great for running in, but people are intrigued about the lack of shoe laces. I always order a half size bigger because in my experience when running shoes get wet they usually shrink a half a size over time. Until then I just wear thicker socks. I was running in Washington State, and the rainy season definitely gave me experience for running in wet weather.
Glenn
I am a recreational trail runner. Is it...
I am a recreational trail runner. Is it worth the extra $30 for the BOA lacing system? Not sure how the longevity of the BOA lacing system is. The lacing system sure looks cool.
Best Answer
I have had my BOA system for a year now,and they have been working great....
I'm on my 7th pair of TNF shoes with the BOA lacing system. I still use my old shoes for various jobs. My oldest pair is 3-4 years old and I've yet to have any of the BOAs fail on me. I love them and think they are worth the extra cost.
I am a teacher who does home visits with preschoolers, and I got a pair because they made it very easy to slip on and off when going into peoples houses. I had mine for two years and they quickly became my go to shoe for everything, work, hiking, walking to get the paper. one of the cables did break after two years of constant use, which was a major bummer because now i need to sit down to lace up my shoes. Oh well. Time to splurge on a new pair.
Cant comment on 'worth the extra $30' bc im just staring my research into boa running shoes. I can comment that I've had a pair of Vans snowboard boots for 8 years now and believe me, i've put them through some tough times. This season they finally gave in -- but wait -- Boa apparently provides repair kits for $4 bucks, so I've ordered that and will probably get more years out of these boots (or so I hope)
Great Shoe for Roads and Trails
If you like mixing up moderate to long distance running on trails and roads this is an ideal fit. Comfortable, light, and convenient.
Here is a good informational video about this shoe.

http://tnfvideo.com/video/sentinel-boa/