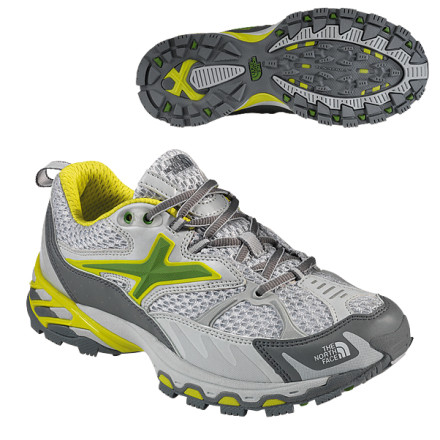 Early in my training to hike Mt Whitney in a day, I purchased a lightweight hiker shoe that turned my feet into hamburger. Its seems that since then, any other shoe/boot including my tried and true old time favorites' blistered my feet horribly. I was 3 weeks before the big event and tried something new - the Rucky Chucky. The fear of a repeat injury was tremendous. I took the leap of faith and took Ruchky Chucky on a 19 mile hike. I am pleased to announce, finally no blisters! The traction is amazing. The snake plate had more flexibility in it than I expected but was skipping around the next day without injury. I was so pleased with the comfort and performance. North Face shoes tend to be small on my feet so 1/2 size larger with medium cushion socks did the trick. These were also more wide in the toe box than the other North Face shoes.
I bought these shoes for well groomed to rough groomed trails. Something in between my running shoes and my full blown hiking boots. I followed a friends tip and wore them to an agricultural fair in order to get a little wear on the treads before I tried them on a trail. After a full day at the fair I tried these shoes on a short trail near my house that included wooden bridges, one moderate incline studded with tree roots, steps and packed dirt.

First I noticed that with regular street socks the stiff heel rubbed slightly on my own heel but I'm sure time and thicker socks will take care of that.

Even after a night of heavy rain, I had great traction and the footing felt secure on the packed dirt, stairs, and incline. On the rain soaked leaf covered bridge I did have a foot slip. I'm hoping that with a little more time, the showroom finish will be gone and I will have better traction on wet wood and stone.
They were too loose in the heel and lacked cushioning.
I was looking forward to getting these shoes after reading the reviews, but was disappointed when I received them because they were too loose in the heels and lacked cushioning.
My all-time fave trail shoe
My favorite trail running shoe--I run in Tahoe on trails with sharp rocks, and these hold up quite well and are nice and grippy. The fit is great, I have a pretty standard foot and these feel like a traditional fit. They feel great hiking, as well, and I only run on a little bit of pavement but haven't noticed a problem there at all.
Lightweight shoe with great traction. Very comfortable with lots of room in the toe box. Could could use more cushion, especially if you run on pavement, but great on trails. Overall, I love them!
I have to admit, I'm not a runner, but I have these shoes and I promise, I do a fair amount of hiking and other activities. These have been holding up pretty good for a running shoe. I got them about a month ago and have hiked a handful of times in them. The orthodic that is in the shoe has a raised heal area which is nice to help you feel supported but I find it slightly irritating after a little while. But you can always switch those out for your own if they bother you. The mesh is really nice for breathability as long as you aren't bushwacking. I found that some smaller weeds found their way into my shoe. But I used them for some burly rock scrambling and bushwacking and my feet were about the only thing to not overheat and was fairly comfortable the whole time. And they stuck to rock pretty well. I usually have rubbing the first few times that I wear a shoe but experienced no such thing. Pretty good shoe!