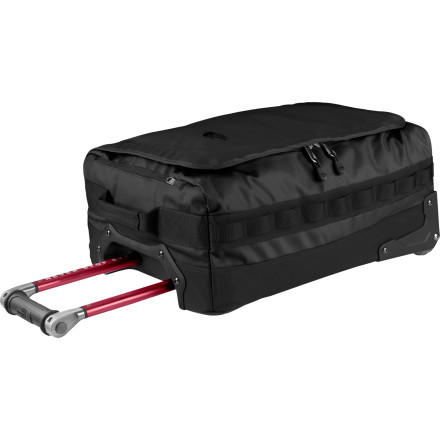 Videos
This carry-on version of The North Face Rolling Thunder Gear Bag can't do anything about traffic on the way to the airport, but once you're there, it helps get you to the gate on time. Hyper-durable TPE tarpaulin tolerates your banging and the heavy-duty YKK zipper won't fail you as you jam things back into the bag after passing security. As you sprint through a terminal to make your flight, you'll appreciate the Rolling Thunder's reinforced inline skate wheels that roll smoothly and consistently. Fortunately, you've tucked some reading materials into the top organizer pocket, so you don't need to stop at the newsstand and can accelerate as you hear your final boarding call.
Do you have this in black?
Do you have this in black?
Unfortunately in this size we only have the blue and the orange. We still have the black in the next size up and it can be found here: http://www.backcountry.com/the-north-face-rolling-thunder-4880-8400-cu-in?rr=t
The North Face Rolling Thunder
This bag has toured northern Ontario in the back of my pickup. Due to its weather resistant construction its the first to get demoted to the box when I need the extra seat in my crew cab. It's not perfectly waterproof, but it's good enough to keep your stuff mostly dry if you are careful about placing it. Its done 300km in the rain in the back of a pickup and clothes stayed dry. It cleans up nicely with a damp cloth if it gets dirty. I have destroyed many cheap bags and suitcases. This one has 2 construction seasons and several trips on it and still going strong
Fits in most overheads/Durable/awesome
Gender:

Male

Familiarity:

I've used it several times
I've been traveling with duffel for the past year or two and this is an amazing upgrade. Fits in most overheads and provides plenty of room for weekend trips. Durable too, I haven't (or the luggage throwers) managed to tear or break it yet.
Can't say enough great things
I just tried out the Rolling Thunder Gear Bag last weekend, and I honestly I love it! I don't think anyone's complimented my luggage before, but at least 3 people did when I pulled into work with my new gear. It's the perfect size for a weekend getaway, and everything about it is awesome! The bag itself is extremely durable, and the wheels and handle could roll around something three times the size of this bag! I ended up getting it in red, which I think makes life much easier at the airport. It's perfect for the overhead compartment on a plane too. I really can't say enough great things, and I feel like everyone should have this bag!
*Thunder noise not included
Now that I have the small Rolling Thunder well traveled, its time for a review.
Here are my overhead storage notes:
(plane type / note)
CRJ200 (9E) / barely fits
A319 EOW / fits easy, room for jacket on top.
EMB 170/175 / fits easy
737-300 / fits easy, room for jacket on top.
MD-83 / fits in deep way, barely. Some room on top for an over stuff
A319(OW) / fits easy, room for jacket on top.
B767 300ER / (Center bin) fits sideways with ease.
A330-200 / fits easy in outer and center overhead
B767-300ER / fits easy in center overhead
CRJ900 (XJ) / they made me check it on the jetway. If it fit, it would have been very tight.

The top end of the bag is only partially rigid, so if you don't have it completely stuffed, it can conform to the overhead bin for easier fitment.
While rolling, its quiet and stable, its never gotten the wobbles.
The handle is a little longer than I anticipated. This ended up being a good thing because you can pull it directly behind you without kicking it with your heel, allowing you to easily blast past people that stand on the moving walkways. I've also found the handle height is perfect for leaning against while stalking the gate for your boarding group to get called (the handle locks).
The top pocket is good for storing and easy access to your TSA mandated liquids ziplock bag.
The bar to the right (of this page) has this recommended for weekend trips and overnights. If you're going on vacation somewhere warm, with some creativity, you can shove a weeks worth of clothes in it. I've also packed a few days of business casual clothes without issue.
Because its pertinent to my review: 5'10", 175lb, male.
The dimensions say 20 x 14 x 8in. Delta...
The dimensions say 20 x 14 x 8in. Delta Airlines allowable longest dimension for carry on is 22". I have seen them make people check bags for not being able to fit them in the luggage size checker while boarding. I know this bag has a fairly large extruding handle on the bottom. Does anyone know the actual dimension that corresponds to the 20" dimension? I'm afraid it might be around 23", but I do not have the bag to check.
Thanks in advance.
Best Answer
This bag fits in Delta overhead bins on its small short hop planes. Also fits on US Airways planes. My wife liked mine so much I had to get her one. I can live out of this bag for a week.
(4.5/5)

I really do love this bag. It's simple, compact, and it rolls. I'm new to the idea of having a bag with wheels... but its quite handy in the airport. Great size: fits within ALL (that I've seen/heard of) airline restrictions for carry-on luggage. This differs from some bags which are at the limit of all dimensions for one airline, but then over the limit in one dimension for another.

Very simple. I would recommend.