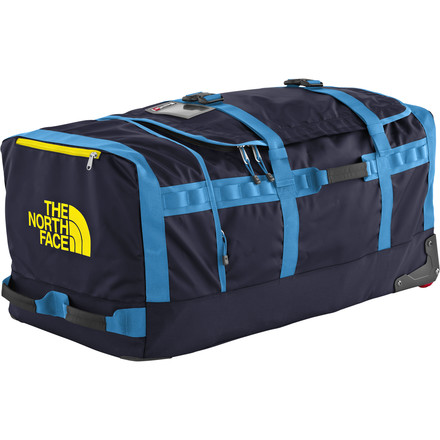 When the thunder rolls you'll have to walk faster, but luckily the wheels on The North Face Rolling Thunder Duffel will keep up as you avoid the lightning.
Made from strong, durable TPE tarpaulin to prevent abrasion and damage to your luggage
One large main compartment with internal compression straps will allow you to pack a bushel of carrots with your suit
Durable custom wheels with protective wheel housing roll smoothly
The protective skid rails keep your goods from getting crushed when the bus driver tries to put a large sack of rice on your duffel
Easy-access zippered top pocket for a book or your passport and tickets
Bottom, top, and side handles for easy loading
Fit it all!
Familiarity:

I've used it several times
This bag has an incredible amount of room and it's cube structure makes packing a breeze. It's so much nicer to pack a square bag rather than a round or non-structured duffel. It has a nice mesh pocket on the inside in case you want to stow anything aside from the rest. The wheels also make it a breeze for traveling with tons of gear. I've only used it a handful of times, but it's been tossed around pretty good. It seems like this bag will last me a long time!
Not a TNF fan.
Familiarity:

I've put it through the wringer
I am not a TNF fan. I think their gear and apparel are for High School and College age nimrods who are like lemmings who follow the others. Too bad they don't all find a tall cliff to plummet off of into the sea.



That being said.. I really like these Rolling Thunder bags. I first purchased one for hauling DH gear on Whistler trips. Then I purchased another for hauling even more DH gear for airline travel going to races.

I own quite a few TNF expedition bags.

Large through XXL and two of the large Rolling Thunders. They have been my go to travel luggage. Europe, Central America, Hawaii, China, Australia, Canada and quite a few DH expeditions throughout the U.S.

Snorkel gear and fishing gear for Hawaii trips. They hold a ton of stuff and let you easily go beyond the 50lb weight limit set by the airlines. Yet, they are well within the total added dimensions for checked bags without incurring the non lubed prostate exam feeling they want to charge for oversize luggage. I use the old school toe clip straps and piggyback them on one another and pull them through the airport having a train of them following behind me.



I dislike the company, but I like their Base Camp expedition bags and rolling duffels. Maybe I need to go find a cliff and see who else wants to jump?
Tough & distinctive
Gender:

Female

Familiarity:

I've used it once or twice and have initial impressions
After years of using North Face ski jackets, I figured their competence would extend to their bags. This bag is tough and wider than most duffels s giving me more options when packing my stuff including bulky items like helmets & boots. Internal and external compression straps to keep things from rolling around. The color and proportions make this bag stand out from black duffles in the airport and it looks pretty kick-ass especially in business hotels!
Big, almost too big
Familiarity:

I've put it through the wringer
I have used this bag (Lg) for almost two years. Perfect space for me and two kids loaded up for ski trips. It fits perfectly in the rear of the Mini, as if it was made specifically for them! Loaded up for a plane trip you need to be extra cautious to watch exceeding max weight, 50 lbs unless you do 1st class, as the pack is like a black hole. It's also convenient to keep all your clothes etc in there in lieu of emptying into dresser at your destination. Good functioning luggage is expensive so comparatively speaking 300 bucks isn't crazy for something thats durable and will last a long time.

ps also easy to spot in the luggage carousel.
Best Bag Ever!
Familiarity:

I've put it through the wringer
Alright so here is the skinny, this is the best bag I have ever owned. I travel and work seasonally in some pretty rugged places (mostly national parks), so I pretty much live out of this bag for six months a time. It is probably the most durable thing I own. To give an example of the typical haul I pull: 1 snow jacket, 4 pairs of jeans, 3 pairs of yoga pants, 4 pairs of shorts, 2 swimsuits, 2 large towels, 1 set of twin sheets and blanket, 1 bath robe, 4 pairs of shoes, 2 hoodies, way too many socks, 1 laptop + charger, 6 tank tops, 5 t-shorts, 6 dresses/skirts, way too many undergarments, large toiletries bag, 4 picture frames of the family, usually 2 bottles of wine, and a 6 pack of Sierra Nevada Pale Ale beer (important stuff), 2 books, 1 knife roll, and so much more then I can remember right now. If you are flying make sure you buy a luggage a scale because you will go over your weight limit very very easily. This bag really is amazing, I have out it through all types of climate, from 110 degrees in the desert, to a 6 hours in te bed of a pickup truck in -20 snow snowstorm on Montna. If you are nervous about spending $300 on a bag, don't be, this bag will far outlast your adeventrpurs and then some. You really can't go wrong. The large rolling thunder north face bag, truly is the best investment I have ever made. I can't explain how much I love this bag.
Would a bottle or two of wine (packed well)...
Would a bottle or two of wine (packed well) survive inside this as checked luggage?
Best Answer
Yes! Actually, I packed 12 bottles of wine with padding in the middle of my clothing just fine. I didn't use a bubble wrap, but I would highly suggest it!
Hopefully Backcountry.com can add this to the Tech Specs on all luggage?



I brought 6 bottles of wine back from Argentina, via Dallas Fort Worth to Salt Lake, and they all made it fine. Unlike my ski helmet which American Airlines crushed in the same bag.
everything plus the kitchen sink
Familiarity:

I've used it once or twice and have initial impressions
i am able to put everthing we need for a out-of-town vacation. whether it's skiing, camping, biking or boogie boarding. this is one tough bag that handles the weather and baggage claim
Tougher than American Airlines
Familiarity:

I've put it through the wringer
Tough bag. Rolls well. I packed my ski boots, clothes and everything else for a 10 day ski trip in Argentina. Was easy to roll around with the airport with my ski bag in the other hand. I put my helmet in on the return trip and regretted it when American Airlines buried and scuffed my bag. The bag survived admirably.... the helmet not so much, and of course it wasn't the airline's fault ;-) Will be using this bag for years to come, unlike the airline
After going through several cheap gear bags on ski trips I finally buckled down and bought this on a recommendation from a friend. I witnessed His rolling thunder bag touring the world. Always overstuffed and mistreated. sure he'd get dinged for extra weight once in a while, but that beats buying a new bag every year. I'm several trips into my rolling thunders now and haven't looked back.
Great bag
Gender:

Male

Familiarity:

I gave it as a gift but have feedback to share
I havent used it personally as it was a gift but my buddy loves it. He can fit all his snowboarding gear in it with extra room. Super sturdy.
Unanswered Question
Here are the product specs for the different...
Here are the product specs for the different sizes:

MEDIUM:

Avg Weight: 10 lbs 9 oz (4790 g)

Dimensions: 27" x 16" x 11" (68 cm x 41 cm x 28 cm)

Volume: 4455 in3 (73 liters)

HAS RETRACTABLE HANDLE



LARGE:

Avg Weight: 11 lbs 10 oz (5275 g)

Dimensions: 31.5" x 16" x 14" (80 cm x 41 cm x 36 cm)

Volume: 7325 in3 (120 liters)

DOES NOT HAVE RETRACTABLE HANDLE



Both will meet most airline size specifications (>62" total L+W+H), although you can easily exceed the 50lbs weight limit on the Large if you're not careful!
I change my opinion on this thing. Be sure to balance the weight so that it can stand properly, though it's still prone to tipping. Considering it's a bit overpriced, I give it 4 stars but as a bag it's well featured with loops that I don't use, and compression straps inside, a bit odd but ok, and one large compartment with one smaller section on the head/top part. Not bad if you can swallow the price.
Perfect bag, understand your expectations
Perfect for packing to all you need. We need this as we go back and forth internationally, but understand a completely large size full bag can inherit airline hefty baggage fees or be too heavy to go through some airports (sometimes we pack heavy comforts from home to host country). Durable and easy to transport. Nice side compartments on the side for seperating smaller items. Expandable handles on every size but large. The pull handles on the large size work quite nice without making the whole unit too large and awkward to pull.
Durable, high quality construction
As earlier reviews have stated; this bag is huge. I don't know if it's ideal for airline travel, but if you're looking for one bag to fit every piece of gear you'd ever need to take on a trip, this is the bag for you. I was most impressed with the durability of the materials used. This bag should last for many years even with the roughest treatment!
Will the medium size fit downhill ski boots...
Will the medium size fit downhill ski boots easily?
Best Answer
This is big bag, even in medium.
Avg Weight: 10 lbs 9 oz (4790 g) Volume: 4455 in3 (73 liters) Dimension: 27" x 16" x 11" (68 cm x 41 cm x 28 cm)
Yes - I went to Argentina with ski boots, helmet and all my ski gear for a week in the medium sized bag.
What's the weight for M size??
What's the weight for M size??
Is this bag different in Large than in...
Is this bag different in Large than in Medium?
There is only a picture of the bag in Medium
There is not any differences in function or style, just a larger capacity.
Best Answer
The large does not have the "Ambidextrous retractable handle." Check it out http://www.thenorthface.com/catalog/sc-gear/equipment-luggage_duffels-filter-category-wheeled/rolling-thunder-large_2.html
How about waterproof? or water resistant...
How about waterproof? or water resistant?
This bag will have better water resistance over the Dakine. It's not waterproof, but it will prevent short term water exposure from seeping through.
The large size of this bag does not have the extend-able handle. Only the medium and the small sizes of this bag have that feature.