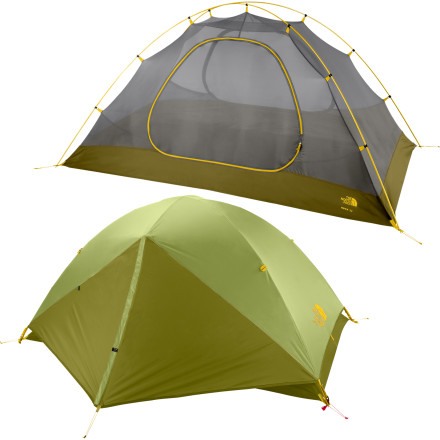 Community Images
Thanks to its simple two-pole design, you don't need a PhD in tent-pitching to set up The North Face Rock 32 Bx Tent, which is awesome because no school offers such a degree. You'll also dig the tent's two doors and double vestibules, which come in handy when you're lodging up to three adults in one tent.
Fly and floor fabric features a PU coating and taped seams to protect you and your gear from wet weather
Bathtub floor design keeps seams off the ground to help eliminate seepage
Double doors make for easy entry and exit; large vestibule storage space lets you keep wet bags and boots outside of your living space
DAC Pressfit poles provide structure and stability without weighing down your pack
Poles are made with DAC's Green Anodizing process, which eliminates the chemical polishing stage, reduces the need for hazardous chemicals, and recycles water throughout the rinsing process
Color-coded poles and clip attachments help you pitch the tent fast so you can get under cover quickly
Steel stakes are ultra durable
Built-in gear loft helps you organize your gear
Fast-pitch compatible; just carry the poles, fly, and footprint to save weight (footprint sold separately)
Great tent
Familiarity:

I've put it through the wringer
This is an outstanding tent. Simple, easy, light for it's size and cost. Very good buy.
Best I've tried and owned, thus far.
Gender:

Male

Familiarity:

I've used it once or twice and have initial impressions
I've owned both a Marmot Limelight 3P and a North Face Rock 32. And I decided to part with the Marmot in the end. Why? Because of a negative experience I had (see my Limelight review for further information). You see, anything I've owned from North Face, lasted me decades. And because of this, it kind of made it a no brainer to give this tent a shot.



From what I gathered during my outting with this tent. Setting it up is fairly simple. What I liked about this tent was that the gear loft is adjustable, so it doesn't droop down permanently and get in your way. The gear pockets at the doors are of decent size.



Now what I didn't like about the tent. The color option. The rain fly system is not a buckle system, kind of annoying when you want to remove it. The tent stakes that were included are garbage; look into upgrading them. The brow pole that gives the rain fly form around the tent is annoying to set up and take off. I was afraid I might break the plastic snap on clip.



In the end, after taking the Rock 32 out for a weekend trip in 30-40 degrees weather, I have to say, I am happy with my purchase. Sure there are annoyances, but it doesn't affect the fact that this is the best tent that I have owned and tested thus far.




Dry and Roomy
Familiarity:

I've used it several times
This tent really is the best! Took it up to the North Shore (Minnesota) for a long weekend- it rained from the minute we got there and almost never stopped. I was more than a little concerned this being it's maiden voyage- this tent stayed dry- it was nice coming back to the tent, toweling off and crawling into a dry sleeping bag. It was cold (hovering in the low 50's, freezing at night) and I wondered how cold we'd get with the tent being mostly bug netting- but never found out because it's nice to cuddle up next to the wife and listen to the rain :) We are super happy with this tent- we've been sharing a 2 person tent (darn near a bivy) for the last 11 years and this thing feels like the 4 seasons. We'll be hitting the boundary waters with this tent and taking it into the North Woods of Wisconsin (the best non-mountainous state in the union) within the next week or two. We bought the footprint too and it's burly but like everyone says- it's just a little too big, works great, just a little big. Get this tent and go get dirty!
Superb Experiences (!)
Familiarity:

I've used it several times
Just used it for the sake of three- (3-) season application on the Connecticut estuary [Long Island Sound] coastline of New England, and the sea breeze cooling me off was magic after my typical day's worth of hiking .... She is everything that of which I could have hoped for regarding setup-and-takedown, that being extremely user-friendly, ... she stands up to the elements coming off the waters (we are the first to experience the changes in the weather fronts) ... and she has the North Face consumer satisfaction guarantees, on top of < Backcountry.com > satisfaction policies .... Simply one very satisfying purchase .... Thank you, < Backcounty.com > (!!)
This tent has yet to go through any rain or wind, but so far it works as you'd hope it would. The size is nice, and the quality seems great. No issues thus far.
How necessary is purchasing the TNF Rock...
How necessary is purchasing the TNF Rock 32 footprint. I have read mixed reviews on it. Should I buy this footprint? One at all? Or a different one?



Thanks
Best Answer
I would. Think of it this way: what sounds better, beating up and eventually replacing a $40 footprint or having your tent taking the brunt of all the crap the ground under it has to offer and having to replace that instead? A few more bucks, but somewhat of a necessary evil in my book.
Durable tent. Set up on sandy ground lots of thorns everywhere. Footprint help a bunch here. Strong winds were no problem for this tent. Very sturdy and easy to set up in the dark. Being that the tent itself is all mesh that ventilation comes with a price in the desert, fine sand finds its way in and covers everything.

Highly recommended anyway.
Expected North Face quality
Gender:

Male

Familiarity:

I've used it once or twice and have initial impressions
This tent vents very well because of all the mesh, which makes is great for hot climates. The gear loft and storage pockets on the side of the tent are awesome for stowing items you need to access easily. The fly also covers low down the sides to keep dust and water from entering through the mesh. Great quality for the price, I certainly recommend this tent to anyone needing a 2 1/2 person tent for 3 season use.
Light, very easy to put up, tear down and putting back in bag is easy and plenty of room. Nice storage compartments inside. Plenty of room for my needs. Would recommend to anyone.
Easy to set up, warm, well designed
Gender:

Male

Familiarity:

I've used it once or twice and have initial impressions
this tent took two seconds to set up by myself. It was a great size for one person and all my gear inside the tent. THe footprint made by northface only covers the tent, not the gear protection areas so I didnt want to use it. Otherwise an amazing tent for a great price, should last years.
Had a wonderful 4 nights and 5 days in this tent. Nice and roomy for two. We experienced rain and temps in the 30s and stayed dry. Purchased the footprint with this tent and it lived up to promise...was completely dry when we lifted the tent despite the wet floor beneath.
GF and I setup the tent for the first time in the dark. We got it up quickly and without much bickering. It rained pretty heavy that night and we stayed dry =)A little bit of condensation in the morning, but the tent vents so nicely that it was barely noticeable. Love the 2 exit option...GF almost pissed herself but was able to scramble out her side of the tent without tripping over me.
Easy to put up, looks nice
This tent was especially easy to put up. Because the main part of the tent is mostly mesh, it's exceptionally lightweight, but the rain fly was sufficient to protect us from the elements. It's also a nice color scheme -- overall, we were quite satisfied.
Perfect tent for all kind of camping.
This tent sleeps two and a dog comfortably. Definitely a tight squeeze to have 3 people in it, but that's the case with most tents and average American size. This tent is super easy to put up. Breathes well with the all mesh canopy. One of my favorite features is the gear loft. It is perfect for stashing your head lamp or anything else you might need in the middle of the night. You can easily hand the Black Diamond Orbit Lantern from the loft and enjoy ample light for reading, journaling, or whatever else you may be doing in your tent.
Shelter from the Rain Like Nothing I've Experienced Before
There have been numerous in depth reviews on this tent and they all speak truly of its performance. I'd just like to add my 2 cents:

This tent withstood 20, I'll say it again, 20, straight HOURS of non-stop steady rain in the Appalachians last week. It was incredible! My partner and I were so pleasantly surprised that there was not one drop of water in the tent. This is after getting our sleeping bags and feet considerably soaked every night in Glacier with our last tent (I think it was an older Sierra Designs). It also rained the other 3 days we were out there too, but for a few hours at a time, luckily not 20 like our first night/day. You see why I'm ecstatic about this Rock 32 now, don't you?

There are other great things to mention about this tent like the doors, the roominess/comfort, and the ease of set up, but these have already been touched on by others. I hope my experience will help you decide if this tent is right for your needs. For me, it definitely provided for a comfortable stay in nature.
The Perfect Tent for Hotter Climate.
I have had a lot of outdoor sleeping experience. I wouldn't call it camping but, more surviving. I served 6 years in the Marine Corps and have been issued all types of gear. Some of this gear was great and some I wouldn't put it in my pack if they paid me. The tents that I was issued all lacked good ventilation. These tents were so hot that I would usually spend my few hours sleeping in my gore tex sleeping bag cover, if not on top of the cover, with a mosquito netting thrown over me. I have had personal tents from other makers but, they were just cheap last minute purchases right before a weekend trip. I have been looking for a good 2 man tent so that my girlfriend will be comfortable on a weekend trip. Keeping her dry and as cool as possible were my biggest concerns. No better way to ruin a persons desire to cmap than to make their first trip miserable. This tent is well ventilated, dry, durable and not too heavy. The tent will sleep 3 people but, fits 2 with gear perfect and will let you keep your gear inside as well. I like the green color because it allows me to blend in better with the surroundings. The tent overall is made well and is a great price compaired to other tents that are made cheaper. Hope this review helps others make a great purchase.
Took this up the Devil's Path, in the Catskills, NY, for a two day back packing trip. For the price, it's a great weight and a great tent. We comfortably fit three people inside - one tall, larger guy, a tall skinny guy and a short woman. Really, if you can fit three sleeping mats side by side in there, you'll be fine, and you can! The vestibules are good, though maybe a little small if you have really big packs - we fit three 65 L packs inside them okay. The colour is great, really blends well with the woods. It's a very quiet tent in the wind, and it's easy to get everything very tight to prevent condensation. We didn't have any issues with water collecting on the inside. My question below asks whether it might be a bit cold getting into winter as the inside tent is all mesh, but it dropped to about 20 F on our trip and we were fine. The stakes that come with it are pretty poor, but I got six MSR ground hogs and use the original stakes for guy lines. I like the gear loft and the pockets inside the tent, and there are plenty of loops on the fly for moving guy lines around. I did a lot of research before buying this tent, looking at ten or twelve three person tents, and I'm really glad I settled on this.