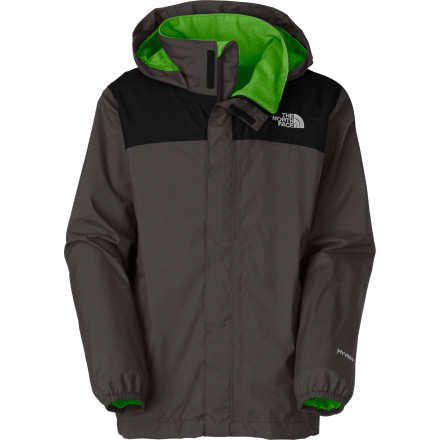 Detail Images
You're not going to let a passing squall (or an all-day deluge) alter your plans; simply outfit your boy in The North Face Resolve Jacket and carry on. The Resolve has waterproof fabric and fully tapedseams, so it keeps junior dry whether he's on a whale watch or a hut-to-hut hike. The fully adjustable hood stores in the lined collar so it's out of the way when the precipitation finally moves on.
He loves it!
Familiarity:

I've used it once or twice and have initial impressions

Fit:

True to size
This coat fits great -- good coverage, yet allows him to function :) Did its job in our two recent rain storms and we thrilled to have it. He would have been soaked in his old gear. Not too heavy, so perfect for spring and even summer camping storms.
Perfect for their intended purpose...
Familiarity:

I've put it through the wringer

Fit:

True to size
I bought these for my boys to use during soccer practice and games when it is raining here in the Pacific Northwet. They are out there, rain or shine, and this time of year it rains a lot. The jackets don't restrict their movement, weigh them down, or cause them to overheat when exerting themselves. And the jackets keep them dry. This is exactly what the jackets were chosen and we couldn't be happier. They look great and perform as advertised. If you are looking for something to keep your kids warm, this jacket probably isn't a great choice. If you are looking for something to keep your kids dry while being active, you couldn't make a better choice. On the early morning, early season games when it is both cold and rainy a hoody sweatshirt underneath does the job of keeping them warm and this jacket keeps them perfectly dry.
Larger Than Other TNF Gear
Familiarity:

I returned this product before using it

Fit:

Runs large
I was on the hunt for a solid rain jacket for my 4.5yo to keep him dry during our outdoor adventures we have planned this Spring. He's pretty tall (90+ percentile) in height for his age and a bean-pole, so finding gear that fits him decent is always a bit of a challenge. In the past he's had a couple Nuptse down jackets and currently has a North Face Brightten (size XS) for skiing and building snow forts with the neighborhood crew. All have fit decent enough... the Brightten is a smidge large, but length-wise fits good.



I got him an XS in in this jacket as well and he was absolutely swimming in it - much more so than his Brightten. Funny enough, the kids North Face gear seems to fit a bit wider/boxier just like the adult stuff! I had to return it and after a bunch of brand comparison in regards to chest measurements, only the Patagonia Torrentshell and the REI Rainwall seemed to be sized a bit more appropriately for kinder-twigs.



As much as I feel a bit weird recommending a brand you can't get here... I highly recommend checking out REI's Rainwall jacket if you have trouble with coats being a bit too wide for your child... it's what I ended up rolling with and it fits him much better.
Decent shell
Familiarity:

I've used it once or twice and have initial impressions
This really is a rain shell with mesh lining, it is lighter-weight than the photos make it look. That said, it is doing its rain and wind-stop job well. At full price, I think there are better options. As the snow melts, this with a fleece is a good alternative to getting the down coat wet.



Size is reasonable - order up if you want to layer. My 7 YO is wearing a 10-12 over fleece at the moment, a bit big (hope to get 2-3 years of use) but not way big.
My son is 13 years old, will an XL be the...
My son is 13 years old, will an XL be the right size for him?
Best Answer
That is actually a pretty tough question because age 13 is about the time that you lose a lot of conformity in size among boys. Based purely on age I would recommend an XL for you son but if you have the time, two basic measurements will go a long weight to establishing a good fit. First, have your son stand straight (a difficult task with 13 year olds) and wrap a sewing tape measure around his back, under the arm, to meet just above the diaphragm at the largest part of his chest. Make sure he is relaxed and that his arms are resting at his sides. This is the chest measurement. To establish a sleeve measurement, place the tip of the measuring tape at the base of the neck where it meets the shoulders, right at the point of the vertebrae. Move the tape over to the point of the shoulder, then down to the elbow, then from the elbow to the knuckle of the wrist. This may sound just a little complicated here but after you have done it once it becomes very easy. These are the two most important measurements in sizing a mens jacket and, combined with the sizing charts on our product pages, will provide the best possible fit for your son.
Can't wait to put jacket to the test!
I bought this jacket for my 10-yr-old son to use on a trip to Costa Rica. We don't normally do rain because we live in the Southwest, so this is a new concept for us! It helped to see an earlier review that said another little boy had used this jacket in Costa Rica and it worked well. We haven't tried it yet, but the jacket looks like it will be great. It is not stiff, (no plastic feel at all), great colors, ample hood (but not so much he won't be able to see) and the hood has a small strip inside that is elasticized that looks like it will keep rain from really flying in. We ordered a size M (10/12) and it is a little large/baggy and sleeves maybe a touch too long, but he is on the smaller side. It will still work and give some growing room. He usually wears 8/10.
I would like to buy size 14L, My son is...
I would like to buy size 14L,

My son is 150cm, what size should I buy??

M or L ?
My 10 year old son loves this jacket. It's not stiff like a lot of other rain jackets. I ordered a size 10/12,and it fits well. I don't think it will fit him when he's 12.
north face never lets me down. sizing is great, kids stay warm and dry, and the colors are awesome. it is thin which allows more versatility for us here in northern michigan - rain jacket in summer and can layer with a fleece in spring and fall.
Great jacket but runs large
This is a really nice boys' jacket. The only problem is that it runs HUGE. My son had a Marmot rain jacket in a size L that was way too small so I ordered an XL in the NF jacket. I wear a woman's medium, and the YXL was too big for me! I am returning it for a YL, but I fear this will still be too big...but I will know there is room to grow!
My son loves his jacket, I will ordering more..
Bought this jacket for my boys, ages 3 and 5, for a x-mas gift. My 5 year old loves it, he says he looks like a teen-ager, lol.....Only problem is it is cold out right now and he dosent want to wear his heavier coat. Good quality and if layered works well.
It is great for a rain jacket, but too thin for any other use.
I got the yellow (size 7-8) for my 7 -yr old son on our Costa Rica trip. It's a beautiful bright yellow that stands out yet soothing to the eyes (not like neon bright.) I'm able to spot him easily in the crowd and it kept him dry even though we were walking in the rain for 4 hours. On coolish days the shell jacket acts perfectly as a light cover. It seems breathable too as my son never complained about being hot in it. Another great thing about it is that it's very portable. It folds nice and flat so it takes up very little space in the backpack. The hoodie has an elastic that fits over the head and keeps the hoodie in place/water out. Once the jacket gets wet, If you wipe the surface with dry cloth or paper towel, it can dry completely within an hour or less. We've washed it once in cold water on gentle cycle and just let it dry on the rack. Still looks brand new. Very happy with the quality of the jacket, the discount, fast shipping/packaging, and customer service. Would definitely buy from backcountry.com again and recommend to others.
When going out, my son certainly wears this jacket.
This jacket is for Boys. But this is the jacket which made the object for adults small as it was.
When going out, my son certainly wears this jacket.
Also in the day of rain string snow, the day of a wind is also a fine day.

I consider one more big size purchase for next year.
My 5 year old normally wears a 6 or a 7....
My 5 year old normally wears a 6 or a 7. What size would fit him? I'm not sure if it's x-smalll or x-large. Can someone explain the sizes?
Best Answer
The XL would be a size 18-20 in the youth size of this jacket. It sounds like what you may be looking for between the 2 would be a XS. The XS size would be a youth size 6, and the small would be a size 7-8. There is a sizing chart for it below the size/color selector with more information on the sizing for this jacket.
Is this a rain jacket? Similar to the...
Is this a rain jacket? Similar to the venture jacket?
To me, it is a rain jacket. It is too thin to keep you warm
nice coat perfect for the east coast fall weather
Hi guys! Does anybody know if this Resolve...
Hi guys!
Does anybody know if this Resolve jacket, is compatable to zip a denali in the inside of it? Thanks in advance!
Hi Alisha, this jacket has no zip in capability...
The North Face Resolve Jacket
We love this jacket for our son. Durable and keeps him nice and dry during this rainy season we are in.