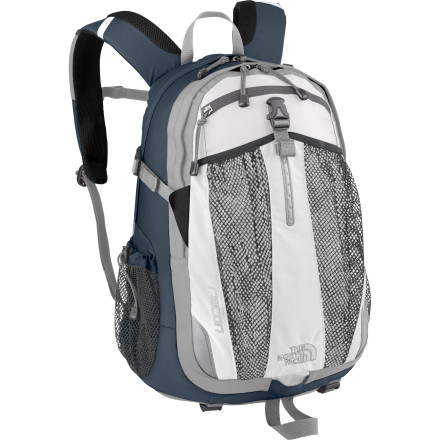 Description
Work, school, or play.
When you need a staple pack for school, a day hike, or just a trip to the beach, The North Face Recon Backpack ups the ante for comfort and durability. A 15-inch padded laptop sleeve protects the brains of the operation. Bomber nylon fabric combines with a breathable, air-channeled back panel, an angled bottom panel, and a mammoth-sized mesh pocket to make a comfortable, well-organized backpack. The Recon Backpack is clean enough for school usage, but tough and techy enough for day hikes.
Share your thoughts
What do you think of the
The North Face
Recon Backpack - 2015cu in
? Share a...
Great Pack
Gender:

Male

Familiarity:

I've put it through the wringer
I've had one of these packs for about 5 years now, and it is only now starting to break down on me. I'm not complaining, I've put some serious abuse into it. The zippers are the only bits that have given me any trouble, the canvas material is rock solid and will not tear. The bottom panel is so well made it barely looks like it has any wear and I've been taking this thing everywhere for 5 years.

Put it this way, the pack is weathered and old with broken zippers but I don't want to give it up. I simply can't bring myself to buy a new pack because I'm worried it won't be as good as the one I've got. I'd recommend this pack to anyone. Great product.
I bike to lab with notebooks, my computer, and textbooks for whatever class I'm TAing, then load it up with my rack after work and hit the crag. It carries up to about 20lb, and I have even stuffed my 10.2mm rope into it for belaying the second up a windy multipitch. It is just big enough for me to take on an overnight with a bivy, and the computer sleeve/hydration port is well incorporated both for keeping your electronics safe and you hydrated. This bag has all the right features, and does everything you want one after another.
Very good if somewhat expensive Day Pack
I've had the recon for a few years now (older model, but pretty much the same thing). It has held up very well and has great features. The front pouch is useful for just tossing in frequently accessed items. Stow-away hip belt is great for when you need it and nice to be able to tuck it away when you don't. All seems, zippers, etc seem to hold up very well with no problems encountered so far. Pouch in main pocket holds my laptop perfectly. I have yet to use it with my hydration bladder. The only negative that I can think of is the price is a bit high for what many use as a kids daypack, but this can be used for much more!
Best Answer
No, not even close to water proof. The shell may bead water, but I wouldn't even call that water resistant.
Javier - I don't agree. Although the pack isn't waterproof, the fabric that is used is coated with a heavy coating of polyurethane which is waterproof. In heavy rain, water will eventually leak through seams, but it will keep things dry for quite a while before this would happen.
Dave, I guess that depends on your definition of waterproof. I would yield that it is water resistant for rain and my summary was hasty. However, when I think of "waterproof" I think of a dry bag--which this is not.
This pack is not 'waterproof' but will resist water during a drizzle for a short hike or walk to class. The zippers have flaps to cover them and protect from water.
Let me answer definitively; NO. I've walked to class multiple times in pouring rain. If I'm out for around twenty minutes, my stuff starts to get wet. It will keep everything dry for a few minutes for sure, but almost any backpack would do the same. That being said, its a great pack; I use it for class, biking, hiking, and it's still in great shape after a few years of abuse.
Does anyone know the best way to dry out the backpack? I have been letting it air out for over a day now and its still soaked.
North Face Recon Backpack
The only reason I give it 4 stars is because my 11 yr old son has had his only one month. However, it seems to be a very sturdy backpack and on top of that, it looks really good. He's pretty hard on backpacks, so he needed one that will hold up to some pretty hard slinging around. Since we got it for him I've noticed several just like it that my teenaged students carry and they too seem very sturdy. If it doesn't hold up for very long, I will write back and revise my review, but for now it's all good :)!!
North Face Recon Backpack
Well, I'm writing this really for my 11 yr old son who uses the backpack. He got it as a Christmas so it hasn't been used too long. It seems to be very sturdy. Since we purchased it for him, I've seen several around the school where I teach carried by teenagers and they too seem to be pretty sturdy. They get thrown around A LOT. So, all in all, it seems to be a very good product!! If that changes over a short period of time, I'll revise my review, but for now it's a GO!!! :)
I've read that you can tuck-away the hip...
I've read that you can tuck-away the hip belt. How does one go about doing this?
Best Answer
There are two openings at the bottom of the back next to the water bottle pockets. Both sides of the hip belt fold neatly into the back of the pack for off-trail use.
This version of the Recon actually doesn't have the tuck-away opening. It also doesn't have the padding for the hips, but it feels the same without one.
I have a 15.4" laptop. Will this be able...
I have a 15.4" laptop. Will this be able to fit in the laptop sleeve?
Best Answer
No problem - fits up to 17".
My son is on his second Northface backpack and only because the first one had an accident with white out and white out comes out of nothing! Otherwise these backpacks last forever. My boys use these for everything but the backpack will probably outlast their years in school. My older son has his for 5 years already. It is definetly the best backpack you can buy. He also loves the whistle that comes with the Recon...the dog hears him coming home from school from up the block.
Can the El Rio Blue Recon be used by girls...
Can the El Rio Blue Recon be used by girls and guys?
Best Answer
Personally I think the color is a little feminine, but that's not to say that some guys would wear it and it would look great on them. Personal call here.
I'm looking at this bag to use for rock...
I'm looking at this bag to use for rock climbing, mostly walking to and from the climb. Does anyone know if this bag is big enough to hold a rock climbing harness, shoes, rope and maybe a jacket?
Best Answer
I think this is going to run a little small for a climbing pack. Check out the North Face Spire 40 or Fulcrum 35. They are dedicated climbing packs with enough room for ropes and gear. I have used both, and they are worth the extra money for the climbing features and room.
I actually use this for my rock climbing bag all the time and I love it. I put my harness on the outside pocket and hang my shoes from a carbeaner on the outside though.... so if you want everything inside then I guess Dave would be right. I love this bag though.
I bought my recon in 2001. It's survived 4 years of college, getting hucked from a cliff (the cause being a sketchy downclimb/bail in bad weather), years of dayhikes, scrambles, trail-runs through the canadian rockies, ski trips and countless other (mis)adventures. More relevantly, however, it has also been a valuable approach sherpa for days spent clipping bolts (indeed its too small to stuff a rack+rope, as any serious approach bay should, go for a 40+ ltr if this is the case). TNF jokes aside, this pack is built like a tank. true, I've busted through two zippers on it, but NF repaired both no questions asked SEVEN YEARS AFTER PURCHASE. Its a great piece. buy it.
Can this bookbag fit a full-face motorcycle...
Can this bookbag fit a full-face motorcycle helmet?
Write your question here... I this the new...
Write your question here... I this the new 2009 version?
Best Answer
Yep, sure is.
After owning some of the other so-called-great back packs NorthFace has them all beat in overall workmanship is top notch, they maybe more costly then other packs but you get what you pay for and when my pack does wear out I will buy another Northface brand.
Great backpack! It has plenty of room for everything I need. Lots of pockets. Its really durable and has been with me through some rough times. This is a great backpack for whatever you need.
I'm not that tidy of a guy, so this pack helps me organize my life! There is just about a pocket for everything and then some. Be creative, I'm sure you'll come up with a use for the storage. I no longer loose my phone or keys and I can carry quite a bit in this thing. I did once attempt to use it as a commuter pack while biking to work, it was just too hot for that (mind you that was in the middle of the summer). Attach a few carabiners to this pack and you'll be set!
Does the North Face Recon have a sternum...
Does the North Face Recon have a sternum strap and a hip belt?
How many main compartments does the backpack...
How many main compartments does the backpack have
one large, main compartment... then a smaller compartment, then the front stash pocket, then the mesh pocket.