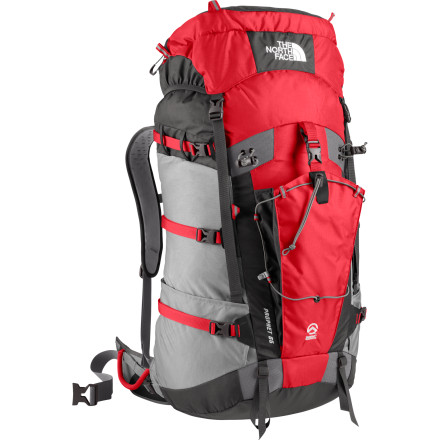 Detail Images

Community Images
The all-knowing and all-powerful oracle you seek only resides in the most extreme, most remote, and most inaccessible locations on Earth. And while The North Face Prophet 65 Backpack won't provide you with the motivation to take the next step on your journey, it will house all of your alpine gear so you can hike, climb, and ski the rugged terrain that separates you from your destiny.
Pack made with super-burly Cordura Bombastic fabric—the same stuff used to make auto airbags and bulletproof vests
Pack fabric also features a weather-resistant PU coating for protection against the elements
V-Radial tubular aluminum frame provides lightweight, rigid support for heavy loads
From ice tools to backcountry skis, the tool-attachment loops and side adjustment straps carry your cold-weather adventure gear
Reinforced, external crampon pocket keeps your spikes handy and prevents them from damaging your other gear
The Prophet 65 expands to provide over 600cu inches (10L) of additional space for extended expeditions
E-Vap molded foam back panel and hip-belt provide cushioning and help circulate air so you stay comfortable
Revised pack opening more easily accommodates ropes and other technical gear
The North Face Summit Series
Prophet vs. South Col
Familiarity:

I've used it several times
I got them both to try and see which one worked best for me for weekend backpacking and climbing. I took both on a 4 mile hike with about 40 pounds of gear and the Prophet won for several reasons. First and foremost, the back panel feels like it was made just for my back. It was so comfortable! Adjusting the fit/suspension is really quick and easy. Halfway into the hike (and the other trips I've taken it on), I forgot just how much weight I was carrying because it felt like nothing. It's a very streamlined pack--everything you need and nothing that you don't. I only have two small gripes--I wish there was a little more padding in the hip belt--even wearing it with layers, the I wished the belt had some better padding--the shoulder straps had similar padding levels, but those didn't bother me at all. I also wish the fabric on the bottom of the pack was more substantial--it shows wear pretty easily. Scrambling over rocks on a climbing trip resulted in noticeable scratches and nicks in the fabric.



I tried the South Col as well because it's billed as being very similar to the Prophet. But I didn't like the back panel as well, the padding dug into my mid-back in an odd and uncomfortable way. It was also more finicky to adjust--I never could get it to feel just right. I liked the fully padded hip belt and the removable top that you could use as a small day pack, and the flat closure system when the removable top is off, but I found it bizarre that it lacked side panel water bottle pockets.



I really wanted to like the South Col because it's got a lot of nice bells and whistles, but the Prophet fit me better. Were it not for the bottom panel fabric and the thinner hip belt, I would give it five stars.
Prophet carrying pleasure
Familiarity:

I've used it several times
This is a very large pack that will hold everything you can throw into it, with many side straps for extra gear that didn't make it inside. Lots of great adjustment straps make this an easy to fit to make perfect. I've had several long and abusive trips with this pack and it's held up great thanks to the durable Codura. Be aware this is not the lightest pack out there, but might be the one the lasts the longest.
i need a good pack that's good for up to...
i need a good pack that's good for up to a week maybe more is this a good choice
Best Answer
Hey figmo,



No, it wouldn't. First, the volume is too small for that amount of time, imo. Also, this is more a mountaineering pack that you would see more on big summit pushes than in backpacking. In the right pack, as for size: I usually carry an 80 liter pack for that long, if I pack smart. I can go to 110 liters if I need to, but that sucks to carry. Besides all that, if you look at the Prophet, it doesn't have what you might call, amenities. Good features in this pack for what it's intended for, but not so much for backpacking.



So, I think you should look at some of the other TNF packs, Osprey, Arcteryx, and maybe Gregory. Get some idea of what you're going to have to carry for a week+, figure it out for rough size, then probably start looking in the 80-85 liter and go bigger if you need to, or smaller if you can. Hope this helps.
Does this pack have enough room to pack...
Does this pack have enough room to pack in my NF mountain 25 then along with 0 degree sleeping bag and still have some room left over for other essentials?
Best Answer
As long as your sleeping bag packs down reasonably small, it shouldn't be a problem. My 65 liter pack easily fits my 2-person tent, 0 degree bag, bear box, stove, and plenty of other stuff as well.
your best bet it to pack your bag in a compression sack and then measure it. you'll get a rough but close enough measurement of how much space your bag needs and that will give you a better idea about the size bag you want.
great for short and long back packing.
The North Face Prophet 65
The prophet is a standout climbing/mountaineering pack, no doubt about it. The fabric is durable and light, the features are well thought out, and the frame/suspension is sturdy. I am a die-hard M.H. fan when it comes to mountaineering gear, however I went with this pack over the South Col. (mainly for monetary reasons - I was able to get the Prophet much cheaper). Needless to say, I am bias to the M.H. alpine packs. With that said, here's my two cents; the prophet has a 300 denier fabric throughout the pack, which is the perfect balance of durability and weight. This pack contains 3 side compression straps which can be a bit busy at times, but does add more functionality to the pack. The frame of the pack is ridged enough which makes for good sturdy weight transfer. Nice features include the designated crampon pocket in front, extension skirt, huge side pockets, and piece of mind.. this isn't one of those packs you have to baby. Here's what I don't like; the padding on the backpanel, hip belt, and shoulder straps could be a few more ml's thick. I understand that mountaineering packs typically have streamlined padding because assuming you will have several layers on while climbing, you dont need 5 inches of padding. Nonetheless, this one could use a bit more. The hipbelt is not removable, which is a nice feature when you are pushing for the summit and have a harness/rack on. Lastly, one comparison (if I didn't find the Prophet cheaper) that would've made me lean towards the South Col., the full wrap compression of the South Col. M.H.'s design of the compression straps not only being on the sides, but also on the front is a great feature that I use all the time in my other M.H. alpine packs. You can strap a set of snowshoes to the front of the pack, and still have the compression straps on the side for pads, tent poles, ice pickets, etc. Overall, there are plenty of options out there for a large volume mountaineering pack, but this one is one of the better ones.
Does this pack have a sleeping bag...
Does this pack have a sleeping bag compartment?
It doesn't have a separate sleeping bag compartment. More of a minimalist bag.
Best pack for multi day adventures, used it from a 3 day trip to a 3 week trip and it works well with both. pretty easy to throw skis on, plus its got an exterior crampon pouch so your spikes dont mess with your down gear. In cold weather Ive noticed that the buckles like to break pretty easily though, not a bad idea to carry extras.
I've used this pack all over the world on countless expeditions...hands down my go-to backpack!
i am a very avid rock climber and want to...
i am a very avid rock climber and want to do some weekend back packing trips and want a backpack that is a large comfortable backpacking pack but that can also double as a climbing pack for local grags, will this work well as a backpacking pack?
Is it waterproof? If no has it got...
Is it waterproof? If no has it got raincover?
Best Answer
Nope and nope, but you can purchase one separately.
I know it sounds kind of silly, but will...
I know it sounds kind of silly, but will this pack work for day trips? How about hiking in bounds at ski resorts?
It will work for day hikes but it is awfully big and heavy for that purpose. IMO you would need to purchase a smaller pack for your day hikes and use this for your multi-day ski adventures.
tomasz -- i would recommend the north face Patrol 24 pack for single day adventures in the backcountry, the Patrol 34 for an one night overnight, and in bounds skiing i love the Chugach 16. Best in bounds/ sidecountry pack ever.
i have used the prophet line since 2006 and i must say, it did a great job in getting all the stuff i want in long expeditions. the bad side i had with it though was the material that connected the shoulder straps to the xframes. although it promised a bouncy feel on heavy loads, it snaps after some time of use so don't overload it... what i did was i had the material changed to cordura (still covered by warranty) and voila... it's now indestructible...

i'll upload some photos of that bag soon...
nearly perfect for overnight ski mountaineering
My wife and I each bought one of these packs for a ski trip on the Führer Finger on Rainier. We were looking for a pack which could handle the heavy loads of our overnight gear and climbing gear on the approach and which could comfortably carry skis and minimal gear on summit day. This pack fit the bill extremely well and we were super impressed with its performance. When shopping, we also purchased the Arc'teryx Arrakis 65 and Osprey Atmos 65. The Arrakis doesn't compress at all when mostly empty, and the Atmos cannot handle skis. The TNF Prophet, however, does both extremely well. Even when the pack is mostly empty, the A-frame carry for skis is very stable and the skis don't flop around much at all. The frame sheet (back panel) is simple to remove and re-install, and the same goes for the pack's lid. We shed both on summit day to trim the pack's weight. The crampon pocket worked really well. On the approach, the pack handled 50 to 60-lb loads better than expected and remained comfortable. I have only two complaints about this pack: 1) There are no dedicated pockets for avalanche gear as on the Arrakis; 2) The material is more fragile than packs I've used in the past. When setting the pack down on the trail (nothing sharp or out of the ordinary), I tore a hole in the bottom of my pack during just its second trip (later in the summer), so I'll have to exchange it with BC.com. I'm 6'1", 160-lbs, and the medium fits me. My wife is 5'4", 115-lbs, and the small fits her.
I'm looking for a pack to use for multi-day...
I'm looking for a pack to use for multi-day ski mountaineering trips. The pack must be able to carry a large load on the approach to base camp, but it must also be able to compress down to a reasonable size for the summit push. It needs to carry skis well, and it would be nice if it could keep my avalanche gear in a convenient location. Does this pack meet all or most of these needs?
Best Answer
It depends on your definition of a "large load". 40-45 lbs or so - somewhat comfortable. If you need something that is a rather large pack your going to sacrifice some comfort for the technical features and the ability to strip the pack down for a summit push. This pack is a good compromise between something very minimalist and overkill.

It does not have a shovel holder but there is plenty of room outside the pack to attach that to. You can take the lid off and compress the sac for play time and the waist belt does tuck around the pack nicely if you have a need to get it out of your way.
The North Face Prophet Backpack Video