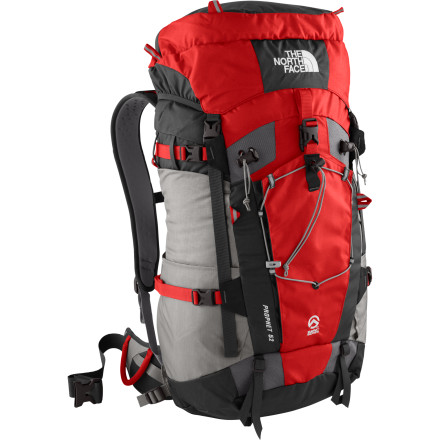 Detail Images

Community Images
Whatever your reason for heading to the top of the mountain, The North Face Prophet 52 Backpack is ready to haul the tools and gear you need to get there and back in one piece.
Pack made with super-burly Cordura Bombastic fabric—the same stuff used to make auto airbags and bulletproof vests
Pack fabric also features a weather-resistant PU coating for protection against the elements
V-Stay tubular aluminum frame provides lightweight, rigid support for heavy loads
From ice tools to backcountry skis, the tool-attachment loops and side adjustment straps carry your cold-weather adventure gear
Reinforced, external crampon pocket keeps your spikes handy and prevents them from damaging your other gear
The Prophet 52 expands to provide over 600cu inches (10L) of additional space for extended expeditions
E-Vap molded foam back panel and hip belt provide cushioning and help circulate air so you stay comfortable
Revised pack opening more easily accommodates ropes and other technical gear
The North Face Summit Series
Unanswered Question
Is this pack (52) allowed as a flight carry-on?
Favorite backpacking bag
Familiarity:

I've used it several times
For a multi day trip, or some longer hikes, this bag is the best out there. Also great for touring trips. Been to Moab twice with this bag.

Highly recommend.
Where can i get one that's red?
Where can i get one that's red?
Best Answer
Hi Oscar,

Unfortunately at this time we do not have any more of the Red ordered to come into stock. You may have luck contacting North Face to see if they have any, or if they can at least provide you with a list of authorized dealers who have it!
Dirk Collins strolling into Garnett Canyon
Dirk Collins walking into the Grand Teton basecamp with a TNF Prophet 52 pack.
Would you recommend this pack for 3 - 5...
Would you recommend this pack for 3 - 5 day backpacking trips?
is this a good bag for a week long trip
is this a good bag for a week long trip
Week long? For me I would need twice the size...
That depends, if your like me and have lightweight minimalist gear then yeah should be no problem. You just have to make some sacrifices on what your bringing.
Will the Prophet 52 meet the airline...
Will the Prophet 52 meet the airline requirements to be placed in the over head bin on the plane?
Best Answer
Hey there, the rule of thumb for carry on is 22in x 14in x 9in (55.88cm x 35.56cm x 22.86cm). The medium pack sizing is 59cm x 33cm x26cm... so if the pack isn't busting at the seams full of stuff, I think you could squeeze it in there!
Solid bag, great for hiking
Loaded it up for a solid 12 mile day hike, still don't have it adjusted perfectly but was comfy and fit a lot. Seems to work well. Haven't tried it skiing yet but seems as though it will work well. Great bag for day hikes, definitely could fit weekend stuff in there and even personal traveling.
I picked up the Prophet 52 a couple of months ago. I live in Washington State and wanted a bag that could handle ski touring, rock routes, and alpine routes. So far I have used this pack for 3 cragging trips, an overnight ski tour, alpine trip up Mt Stuart, and a failed rock climbing attempt at Cutthroat Peak. It is a tragic bag because they have the right idea but fail hard in the details. I can not recommend this bag for anyone doing any snow sports.
Failed Details:
-The ice axe attach point does not have a long enough elastic strap to reach around any size tool. I have not been able to latch it without going down to bare hands. This is the worst attach clip of any bag: Osprey, Arcteryx, MH, BD, REI ...
-One of the bag closure cords broke on the 4th outing
-For no good reason the crampon pouch tapers at the bottom. When you put crampons in pouch its a really tight fit at the bottom. Sure enough, the second trip I had crampons in this designated pocket they punctured through the pocket at the bottom. Every time I took care to slowly put my crampons in the pocket and never let any of the spikes to face the bag. It punctured on the dull flat tab on the back of the crampons that fit around the back of your boot. BD has rectangular crampon pouches, The North Face should copy it b/c the tapered design doesnt work.
-You seal the top of the bag w/ a simple cord and spring loaded clip. The clip is tiny and a bit difficult to manipulate. Unecessarily difficult, I really think this is a rock bag with alpine bells and whistles.
-The bag features a strap over the top of the bag (under the hood) to secure a climbing rope. If the bag is completely full this strap does not reach around a single rope. I was pissed when I realized I could not use the strap b/c they did not properly size it. Another 2 inches of strap adds nothing to the weight or cost of the bag.
-There is no place for a shove blade on the outside of the pack. Not great for AVY rescue and takes up space inside the bag. It only takes two little tabs and the blade can be easily rigged.
-If its completely full you cannot fit a nalgene bottle in the side pockets without great difficulty.
-If its completely full you cannot get the side straps around a z-res without great difficulty.
-If you need to extend the top lid at all the two staps that connect the lid (on the side of the bag with the sholder staps) will not stay put. They fall of the side of the bag. Its very annoying. All it would have taken was a loop around each strap to keep them in place.
-Not having a side entry zipper gets old fast. When you have to undo 2 straps, maybe take a rope off and secure that so it doesnt fall down the mountain, and open the two closure tabs everytime you need access to the bag it gets old quick. The vast majority of bags these days have a side entry zipper on technical bags for good reason.
-No ski loops on the side. Two ski loops below the side pockets could have been easily added and not effect any other part of the bag. Hell, for the people not using the bag for touring they could be cutt off to save weight. Ski loops make life easier and cut down on transition time.

What did I like? The suspension is spot on. It is simple and light yet effective. I really like the generaly lay out of the bag. The gear loop on one side and large snack pocket on the other are solid. Overall the bag is wear resistant for the weight. I do not recommend this bag though. In my opinion look elsewhere.
Is this pack a top loader only? Does it...
Is this pack a top loader only? Does it have any other entry option, like a side zipper for the mais compartment?
This is a top load only pack, with no side zipper or sleeping bag compartment