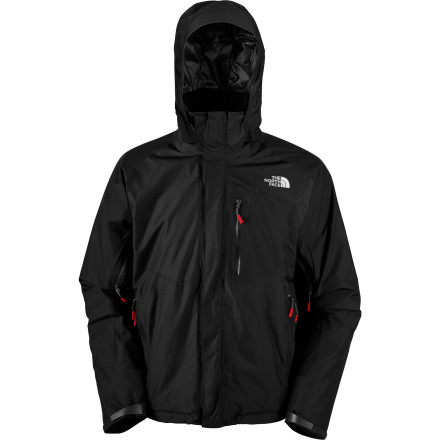 Detail Images

Community Images
Sucking cold, thin air while you heave yourself up some rock? You're going to need a rugged, insulated jacket like The North Face Men's Plasma Thermal Jacket. From light precipitation to raging storms, the waterproof breathable membrane keeps you dry, and synthetic PrimaLoft One insulation provides warmth without feeling bulky. Look forward to your mountainous journey, despite the gnarly weather that will challenge your will to keep pushing forward.
Waterproof breathable Hyvent Alpha membrane keeps water outside your jacket while allowing sweaty moisture to escape from within
Seam-sealing provides additional weatherproofing by stopping small leaks at the seams
Fully adjustable and removable hood slides over your hat or a climbing or skiing helmet easily
Performance fit gives this jacket a cut that sticks close to the contour of your body while still allowing room underneath for insulting layers
Ladies & Gentleman; you are looking to a cheap copy of what it used to be a awesome all around Jacket, I'm lucky I got mine last season
I LOVE MY NEW TNF JACKET SO SOFT & WARM & DRY THIS IS MY FAVE OUT OF 5 TNF I HAVE.EVEN THE GIRLS LOVE MY TNF JACKET THANKS BC & THF !!! AM 6.6' 190LB THE XL FITS ME LIKE A GLOVE...
Great Jacket for Cold Weather
The jacket wear fit and good looking.It's nice.I think that you're best choice for outdoor jacket,because that is very comfortable, smooth, and warm inside. Top-notch materials.
I am 165lbs, 5'10" and have a 41 chest,...
I am 165lbs, 5'10" and have a 41 chest, should I get med or large. I bought a med storm peak and it was tight in the armpits with a light fleece.
I would go with the Medium for a snug fit and a Large if you want a relaxed fit. IMO this jacket runs a little small.
Definitely get a L. This jacket fits tight on the sides so if u plan on breathing, get a large.
Hi does this jacket have an inside zipper...
Hi does this jacket have an inside zipper where i can zip in another north face fleece into the jacket?
These are the only North Face shells that are zip-in compatible:

Banshee TriClimate™ Jacket
Mt. Guide Jacket
Mt. Light Parka
Mt. Light Jacket
Recon jacket
Trinity Triclimate
Voretex Triclimat
Hello! This jacket have a double front...
Hello! This jacket have a double front zip?
Good Jacket, Awful Pockets!
OK, after an exhaustive winter jacket search, I decided on the Plasma Thermal from TNF. Let's break it down, shall we?

Pros: Lightweight. SUPER warm. PrimaLoft throughout keeps you really well insulated and prevents one from looking like a marshmallow.

Windproof? Check. Waterproof? I will give it a 1/2 check because it has kept me dry in moderate rain and snow so far, but it hasn't been washed or tested in heavy rain or snow yet. The fit/cut is pretty stylish and doesn't make you look like you're about the hit the slopes when you wear it out and about. Also, this is the first North Face jacket where I can actually WEAR the hood! I know they make hoods to fit helmets, but my old Recon jacket and my old Resolve rain shell had hoods so large they flopped over my eyes despite adjusting the cords and would blow off my head when they caught the slightest breeze.

I haven't had a single issue with any of the zippers, so I am not so worried there. I have read complaints about the zippers being small, too. All of the accessory zippers (pit zips, chest, hand pockets) are the same size and brand as my old 2007 North Face coat. The main zipper, however, is not as burly as any of my older North Face jackets or fleeces. The North Face Logos look to be screen printed on or something (no longer embroidered), but I would imagine that would help the waterproofing properties of the coat. It does make the coat feel a little cheap, however.

Cons: I am not a tall guy (5' 9") but the jacket just feels too short on me. I know this is probably why it looks so stylish, but I feel if I ever wanted to roll around in the snow wearing the jacket, I would immediately regret that decision, especially since there isn't a powder skirt or anything. The price is also a little ridiculous. The jacket is awesome, but $300 for something that isn't Gore Tex is a little much in my opinion. By far, my BIGGEST complaint about this jacket are the hand pockets. If you like to use the pockets of your winter jacket to keep your hands warm, you are out of luck. These pockets fail miserably at keeping your hands warm. The only thing in between your hands and the elements is a thin layer of HyVent... none of the PrimaLoft insulation to be found, not even a brushed fleece liner. Normally this wouldn't bother me, but since the rest of the jacket does such a great job of keeping you warm, it is hard to ignore your frozen icicle hands. I can actually feel the wind coming through the material and onto my hands when I walk around. This flaw removes a star from my rating on its own. The value of the coat removes another star.

I love backcountry.com and have ordered many things here, but I will never again order the ground shipping via UPS. Delivery took 10 days and (according to the tracking number) my package sat in a warehouse a few towns away for 2 days. Yes, UPS got it to me when they estimated they would, but really? It arrived right down the road 2 days early... they couldn't have thrown it on a truck and surprised me with my new coat a few days earlier than they quoted me?
My son is 5'9 and 120 pounds what size...
My son is 5'9 and 120 pounds what size should i get him?
Best Answer
It's hard to say with just that info, but going with a medium will most likely work. I'd check out the sizing guide here for more info on TNF sizing - http://www.thenorthface.com/en_US/contact-us/sizing-charts/
small for sure, I am 5'9", 140lbs and can fit in a small but Med is more comfortable.
My dad is 5'11" - 6'0" and around 200 lbs....
My dad is 5'11" - 6'0" and around 200 lbs. Large or Extra Large?
Large should fit him with room for layers unless he's shaped strangely.
A large should work unless he will be layering with an insulated midlayer. A puffy midlayer might make it too tight and could restrict movement.
This has a 30,00 mmh2o rating, whereas...
This has a 30,00 mmh2o rating, whereas Gore-Tex has about 28,000 mmh2o, even though Gore-Tex is more expensive. How is this possible.
Best Answer
you can easily get a higher waterproof rating than goretex and be cheaper. A 10 mil plastic sheet is 100% waterproof, but it doesn't breathe. The key is balance. Typically, when you tighten the weave and raise the waterproof rating, the breathability rating goes down. The fabrics that achieve the combination of both, cost more.
My husband is 5'6" and is about 140-150...
My husband is 5'6" and is about 140-150 lbs, should i get him small or medium?
I would try a medium, just to be safe. It sounds like he is right on the edge between the two sizes, so going up is the better option.
The North Face Plasma Thermal Jacket - Men's
I have a previous year's version (2010) and wanted an upgrade after putting my old one through some abuse. This year's model is pretty good as a stand alone but by comparison, it's not as good as the older models. The fit is much smaller so if you're in between a M/L, pick a L. It's also a lot less puffy than last year's. I don't think they've changed the insulation (which is still amazing) but maybe they've put less in. Otherwise, I noticed some cutbacks like some other reviewers. The zipper isn't a two zipper up and down any more. They're a lot more sticky and don't have the rubberized loop for durability. The NFace logos and trademarks are only pressed on instead of sewn on. A shame. Otherwise, hey, this is a great jacket. It's thin, light and super warm! Lots of pockets and a great venting.
I am 5'9" and weigh 155 lbs. I was wondering...
I am 5'9" and weigh 155 lbs. I was wondering if I should get a medium or large?
Best Answer
Medium will work for you fine.
I am 5-10 and 175lbs with a 40.5" chest....
I am 5-10 and 175lbs with a 40.5" chest. I recently tried on a triclimate, and although it fit everywhere else perfectly, a medium was too tight under the arms. I had to get a large which was too big everywhere else. i am a medium in the apex jacket though which is odd. Any ideas what I would be for this jacket?
I'm 6' 185, and I can wear a Medium in the TNF Plasma Thermal. Maybe the Triclimate fit tighter under the arms because of the zipin inner jacket (more bulk than the Plasma Thermal). Backcountry offers a very nice return policy, so that might be an option as you try and decide.
Amazing "jack-of-all-trades" Jacket
This review is directed at the 2011 Plasma Thermal Jacket. I'll get the negatives out of the way first...

The zippers and zipper cord are terrible. It's what I would expect to see on extremely low-quality jackets costing a fraction of what this jacket costs. The lanyards / cords attached to the zippers are all very thin. Given the fact that this jacket has so many zippers and zipper cords, I'm shocked and very annoyed that TNF didn't use better quality, thicker, classier zippers and zipper cords. The official pictures TNF released is not what the zippers and zipper cords actually look like on the 2011 Plasma Thermal. I wish the zipper cords actually looked like they do in the photos (thick, black, with a red grip). Only the main zipper cord that runs up and down the middle of the jacket has a grip on it. Too bad it's still the same thin zipper cord like all the other cords.

Speaking of zippers, it seems that TNF finally fixed the zipper issue I've read so much about with previous Plasma Thermal models. I haven't had any problems zipping up or down.

The logos are no longer stitched onto the jacket like previous versions of this jacket. ALL logos are now laminated onto the jacket. I'm guessing TNF did this to save a bit of money on production cost and to make their 2011 Summit Series lineup fully waterproof by getting rid of all sewn-on logos. Stitched logos can get wet and seep through the jacket if it's not sealed-off inside. In my opinion, I think this is a bad change. Decals will never last as long as stitched logos, even if the reflective and waterproof qualities are better. I wonder how many washes this jacket can go through before the logos start pealing off. Although I must say, it looks like they did a good job sealing the new logos onto the jacket.

The hood is detachable, which is a major plus on this jacket. It's actually one of the major reasons why I purchased this jacket in the first place. However, the top flap that goes over the back of the neck area has no zipper or Velcro to attach it to the jacket. The neck area of the jacket is sealed, but the (top) flap isn't. It would have been nice to have Velcro underneath the (top) flap, so that the flap can't ride up and ruin the seal on the back of the neck when wearing this jacket hood-less.

My last minor complaint with the Plasma Thermal is that the bungee cord which seals off the bottom area of the jacket, is no longer inside the bottom of the jacket. It's now inside the 2 hand pockets. You have to press on hidden "latches" on the sides of the bottom button, then pull on the bungee cords inside the hand pockets to tighten the bottom of the jacket. The bungee cords are long and get in the way of the anything you have in your hand pockets, including your hands. It also protrudes out of the pocket if you want to tighten the waist a lot. This may not be a big deal for some people, but to me, it's annoying having the cord inside the hand pockets. TNF probably made this change so that people don't have to mess around and let heat escape from under their jacket when trying to adjust the seal.

Now that I got all of my gripes out of the way, let me talk about the pros of this jacket...

First of all, the jacket looks very sharp and sleek (I bought the all black version). I am 5"11' (180 cm), roughly 190 lbs., and have a medium, slightly slim build. The Large Plasma Thermal fits me well. This jacket is extremely lightweight and thin. So much so, one might think it won't be able to keep you warm enough in frigid weather. Thankfully, The North Face didn't cut corners on materials of the actual jacket... only the zippers and cords. The seams are well-sewn and fully seals the jacket against water, wind, and cold air. Everything feels very smooth and comfortable. You can easily store this jacket anywhere and stuff it into a backpack or relatively small box if need be.

PrimaLoft One has great insulation properties. It's very breathable and lightweight. I wasn't sure it would keep me warm at first, but then I tested it by going outside in slightly below freezing temperatures including high wind gust, with just a t-shirt on inside and felt fine. Not that I recommend going outside without a mid-layer in below freezing temperatures for prolonged periods, but it goes to show how much insulation this jacket has.

The pit vents work well. They run very long under both arms. Each arm has 2 zippers (and crappy cords) that goes both ways, up and down, so you can vent from different locations under each arm if you wanted to. A very nice feature.

The HyVent Alpha outer shell is definitely waterproof. I tested it in a harsh rainstorm one time and it held up great. The water beads up and runs off easily. Because the jacket is so thin, lightweight, and breathable, it can double as a rain jacket, on top of being a great winter / mountain climbing jacket. I do have to mention, the outer shell tends to get dirty and scuffed easily (at least with the black jacket). But a quick wipe with something wet usually takes care of that problem.

All in all, I'm very happy with the Plasma Thermal. It's a great jacket that keeps you warm, dry, and not bogged down. I'm just disappointed The North Face decided to use cheap zippers and extremely cheap zipper cords, along with sealed-on logos instead of stitched-on logos (some people might consider this an upgrade). TNF should at least sell higher quality replacement zipper cords so we can switch out the thin, cheapo cords.

Make sure to check out all of the photos I've uploaded.