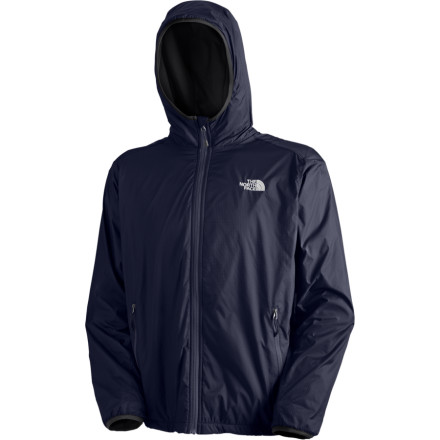 This jacket is great! It really is everything that I wanted at this price point. I needed something that was warm and the fleece took cared of that part. I also wanted something the was water resistant.
Listed sizing is way off - so BEWARE!
If wasn't cut so small I probable love the jacket so I had to return it. This jacket runs about 2 sizes to small so go big when ordering. It would be great if TNF had some kind of consistency in their sizing!
Unanswered Question
will a denali zip into this jacket
will a denali zip into this jacket
The North Face Pitaya Jacket - Men's
This is a great jacket for use in all types of environments and conditions. it is rain proof, and does great in the wind. if you're looking for a really high quality windbreaker, dont look for anything else. although this jacket is quite expensive, it is well worth the money, and it is backed by a lifetime warranty. Can't beat that!
Excellent jacket after a day in the mountains or any adventure.More casual looking and gives you a break from wearing technical gear.
After a day out in the Mountains...
After a day out climbing, skiing or other cold aerobic activities....I like to keep this in the car because after a wet cold day,this jacket is comfortable and warm,with a nice casual look for getting grocery's or other casual tasks...
How does this jacket do in the rain? And...
How does this jacket do in the rain? And how breathable would you say it is?
I wouldn't spend hours in the rain......but if you are running around town for a bit this jacket will do well. The fleece on the inside is very warm, so it doesnt really breathe like other jackets.
Excellent and Stylish Jacket
I recently purchased this jacket and absolutely love it! Unlike the other comment, I do not find this jacket difficult to put on and I have worn it with various different layers. The soft lining is great and very comfortable. The jacket fits nicely, looks great (I have received a lot of compliments), and truly is stylish.
Great looks and style, but not functional!
The Pitaya Jacket is almost perfect. It looks great - has great color options and a neat pattern. The outer/nylon-type material it smooth. The cut is great (same length in front and back) and so is the hood.

But the biggest problem is that it's lined with fleece throughout - making it anything but functional! Bottom line: It's incredibly difficult to put on and take off.

The sleeves are totally lined with fleece, so anything you wear (i.e. long sleeves) get tangled, and it is just awkward. I actually dread having to put on or take the coat off. For example, every time the fleece lining comes out the other end of the sleeves.

If The North Face made this exact coat without fleece lining the sleeves (or at all - they could just do synthetic/nylon material, for example, on the inside), it would be perfect!

In this case, style does not trump its lack of functionality.
sizes are larger or smaller than normal?
sizes are larger or smaller than normal?
This will run true to the sizing chart provided. The only thing I caution you about is if you have an unusually long torso, this may run a little short.
Size is normal but slightly baggy.
is this jacket windproof or just wind...
is this jacket windproof or just wind resistant?
Hey Dan - It doesn't have a full laminate like Windstopper, so it can't be called windproof, but the nylon shell is going to give you a high degree of wind resistance.
Hope this helps