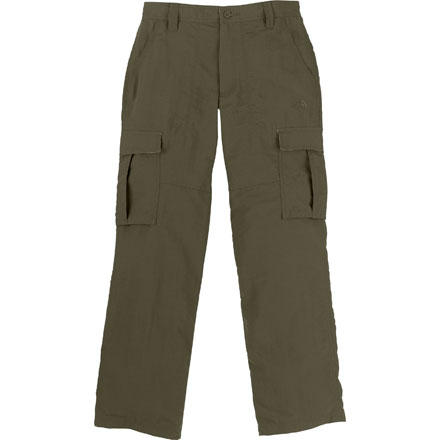 I've worn these while hiking, biking, and running. Anywhere from high-alpine wasatch adventures to high-desert excursions. They also work great for the day-to-day.
Unanswered Question
Write your question here...My brother gave...
Write your question here...My brother gave me a pair of his A5 series North Face cotton (denim?) pants. I was wondering what style would be the most comparable now in the North Face collection?
Unanswered Question
There is only New Taupe 30 Reg.. I would...
There is only New Taupe 30 Reg.. I would need s (28-30) Inseam regular 32 inch. Is that the sam (match)?Thanks.Bertes
You know how you like traditional cargos but don't really hike or backpack in them because they're really heavy and bulky and made from cotton canvas? Well these are TNF's answer to the classic cargo pant, with paramount nylon these things are rugged yet light, and styled after traditional cargos with velcro flap pockets on each leg. I like! What stinks though is you have to buy a size up to achieve loose feeling comfort. If you're really thin butt tight pants may complement you, but for the rest of us it's nice to have a little wiggle room. I docked one star for the aformentioned problem and another becuase TNF discontinued this style as quick as it was released, no bueno.
Good pants to wear in a drizzle - the moisture stays out and the pants dry up fast indoors.
Very happy with the pants. Light rain beads up. If you get caught in the heavy rain and the pants get soaked, a few minutes in your car with the heat up will have you dried out in a few. I usually wear a 36x34 jean, so the 38 long in this fit well.
Lightweight, quiet, comfortable.
I wear 30x32 usually, I had to get 30 Long in this pant to fit properly. The waist is perhaps a little tighter casual pants in a 30, but remember these are hiking/outdoor pants--they are supposed to fit a little slimmer around the waist so that they don't fall down under strenuous activity. They repel water nicely and dry quickly when wet. Highly recommended and a great value.
Nice comfortable hiking pants. More comfortable than pants that zip off for shorts. Slash pockets are not very deep, so items can fall out. Otherwise great pants, I'll be wearing them a lot when I'm not in shorts.

Ed
Great pant sized a little small
I ordered 38" short and they are little tighter then other North Face 38" I bought recently.

Good quality pants but the pockets could be deeper, easy to have your wallet fall out of the front of these if your not careful.