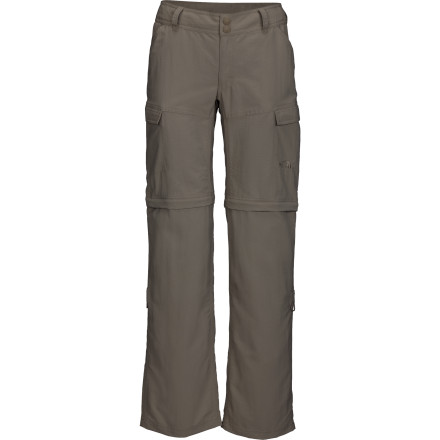 If you're soaked with sweat halfway up the mountain wearing The North Face Women's Paramount Peak Convertible Pant, zip the bottoms off and secure them with your back belt loops. This versatile pant comes with elastic belt loops in the back so you won't forget your pant legs next to the river and remember them at the top of the gorge. The Paramount Peak is made of durable nylon with a DWR finish to keep your ankles dry in the morning dew. Not only will they resist abrasions, but the longer short design will also protect your thighs from the sun. Fast-drying fabric makes it easy to say yes to a dip in the river.
Great lightweight hiking pants
Gender:

Male

Familiarity:

I've put it through the wringer
My wife has had a pair of these in a size 8 for a couple of years. Recently the size 8's were getting a little bit snug so we got her another pair in the 10's and she's loving life again!

Her old pair have held up with steady use for about 3 years. So far the new pairs have held up to 3 weekend hiking/camping trips and a 10 day stint in Nicaragua building homes.

She says they do tend to run a little snug so consider sizing up.
I wear a size 6 and sometimes a size 8 in pants. I ordered the 10 regular and they fit perfectly. They are GREAT pants....I can hike in them in different temperatures. I think these would be great for climbing also. The fabric is sturdy and water resistant. I got these on sale and feel like I struck gold.
Following the advice of others, I got these in a size larger than my usual pant size. It just fit odd overall. While the fit in the legs was ok, it sits below the waist - somewhere near my hips and the size 8 was way too loose but I can see that a 6 would have been too tight. Returned them and now i'm looking for a different pair.
Cute pants, but runs way too small in the butt and thighs.
i just got these pants LOVE LOVE LOVE them!!!want them in every color. i've tried on Columbia and EMS trail pants and the crotch is a mile long these fit perfect, i normally wear a 2 but after reading the reviews i ordered a 4 and was very happy!!!
I should have listened to the other reviews. These pants do run small, especially through the thighs and butt! These pants are cute and may work for other body types, but not for a curvy size 10 like myself. I will be returning them.
I bought these at a size 14, which fit (at the time) in the waist, calf, and hip. However, as the other comments have mentioned, it had little room in the bum and thigh, and seemed to poof a bit in the crotch, which looked odd. Yes, if you bend over and have any sort of butt, you will a) show crack, and b) open your velcro'd pockets. I wish they would start including a thigh measurement!

As far as technical usage, the color-coding was a lifesaver after stumbling into camp exhausted in the dark. The material was great, held up well, dried very quickly, and really felt comfortable. It is a bit heavier than some materials, but I've beaten them up consistently for a year and they still look new. I'm 5'7", 158 lbs, and the length on them was perfect. Too bad they don't fit anymore.
Arrgh too small, Usually a 10 but so small, would have loved them nice soft fabric easy fit and style..
I am not a "heavy" gal, but I do wear a size 16/long...tall and athletic with muscular legs. These pants are for very slim, tall chicks who want fashion instead of function. The rise was very low and the legs were super tight around thighs. Must return them.
Pretty good but runs small
I got 2 pairs of these pants for a trip to Belize I will be going on soon. I first want to say that the shipping is super fast. I had to order these pants 2 times because the first time I ordered they were too small. Both times I got got the pants within 3 business days even though the shipping I selected was 5-7 days. I also want to say these pants run small. I usually wear a 13/14 in jeans. I first ordered a 14 and they were so small. I returned them and ordered a size 18. These fit perfect. So when you are ordering I really suggest ordering a size or 2 up because they run super small. I am also short (5'1") and the short length is perfect for me.
These pants do run quite small, as others have mentioned, but I love them! (I got a size larger than I would usually wear) I love pockets, and these have plenty. I also like the length of the shorts, I hate really short zip off pants that have short shorts, because they always ride up awkwardly.
The quality of these are great, I thought they would be light and flimsy but they aren't. They have a good feel to them and I love the option of either buttoning up the bottom like a capri or zipping them off to make shorts. I expect to get a lot of use out of these with my ladies hiking club.
Fast drying, loose fitting, comfortable pants
I bought these pants in petite for a trip to Costa Rica. After reading the reviews I bought my usual size (4P) and one size larger since some said they run tight in the thigh and hips. I didn't find this to be the case and I don't have skinny thighs. I found the pants to be loose fitting and to look almost like pajama bottoms. This was ok with me since I value comfort over style, but after hiking in them, I think that they are a bit too loose fitting. Even though they were petite, I still had to hem them about 2 inches, but I do have short legs, I think the inseam was about 29 to 30 before I hemmed them. It rained daily on my trip and they are somewhat water resistant but did get wet under the constant downpour. Other hikers had pants that were actually waterproof. They do dry quickly though. They zip off easily, but the shorts are almost knee length. I like the heavy weight of the fabric and they seem well made. On the whole I was pretty happy and comfortable in them.
These are good pants and I would recommend them. However, they seem to run a bit small so I would get the next size up.
Great fit for proportionate sizes
These pants are for women whose body shape from waist to ankles is proportionate, and less so for today's average size woman.

I personally love the fit, a far cry from the previous boxy shaped pants, (many by Columbia), that were shaped more like a man's body with a "one size fits all" approach. It's about time!!

Great breathability, comfort and style, and dries quickly. My only complaints are the elastic strips in the belt loops on the back seem to always come apart from the fabric when washed. It would also be very nice to have ankle zippers for easy removal of pants without having to remove hiking boots!

Overall, I definitely recommend for active outdoor women.
Looks Good, Quality, but doesn't fit
I am usually a size 6 Short in Gap size. I am 5'5" and 140 pounds. The lenght I bought in size 8 short was perfect. But there is no room in the seat of the pants and thighs. I don't consider myself unproportional but this pants was not designed for the normal American woman. The fabric and craftsman ship was quality, but the cut was not. I returned both items. I wish they were my size.
best pants in my closet! I love the fit of these pants, and they are so warm. Could use for climbing or hiking. Love them!
I've purchased several different pairs of convertible pants and like these best. First, I like that the fabric is a little heavier (not much heavier). They wash and dry without puckering. Second, these pants fit me well. I'm 5'10 1/2 inches and 148 lbs. I'm also long-waisted. These pants did not rise above my waist to my bust line as so many of the convertible pants tend to do. These sit about an inch below my waist (comfortable for me) and I was able to cinch the waist with the draw string to ensure they did not ride down in the back when I bend over. I recommend these pants.
These pants are very nice and not tight at all. In fact, I took someone's advice and ordered one size up because people claimed that the sizing was off, but that was a big mistake. I returned the pair I received, and ordered my original size. They are really comfortable and attractive!
Good fit, but a bit heavy
Unlike many of the other reviewers for these pants, I found they fit me well. I appreciate the color-coded zippers on the legs, which my previous pair of convertible pants did not have. It makes it easier to zip the legs back on quickly. However, the pants are rather heavy in comparison to other pants I have. I realize part of it is that they are convertible, but they still seem unnecessarily so.