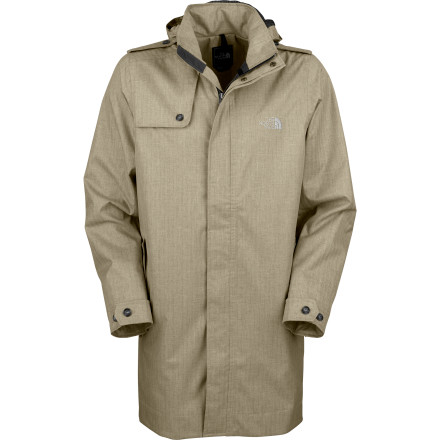 What do you think about this product?
Have questions about this product?
nice idea but with a fatal flaw...
nice piece for to-the-office wear, right? those of us who appreciate good gear can see the wisdom of wearing a high-tech shell that looks like a London Fog instead of some cotton-poly thing. Good gear's a pleasure to wear. So far, so good. BUT WAIT....whoever put this thing together... made it with sleeves that are so small in diameter that they won't accommodate a suit jacket or sweater...what happened? HyVent is a great fabric, developed for the U.S. military as a high-performance-but-lower-cost alternative to Gore fabrics. But if the damn thing is unwearable because of poor design...then you can't wear it. Period. Unusable due to poor design. I advised the product manager at Backcountry to return all their inventory of this item to TNF. Shame. I really wanted to own a HyVent jacket. Not this one. You feel like you're wearing a straight-jacket. I felt like Inspector Dreyfus at the hospital psychiatrique (reference to the Pink Panther).
FYI I am 5' 7, 165 pounds, wear a size medium,42 chest, 35 waist and my >I do not have fat arms<.
Great jacket to cover a suit or sport coat
I searched long and hard to find a really waterproof jacket that doesn't make me look dumb when wearing a suit or sport coat, and this seems to be the only one on the market. All the trench coat-length rainwear for men is "water-resistant", but isn't very effective in real rain; women have lots of options, but no other manufacturer seems to have clued in to the fact that men need this, too. Sure, there are plenty of effective men's jackets out there, but they all stop at or just below the waist, making you look stupid when wearing a coat that hangs below it. I thank North Face, a trustworthy brand making sturdy products, for recognizing than men in suits walking around downtown in the rain don't want to get soaked after a couple of minutes (standard trench coats) or look like they're on a mountainclimbing adventure when they're not.

Only drawback: it's designed to withstand very harsh conditions means it's also kinda heavy, and takes up a moderate amount of room in a suitcase. I put it in my carry-on with no problem, but don't expect it to be a light nylon stuff-in-a-bag item.
My son will be attending college in Boston...
My son will be attending college in Boston next fall. Would this be a good option for walking to classes in the rain? Is this fabric as waterproof as gortex? Thanks, Pam
It is a decent fabric, not quite as good as goretex, but it will definitely work. Most guys I know don't like the longer length of the jacket, so if this is a surprise, I would take that into consideration.
this is a pretty senior-ish jacket, i think both my grandpa's have one...nothing is as waterproof as goretex but some fabrics get pretty close, HyVent is good stuff, id suggest something simple like the North Face Venture jacket or Venture Parka (longer) made out of BETTER HyVent material and looks like a normal rain jacket