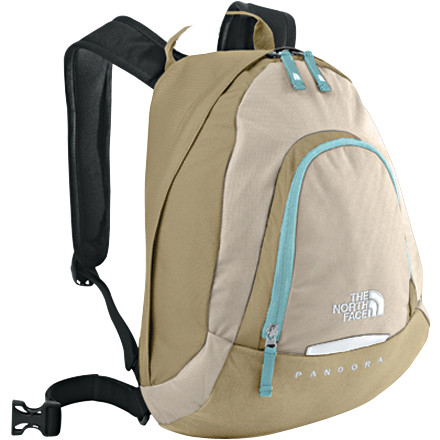 Share your thoughts
What do you think of the
The North Face
Pandora Backpack - Women's - 700cu in
? Share a...
is a good for a highschool bookbag?
is a good for a highschool bookbag?
If you carry all your books in one backpack I'd say 'no', the bag is too small for a full load of classes. If you make trips to your locker full of vampire boy posters in between each class then I think you could make it work. Team Jacob 4 life!!!
No. It's way to small for textbooks.
Unanswered Question
Not up to math right now ( or ever). How...
Not up to math right now ( or ever). How does 700 cu in translate into how tall this backpack is, how wide at base and about how deep front to back?
Perfectly organized itty-bitty pack
This is the perfect small day pack for traveling. I needed a small pack for a trip to the Galapagos Islands, just big enough for an anorak, sunblock, water bottle, etc. Because of the luggage weight restrictions, this bag also had to double as my personal carry-on for my wallet, tickets, passport, book, Iphone, cosmetics, etc. I had read the reviews about how small this bag is, and I was not expecting much, but I was pleasantly surprised at how much more this itty-bitty pack will hold. It has three pocket/compartments in the main section, and three more, including a velcro pocket, inside the front section with a key clip, pencil holders, etc. Besides all the stuff I mentioned, I can get a snorkle and mask, rashguard, plus an extra pair of sandals in there, with room to spare. Now I am using this as a gym bag - perfect size for that. It's sturdy and easy to keep clean too.
Unanswered Question
Does all pandoras have a waist belt ?
Does all pandoras have a waist belt ?
Worth EVERY cute little penny!!!
I had the most perfect Cosmos Pink / Zinc Grey Pandora. It was my ditty bag for two years. I never went anywhere without at least throwing it in the trunk of my car, even when I didn't specifically need it on my back. Mine was part purse, part overnight-bag, part briefcase, part tool-box, and part first-aid kit.

It's short height is PERFECT for riding in the rear saddle on most motorcycles, even on a big touring bike that looks more like Cleopatra's limousine than a motorcycle.

Unfortunately, my Pandora was in the trunk of my car when my car was stolen last Fall. I was far more heartbroken over losing gear than my fully insured car! Priority #1 - replace the car. Priority #2 - replace my beloved Pandora.

I hope The North Face will keep this amazing bag in its line-up for a long time to come, because I've never found anything else with enough pockets to keep-organized everything I could possibly need for a day/overnight trip and then some ... in such a TINY package. I'm actually planning to buy ANOTHER one so that I have one for everyday use and one dedicated just for "outdoor activities" ... just as soon as The North Face rolls out a pretty new pink.

-------

CAUTION: this is *NOT* a good "book bag" for school, because the top of the bag is too narrow to fit your 12-pound hardbound biology book.

Otherwise, grab your TSA-approved 1qt zipper lock bag o'toiletries, lunch, multi-tool, first aid pouch, fresh undies/socks/t-shirt, cell phone charger, journal, mp3 player, emergency contacts, and HIT THE ROAD!

While it's not a back country pack by any definition -- if you're going some place where you can travel light, the Pandora *CAN* be far more than just a "day pack". Makes for a nice skiing/snowboarding pack too!
The only Pandora's box you'll want to open!
LOVE these little pandoras. Just big enough to fit all the essentials, and small enough to snatch up in a hurry, when you've gotta go NOW! I highly recommend! SEASONS GREETINGS!
.hi. ym i want to know is this size good...
.hi. ym i want to know is this size good for an 8th grader??
Yeah. I think it'd be a great backpack for school, especially with the organizer and internal pockets. And all the cool color combos? Totally eighth grade.
Excellent alternative to a purse. Plenty of room for most common items you would carry in a large purse/small backpack. Excellent quality.
I bought this backpack for a hiking trip in the Smoky Mountains. We were doing small day hiking trips, and this bag was perfect. I think I told my boyfriend ten times how much I love this backpack. It has so many compartments and it keeps your stuff organized. The only 2 complaints I have are it started chaffing my arms when I had a tank top on, and it doesn't have a strap across the chest or waist. But these were never a major issue. I was able to fit band-aids, alcohol wipes, extra contacts, 2 bottles of water, medicine, lunch (pb sandwich, apple, granola bars), a waterproof jacket (very lightweight), my digital camera, small hairbrush, and well you get the idea. It is a small backpack (its a good size for young children grades K-3), so don't buy this for school.
very comfortable and small. does not fit all my books or even a binder. it is big enough to fit a notebook and a couple of pens. i use it to hold my planner, pens, pencil, calculator and notebook.
Smaller than expected, but does the job. If you are going on a bike ride, to the beach, or just running around town...it's great. The colors are great though.
this bag is veryy small then how it looks in this picture...if ur getting it for skool i recommentd u not to get itt!!
hi i would like to purchase for my son who...
hi i would like to purchase for my son who just started pre-k. will it by any chance fit a 9x11 folder inside?
you might have to fold the corners in. thats how small it is. i would not recommend it for school even the front pocket is very tiny. only a couple of pens and pencil and an eraser.I think you'll be hard pressed to find a pack that fits him and will hold a folder that size.
would the pandora fit 4 marble notebooks...
would the pandora fit 4 marble notebooks (100 pages) and a spiral?
No 100 pages of 8.5 x 11 paper in a binder will not fit.
Fashionable and practical
Very attractive and fashionable. I bought this bag for a trip to Europe and it really fit a lot of essentials. Currently I'm using it as a gym bag and overnight bag.
what are the dimensions of the backpack....
what are the dimensions of the backpack. Many reviews say it's too small,, but no where does it list the dimensions.
14 in x 11 in x 6 in (36 cm x 28 cm x 15 cm)taken from the north face website.
This bag is exactly what i wanted and more. It is a perfect size for me....i am goin to take it to the beach with me. when i first saw the picture i thought it was goin to be to big but it isn't. Those of you who are looking for an actual book bag for school this isn't a good bag for that, the picture makes it look a lot bigger than it really is. I looked for a while to find a small bag like this one that was good quality but not too expansive and this was the perfect match.... thanks north face i love it!
I bought this pack to go on a roadtrip, and it worked great I could carry a bottle of water, and my wallet, and still had enought room for items we picked up along the way. Great for a day at the local carvinal also.
Good bag. I bought this bag as a gift and it has served its' purpose extremely well. She uses this bag for work, school, on her bike, and cruising around. Also uses this bag on day hikes, so it does not create specific sweating points which can be super annoying. All in all, great bag!
Perfect small backpack for day hikes. Just what I was looking for nice and compact. Holds a couple bottled waters (for me and the dog) keys, phone, snack, dog toy and small essentials. Very comfy. Soy Beige is a great color combo for any season. Love it!