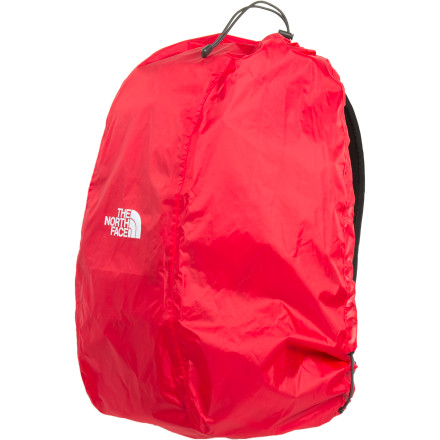 Colors
Description
Wet sucks.
Be ready the next time you're hiking and Mother Nature decides not to cooperate. Pull The North Face Rain Cover out, slide it over your pack and show up at camp later with a load of dry gear.
Unanswered Question
Hi I own the North Face Borealis Backpack - 1709cu and I was curious on what size rain cover I should purchase? Thanks!
Unanswered Question
What size do you recommend for the Alite Hatcher Pack?

It's an external frame pack with the following dimensions:
H 34.0" x W 14.0" x D 8.

Thank you!
What size should I buy for a women's TNF Terra 55 size XS backpack?
Hey Amanda,

I would go with the L size. It will fit packs ranging from 50-70L. There will be some room with that size so it should be a problem if you have some gear on the exterior of that pack.
I have a North Face Surge backpack that I wear while commuting on my motorcycle. It is 33L in size. Since I use it while commuting I don't have it stuffed full - usually no more than 50%. I need a rain cover and think this TNF cover would work great.

Question is which size - Small (which says it works up to 30L) or Medium (35L+). Given I will be on a motorcycle I would like to make sure the cover fits snug but I obviously don't want to get it too small.

Thanks
Best Answer
I use the large (50-70L) on my 60L pack (stuffed) and the cover fits very generously over it; I usually have to get creative to soak up the extra slack. I would definitely suggest a small cover over the medium. You could probably even get away with the XS.
It runs big, very big.!!
Familiarity:

I've used it several times
Still an amazing product, no doubt about that.!!!!
It protects amazingly, not a single drop went through my bag.!!! Thumbs up for north face AGAIN.!!!
But size wise, ITS BIG, I got an XL FOR MY ROUTER TRANSIT, and it's very big, but you can always adjust it.!!! My suggestion is go for smal sizes and you probably still have to adjust.!!!
Hi, I have this 2 bags:
- North face terra 65 (For men)
- North face terra 45 (For Women)
What are the best size to this 2 bags?
Thanks!
Hey Tatiana,



For the Terra 65, you will want to pick up the Large rain cover, and for the Terra 45, you will want to pick up the Medium rain cover.



If you have any other questions, give me a call.

800.409.4502, ext. 4790
I have a l/XL conness 70 pack. I'm getting mixed feedback on which size would be appropriate. Would you recommend the L or XL cover? Thanks!
I have the l/xl conness 70 pack and i use the large cover. Definitely a worthy purchase. I also use it on my prophet 52.
EXC
Familiarity:

I've used it several times
excellent product
Unanswered Question
I have an Ogio Squadron 15 backpack and I was wondering what size cover would fit? Thanks.
Kept my 34 L pack nice and dry
Familiarity:

I've used it several times
When I first opened the box, I thought that the cover looked a bit cheap, but I put it to the test on a recent Everest Base Camp trek. A sudden snow storm forced me to be hiking in mixed precipitation for 7 hours. My pack stayed dry, and water beaded right off the cover. It's nice and light, and the draw string is easy to use in a rushed situation. I was carrying a 34L Mountain Hardwear pack, and a size medium fit perfectly with a little room to spare.
Looks like you are out of the Large, will they be restocked, or am

I better off ordering elsewhere? I assume large is the right size for a TNF Banchee 65?
Best Answer
Hey Konrad, no a large will NOT be big enough. You most definitely will need the XL. The sizing on these is almost a size off. I have a 46 liter pack and the medium which is supposed to cover up to 45 liters was too small - even with my bag not fully packed. Hope this helps!
Arc'Teryx Altra 65
Familiarity:

I've used it several times
I bought this as an inexpensive option my Arc'teryx Altra 65 pack. Fully loaded, the Large didn't fit my pack. If I wasn't so loaded up, I think this would've worked just fine. I still used it and it kept my pack dry, just had a hard time staying on at the bottom.
What size would I need for a Drago Tracker backpack 18"x11"x11" (1,800 cu in)? I'd like a snug fit (but not impossibly tight). Thanks!
Best Answer
That pack is about 29.5 L in volume, I would suggest the S for this pack cover. It will fit up to a 30 L volume pack.
What size should I get for an Osprey Aether 70L pack if I plan on having some stuff attached to the outside of the pack?
Hey There,

As long as its not bulky you should be fine with the L. Also, Osprey makes a rain cover as well, item #OSP0131, which will fit better on your pack.

What are you planning on having strapped to the outside of the pack? Give me a call at 1-800-409-4502 ext 4446 or email at gconner@backcountry.com and I'd be glad to discuss packs and gear with you further.
What rain cover should be ordered for the Limekiln backpack?
Hey Suthrnlv,



You are probably going to want to find this rain cover in a size small. for that pack.
I have the North Face Terra 45, and I see...
I have the North Face Terra 45, and I see that the medium would fit. However, if I have it packed to the brim (without any additional pieces outside of pack besides water bottle), will it still be okay? I'm worried about it being too small, as I noticed somebody else said so. Thanks!
You should be fine with the Medium still. They typically over size the rain covers a little for people who overpack or pack on the outside.
What is the suitable rain cover Size for...
What is the suitable rain cover Size for Surge II (32 L.) and Router (41 L.)?
Best Answer
Hey Toni,



Seeing as this item is out of stock, I'd personally go with the Osprey UL Raincover in a size Small. The size small covers packs from 20-40 liters, so it will definitely fit your Surge II, but may be a tad of a squeeze for the Router.



Hope this helps!
what size is it for a 33L hot shot?
what size is it for a 33L hot shot?
Best Answer
Being in between sizes this rain cover really isn't the best choice for your pack. They typically leave a little room in these for any external items that might need to be covered so you might be able to get away with the size small for a really tight fit or the size Medium for a loose fit. Personally I would go with a tight fit over a loose fit.
Least Expensive... but not cheap
Familiarity:

I've used it several times
Bought this for an upcoming trip and chose it because every other option was a lot more expensive.

I wore it over my 25L pack from EMS. It rained, I used it, bag stayed dry. There isn't much else to explain. This product performed task it was designed for flawlessly. Not sure what more expensive covers could possibly offer to justify price difference.

Bungee cinch allowed cover to fit tight around bag. Bright red color is cool.
For the North Face Women Banchee 65L, what...
For the North Face Women Banchee 65L, what size do u recommend?
A size Large is the recommended size for your North Face Women Banchee 65L.