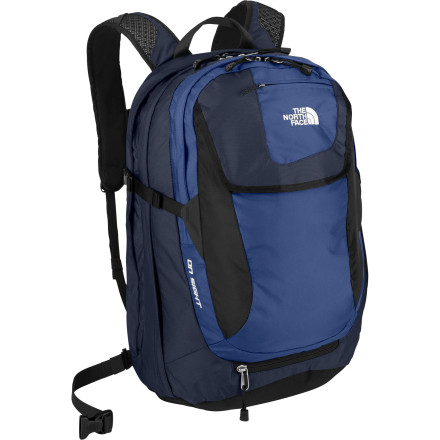 Description
Take the city on.
The North Face On Sight Backpack serves as a superb travel bag or carry-all for urban adventuring. Slip your computer and books in, and bask in The North Face's careful attention to practical design and superior durability.
Padded, water-resistant laptop compartment protects computers with up to 17-inch screens
Padded Airmesh back panel feels comfortable on a hot day
PE sheet offers plenty of back support
Zippered bottom power cord pocket keeps your cord wound up properly and tucked away
Electronics organizer pocket lets you keep your phone and music in an easy-to-find spot
Whistle on sternum strap makes you safer in dark alleys and gives you a great way to startle your friends
Small mesh pocket on the shoulder strap holds five bucks for your coffee and croissant
Share your thoughts
What do you think of the
The North Face
On Sight Backpack - 2200cu in
? Share a...
Unanswered Question
Does anyone have any pictures of this pack?...
Does anyone have any pictures of this pack? Is this pack going to be to large for someone that is 5'6"?
this is a really good backpack ever! i love my new back pack!!!!!!!!
Has anyone used both this pack and the...
Has anyone used both this pack and the North Face Surge daypack? I upgraded to the Surge from my Recon when I started carrying a laptop frequently. The Surge has excellent padding for front and back impacts, but no protection for the laptop corners (as the dent in the corner of my Macbook can attest). Would this pack offer better protection for a laptop? Also, can anyone compare the usefulness of the pocket configurations? Thanks!
Best Answer
I just bought the North Face On Sight and love it. I had bought the original Surge last year and my wife and I liked it so much that she bought one too. BUT it is too small for my laptop (17" Monster) It will fit in the bag just not in the 12" zipper, the womens Surge has a 11.5"+/- zipper and the On Sight goes around the bag. The original Surge was just a little too big for my wife's taste. It fit well just big. I saw this was 3L bigger and had a zipper from the bottom of the bag all the way to the top. Laptop fits great, may even fit a smaller 18.5-19" laptop in there if its not too wide. Mine still has room. My wife just bought the women's surge in Bordeaux Red/ Loganberry Red to match her new camera. She LOVES the way it fits but it is about 3L smaller than the original surge. It looks just right on her. We took a 7 day cruise with these bags with a 1yr old and 2.5yr old. We packed all sorts of stuff in these bags and they never filled up. They worked great for around the ship and around the islands. Plus my laptop was always handy.
The 3 bags have the same pocket, and bottle layout except the on sight only has 1 water bottle holder, and no where to hide the lower straps like the surge's do.
All 3 bags are great we love them all. You just need to get the size that is gonna fit you best.

Bag Sizes
On sight 36L
Original surge 33L
Womens Surge 30L

Laptop Zipper Sizes
On sight goes around the bag
Original surge 12" wide
Womens Surge 11.5" wide

Laptop Compartment sizes (internal)
On sight 14"W x 20"L
Original Surge 10.75"W x 18"L (yes smaller than womens width)
Womens Surge 11.5"W x 17"L
Great packpack for urban use, biking, and day hiking (just a handful of minor flaws)
A review only makes sense if your criteria match the reviewers, so here were mine when buying a backpack:

- at least 35 L capacity, but preferably 40 L
- padded laptop compartment
- lots of organizing pockets
- water bottle (full-size, like 1 L Nalgene or Camelback) holder
- compression straps
- water resistant
- both a city/urban backpack, for cycling, and for day hikes
- waist belt strap, but not a full-on padded on like backpacking packs have
- rugged design
- narrow-ish design (I'd rather have it taller than wider)

I did a ton of research, and the North Face On Sight was the winner. I've had it now for 3 months (and worn it nearly every day), so I feel I'm ready to review it. It met all the above criteria hands down. So see the above list for the pros. However, I have four minor complaints, listed below in order of their importance:

1) The water bottle holder is poorly designed. Though it may not look like it, it actually does fit a 1 liter Nalgene or Camelback; it stretches a lot more than you would think. However, my problem is: I don't trust it. (I figured this was going to be a problem when I got it, but the pack was still better than its competitors in the big picture). It's already gotten pretty stretched out so that it can't hold a small water bottle tightly, and I feel like it's eventually going to break. Plus, it should be a tad deeper; my water bottle occasionally falls out. In addition, why not just put one on the other side?? Really not hard to do. Not necessarily that I would carry 2 water bottles (but maybe I would want to), but it gives me the option to store it on a different side depending on how the pack is loaded or if, as happens to me, I like to carry my bike with that arm and that arm sometimes knocks the bottle out.

2) There are no external attachment points. I don't understand why you would ever design a backpack without at least one place to clip a carabiner, for example. There is absolutely nothing. The best you can do is use the compression straps, but that is really janky.

3) The little pocket at the bottom for storing your laptop cord is great, but the zipper needs to be longer. Again, a really minor detail, but still, when your pack is stuffed full, it's actually kinda difficult to get the laptop cord and transformer through that tiny opening (the pocket itself is huge, it's just the opening that is too small).

4) The velcro flap pocket is great, but it needs to have just a bit more volume. When the other pockets are stuffed full, you can barely get anything in the velcro flap pocket. Kinda annoying, especially since the idea of a velcro flap pocket is great since it's so convenient of a place in which to keep commonly-accessed items.

Finally, this isn't really a fault of the backpack as it is the size it is advertised to be, but I wish it was a little bigger, maybe 5 liters more. I just feel that 36 liters is kind of a weird size. I feel like you're either 30 or you're 40. 40 L really fits everything I might need on a day out on my bike, and even could work for a single night backpacking. But again, this isn't really a fault of the backpack ...

In conclusion, this is an awesome pack. It is super rugged with typical North Face high quality design and construction (my previous North Face day pack of a similar size and function has lasted 16 years, and I could probably still get another 1-2 years out of it, and I used it *all* the time, almost daily) and that is the most important part. The laptop compartment will fit a 15.4" laptop *easily* and it has a taped seam seal for the zipper to keep water out (great idea!). There are lots of organizing pockets, and I like the velcro flap on the front (with the above-mentioned caveat that I wish it was a little bigger). Though it is only water resistant, the material of the pack feels waterproof, and that is also huge for me; I feel like it can take anything from being caught in a deluge to being dropped off a cliff. The fit is super comfortable and easily adjustable like any good pack (I especially like the little elastic sleeves on the adjustable straps to keep the tail from dangling around).

If the just improved the water bottle holder and added another on the other side, added some external attachment points, made the zipper for the bottom pocket about 3 inches longer, increased the volume of the velcro flap by 1-2 liters, and then maybe added another couple liters to the main compartment, this would be THE perfect backpack for urban use, biking, and day hiking.
North Face - OnSight Computer Backpack - 11/09
I have a 17 inch Macbook Pro, which is why I chose this pack. I looked very carefully at all the computer packs I could find, and found this pack to be the best for several reasons.
1) It has one of the largest dedicated (separate), fully padded areas to store your computer. Your computer is in a completely separate compartment, and it has a water resistant zipper.
2) It has the most padding, both between your computer and back, as well as between the computer and main storage area. There is also protective padding at the bottom and sides, of the computer storage area, including padding to protect from contact with the zipper.
3) It has one large storage area for books. This area can hold several large books and a binder easily. It has two additional fairly generous compartments with pen and accessory organizers. The outer most compartment has a lid that is fastened by velcro for easy and quick access. I keep my power cord in there. Some may not like the fact that you can not zip this completely closed. There is certainly a risk of things falling out if you get careless in handling the pack or heaven forbid you entrust an airline or other baggage handler with your pack and gear (which I would never do with this pack or any bag holding a valuable computer).

Cons:

This is one of the biggest computer packs available, and for some reason North Face did not include Upper Load Stabilizer Straps. This has not been a big deal, but a pack that can carry this amount of weight should have these.

Here is the most important problem you need to consider, and this is an issue with any computer backpack. Loads pressing against the computer, and your back pressing against the computer. As I mentioned this pack has the best padding and large enough area for a large 17 inch notebook computer. I place my 17 Macbook Pro in a neoprene padded case, and then place this inside the pack. The problem is that this was not enough protection from the contents of the pack. The screen was pressed into the keyboard and permanently damaged. I was extremely fortunate to have this covered under warranty, which it normally is not. I have since added two sheets of 1/4 inch thick plexiglass cut exactly to the dimensions of the interior computer area of the pack. This seems to have done the trick. Still given the value of the contents this pack is designed for, a more robust solution is called for, and not just North Face but other brands of computer backpacks.
i catch the bus in snow and rain and i...
i catch the bus in snow and rain and i need a back pack that can withstand the weather, is this back pack a good choice.
Best Answer
Hi Kim- This pack is a good choice if your laptop is your primary concern. Most packs including this one are built with coated nylon, so only the seams are not waterproof. It will keep your stuff dry in all but the wettest conditions. If you are still worried about keeping your stuff dry, you might want to consider The North Face Ray 20 pack - it is women specific, has a padded laptop sleeve, and comes with a rain fly for total storm protection. Hope this helps-