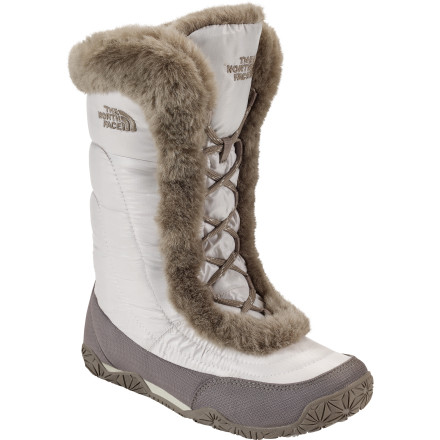 Videos
The North Face's Nuptse Fur IV Boot might look like a fancy fashion accessory, but with its 600-fill down insulation, DWR weather protection, and WinterGrip rubber outsole, this boot definitely packs in plenty of function with all that style.
Uppers and faux-fur trim are made with 100% recycled P.E.T. to look great and keep waste out of landfills
600-Fill down insulation keeps your feet toasty warm without adding extra weight and bulk
DWR fabric coating protects the down insulation from moisture
WinterGrip outsole is made of rubber compound that maintains high-traction levels—even in subzero temperatures
Northotic footbed cradles your foot and provides cushioning and comfort
Nice boot, but....
Familiarity:

I returned this product before using it

Fit:

Runs small
runs a little on the small side. Order the next size up, just to be safe.
The North Face Nuptse Fur IV Boot
Not very warm
Familiarity:

I've used it once or twice and have initial impressions

Fit:

True to size
I was very unhappy with these boots. They're awfully cute, but they aren't much apart from that. First of all, the fuzz falls out and gets on everything. Secondly, the purpose of a winter boot is to keep the cold out, but my tennis shoes offer more insulation than these flimsy boots. While they feel soft and plush, they fair very poorly against the cold and wind. Your feet won't be feeling warm without a pair of very good socks. Additionally, don't even try to take these boots out into the rain or snow. After a 10 minute walk down the road in light snow my feet were soaked. These boots are cute and comfortable to wear indoors or on dry days in late fall. They are by no means an outdoor winter boot.
Do these run true to size in length and...
Do these run true to size in length and width?


Hey Elizabeth, thanks for your question. Yes, these do run true to size but if you plan on wearing a thick winter sock with these boots, I would suggest to go a half size up then your regular shoe size. Hope this helps!
Unanswered Question
Which shoe is more waterproof and warmer...
Which shoe is more waterproof and warmer between the northface nuptse fur IV boot and the northface abbey 3.

I really feel the cold

thank you
I don't usually buy shoes on line, as no two shoes fit the same! But these were perfect! They are light, keep my feet warm and have a nice look. I love them.
The only thing that I don't like about these boots, is that they are not warm! The wind goes right through them when outdoors! So if you want to buy these I say get a size bigger then wear heavy warm socks!
How do the sizes run? Usually a 7. On...
How do the sizes run? Usually a 7. On occasion a 7.5 in shoes if they run narrow or small. Often a 7.5 shoe is too big. In Hunter Boots, i bought a size up to fit the sock liners.
Write your answer here...Honestly I'm still trying to decide if I'm going to keep them. They are like slippers but im finding one boot more snug than the other (never had this problem before?) so is def go up to 7.5. Give them a shot Backcountrys return policy is great!!
Unanswered Question
Write your question here...I usually wear...
Write your question here...I usually wear an 11Wide. How does the width of these boots compare to a normal 11Medium?
Unanswered Question
Does anyone know if the white boots are...
Does anyone know if the white boots are easy to clean, if so what would the best way to clean them to keep them white.
Unanswered Question
hey there does anyone know the upper calf...
hey there does anyone know the upper calf width of these boots? I have a wide calf.!
Is this boot waterproof? I want to wear...
Is this boot waterproof? I want to wear it in WI while shoveling and snowshoeing but need a waterproof boot. Super cute so I hope it is.... Thanks!
This Boot has a waterproof treatment to the fabric, but does not have a waterproof membrane. If you are shoveling in Wet snow, your feet will eventually be wet. The Waterproof coating may work for quick snow missions.

RG
This boot is more suited for regular everyday runs and citylife. I live in NYC. You need the Northface Greenland boot for shoveling and heavier life like snowshoeing and winter hiking. I sprint to the train station in the Nuptse. I love them. I have another pair that are almost exactly the Greenland (it has the fur around the top is all)and the damned things crush the thin layer of ice on the sidewalk (what a boot!).Imagine.
While I didn't purchase this boot at backcountry, I would like to take the opportunity to tell everyone what a truly wonderful boot it is. I do a lot of hunting therefore I have several boots for the outdoors. But, living in Wisconsin with sometimes very cold weather (-15 today with -30 wind chill) I wanted a pair of light warm boots that I could be warm in and that didn't have soles that get hard and difficullt to walk in. The ruff around the top stays snug and doesn't make my legs red and sore from pressure. They are very light, very warm, water proof and have just enough of a lug sole for traction.

I bought my boots locally and it was the last pair in my size. So, I am shopping to purchase another pair! Trouble is, I paid twenty dollars less than what I am finding on line. If I don't find them for a bit less I will be forced to pay more! For sure though, I will have more than one pair of these.
Although the boots look a bit different than on the site, I still think they are cute. I bought them in white in my normal size and they fit perfectly. They are light (feel like clouds), so comfy and the traction is great. I walk in them a couple miles a day. Sometimes my socks get a bit wet, but my feet are NEVER cold in them. I would definitely recommend them and would purchase them again.
Cool,stylish boot! Very comfortable, I want to wear it all day! Good traction in snow and ice. I highly recommend this boot! I would buy it again!
Great site but not a great boot.
I ordered the Moonlight Ivory color and they are definitely shinny! The boot is not very thick and feels like you aren't wearing much at all which may be a plus to some. I am a 9.5 or 10 depending on how the shoe is made so I went with a 10 and it was very narrow and way too tight. The boot is very long and narrow and only comes up to mid shin in height. Not very furry in person either and the material feels cheap. I was so excited to get these boots because I loved the look of them online but was disappointed when I got them and returned them. Cute boot in the picture but not what I was looking for. I wish I would have taken a picture of them on me to upload so everyone could see what they look like. All this said though, Backcountry was excellent with the return process, very easy and fast and I already ordered something else from the site. Great company just not a great boot for me. Thanks Backcountry for making the return process so easy!
How is the heel cup/ankle support with...
How is the heel cup/ankle support with these? The look makes me think more of bootie than boot, but the soles tell a different story... Anyone know how flexible that material is once you get above the foot?
Best Answer
I have a AAAA heel and these boots fit fine. Not too snug and support great. Very nice arch support also. When I first saw them I thought "oh poo, another pair of girlie boots" but when I tried them on I was sold. I am an outdoor gal and want my clothing and footware to be just as warm as a male. I resent it when they put frills in womens outdoor gear instead of function. Hard to find great items but these are boots you won't be sorry you bought. The nylon materal is very flexable and with the tie in the front very adjustable. I love mine. Hope this helps.
How do you clean these boots? My cat peed...
How do you clean these boots? My cat peed on them and I dont want to degrade the material trying to get the smell out
Well, that is unfortunate, I cannot overstate how difficult it is to get that smell out of fabrics. My sister's cat p'd on a bag of mine two years back and after washing, rinsing and multiple other treatments it still reeked. Gave it to a friend while back, still feel bad for that pack. Try Nikwax products and check out http://www.cat-urine.net/

Sorry!
All I can think of is white vinegar and water. Try baking soda even, with some water.
try Bac Out. its an all natural enzyme cleaner. I use it on my cloth diapers.