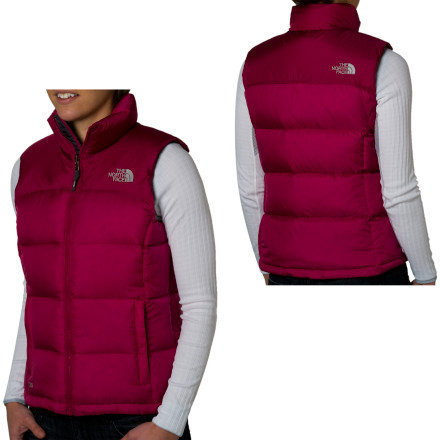 Detail Images
Although The North Face Women's Nuptse Down Vest looks classy enough to wear downtown on a cold day, the tough fabric and lightweight down insulation hold up to mountain adventures, too. Abrasion-resistant panels stand up to backpack straps, and ripstop nylon won't shred the second you lean against a boulder or a tree.
This vest is super comfortable and warm and believe it or not looks very flattering on. I also bought the TKA200 Kimber in Bordeaux Red and it goes nicely with the Nuptse Vest in Loganberry Red.
I love the live chat with Backcountry, they answered all my questons real-time.
Well, my jacket just arrived and I'm just loving it. Love the colour, love the fit, love the extra warmth. I can't really comment on just how warm it is yet because I've only been wearing it for half an hour...and I'm inside. But the rest, fabulous!
Love, love, love this vest. I was kind of nervous it might be a little to puffy. But it is perfect. Very warm and cute! I would definitely buy it again. I got a large I am 5'10 and it is great!
The North Face Nuptse Down vest
Exactly what I was looking for! Very warm but perfect with a tshirt, long sleeve, or turtleneck. Super warm. I get compliments on it a lot.
Excellent core protection.
My fiance and I both have the Nuptse Jackets, and I bought her the Vest as a gift - she loves it as an everyday vest and for warmth in our backcountry adventures. Highly recommended.
I realy love this vest.. So worm and comfy..Not to short, not to long, perfect lengh..Nice pufines.. I recomendet to everyone..
Great fit and flattering, too!
I just received this vest and LOVE it. The fit is exactly what I was looking for and I don't feel like I look like the Michelin Man wearing it, either! I am 5"3' and 104lbs....the XS is perfect. I decided to return The North Face Thunder Down vest (it was a gift) even though the fit was nice because the front of the vest hit me above the waistline, which I felt was awkward. The Nuptse hits right where it should [below the waistline] and I can layer underneath. Yay!
I got this as a gift for myself. Its fits so well! Super warm!! I love it!!
Bought this Vest for my wife for Christmas and she loves it. We took a trip to Park City for the New Year and to say that it was cold would be and under statement, but she did seem to keep warm with the vest. Good stuff!
My wife wanted it and I finally broke down and got it for her. She loves it and can't believe how warm and comfortable it is. Now of course, she wants one in every color.

PS- Between the prices and the low cost to recieve free shipping, you wont find a better deal anywhere else.
Is the loganberry red Nuptse down vest as...
Is the loganberry red Nuptse down vest as it appears on this website (rich red color)? It looks more pinkish/burgandy (much lighter red) on the North Face and other websites . Also, is it sized similarly to the Aconcagua vest? Thanks for your help!
Best Answer
The color of this vest is fushcia pink. It's not red or burgundy, nor is it bright pink. I don't know the answer to your other question.
Absoutely love this vest not a bad thing about it!
I need a size L, pink vest in the North...
I need a size L, pink vest in the North Face Nuptse Down Vest. Do you have any of those?
Hey,

Unfortunately not. I also don't show anymore coming in stock any time soon, sorry for the inconvenience.
I love this vest so so much I have them in Black, Light Blue, Pink, Red, and Salmon. In womens I have some smalls and meds and then I all so have a girls XL. I actually really like the girls XL the best and it was cheaper too!!! It not as big as the ladies Med but not to small. Love wearing a sweatshirts under it. No need for a full winter coat with this vest.
love this vest it is super warm I would also recommend the khumbs or pumori fleece to go underneath you will never need another jacket. Th rain coats are great too. New England winter can be cold.
Unanswered Question
Hi there, I'm after a black XS Nuptse...
Hi there,

I'm after a black XS Nuptse vest, however I live in Australia & Oz has completly sold out (yes, the entire country!!!) I prepared to pay adittion UPS express shipping. Would you be able to ship one to me?

Many thanks,
Meshele
Hi i am after a size S in black, are there...
Hi i am after a size S in black, are there any in stock or anywhere else I may be able to source one from ?
Hi,

Try this (available as at 9 Jun 8.30am) :
(prices differ from Backcountry though)

1. Black, S :
http://www.rei.com/product/783441?preferredSku=7834410016&cm_mmc=cse_froogle-_-datafeed-_-product-_-7834410016&mr:trackingCode=A53DB1FE-FB85-DE11-B7F3-0019B9C043EB&mr:referralID=NA

2. Black, High Shine, (means this is a glossy/shiny wet-look finish), S :
http://www.moosejaw.com/moosejaw/shop/product_The-North-Face-Women-s-Novelty-Nuptse-Vest-_10088960____?cm_mmc=CSE-_-GoogleBase-_-na-_-The-North-Face-Women-s-Novelty-Nuptse-Vest-&ad_id=GoogleBase
, ☃bcs_badge_alumni_label☃
No, sorry sold out. I don't expect to see any more until next fall/ winter season.
Hi, try this.
3 websites in stock; am assuming u want a White, in Medium (in stock as of Fri 28 8.30pm).
There are also other sites in M for other colors.
Happy shopping..!

1) http://www.altrec.com/the-north-face/womens-nuptse-vest?sku_id=643782&cm_mmc=Mercent-_-Froogle-_-The%20North%20Face-_-58013-643782&mr:trackingCode=5A0D8768-30A1-DE11-97D7-0019B9C2BEFD&mr:referralID=NA

2) http://www.shopsnowbirdski.com/wonuvesnwh.html

3) https://www.mountainsports.com/MSshop.asp?Option=Delete&Detail=1
I bought this vest for the coming winter (moving to NYC in June), but I had a chance to test it out during an unexpected April cold snap. It's the best of all worlds: lightweight, warm, comfortable. I didn't have any problems with the length like some reviewers, but I'm average height (5'6"). Drawstring waist keeps it from riding up, which is a huge plus. And it's compressible enough that it fits under my parka for that extra layer of warmth when it gets really cold.
Cute puffer vest, probably very warm. I'm tall, just under 6' and it was an inch or 2 too short for me.