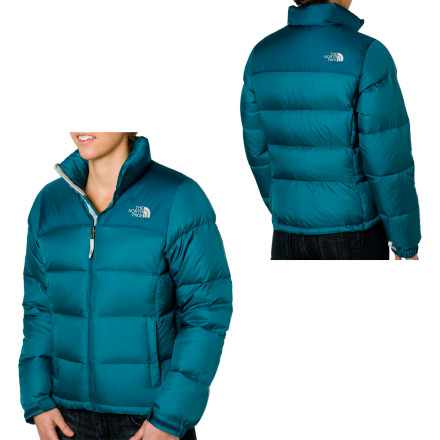 Detail Images
If it's too cold to wear The North Face Women's Nuptse Down Jacket, you must've exited our solar system. This coat is one of The North Face's all-time best sellers, and it's clear why. Lightweight, incredibly warm 700-fill goose down keeps you comfortable in the most brutal conditions, and it compresses easily for packing. Reinforced shoulders and a water-resistant finish make the Nuptse Jacket sturdy and practical, and a female-specific fit helps you feel like a lady from frigid base camp to the wintry city streets. Layer it under a shell to cruise comfortably all day on the coldest, wettest ski days. *Please note: TNF outerwear tends to run a larger than you might normally wear. Please consult the sizing chart to determine your proper TNF size.
Is this a good jacket to wear as a winter...
Is this a good jacket to wear as a winter coat to keep me extra warm? I live in Kentucky.
Best Answer
Hi, the Nuptse Down Jacket will keep you very warm! It has a 700 fill rate - good enough to keep you warm into the negatives. :)
Why did the price jump 20$?
Why did the price jump 20$?
, ☃bcs_badge_alumni_label☃
because material prices have increased, and labor wages have increased. and the US dollar has decreased
super warm and great looking
Love the nuptse. Great looking and super warm. Backcountry always delivers a great deal and stands behind it.
Is the Loganberry Red really as pink as...
Is the Loganberry Red really as pink as it looks in this picture?
Just got the loganberry. It actually looks maroonish pink......not red at all...
Great jacket, but sending it back
I am 5'4" and weigh 105 lbs. I am not a petite because of my height and 99% of the time wear an XS. This XS is tight fitting (I tried it on with only a t-shirt), so I can't fit a sweater on underneath it. The main problem, though, is that the sleeves are about an inch (or more) too short! I have to send it back and I see that they no longer have an smalls. It was a great deal- I wish it had worked for me. Also love the color (loganberry red).
I bought this jacket as a gift for my GF, she is a bit skinny and is always cold, those days are over, she says she doesnt need any layer down this one, only a single shirt and will never feel any cold.
the material looks great and has awesome breathable capacity so u dont heat over. Has some water resistant also, still i do not recommended for past experiences when goose down filled jackets get wet the feathers in it may compress with each other and will never be as new again..
Unanswered Question
what is the lenght of sleeves, width and...
what is the lenght of sleeves, width and lenght of the jacket in size M and L please
Great jacket! I only got to wear it once though because now the weather is too warm. It will get tested better next winter. It fits perfectly and it is not too poofy.
This jacket is fantastic - I have previously had a white one which I loved apart from the fact that it does show the dirt easily. This green one is amazing.
Is down coming out of the jacket normal? My...
Is down coming out of the jacket normal?

My wife has had her jacket for two months and loves it. However she has noticed that down has been coming out of the jacket in different spots. Sometimes there is down coming out of the seems, and sometimes just in the middle of the jacket. She has taken great care of it. The good news is Backcountry did the exchange, but my question is, should I expect the replacement to have the same problem?
Best Answer
Yes. With high quality down and lightweight shell materials, little down clusters will poke through every so often. When they do so, grab them from the other side of the baffle and pull them back into it. Afterwards, work the material around it to help tighten the fibers where it was poking through. If you can't get the cluster back into the baffle, let it fall out on its own and then work the material.
Whatever you do - don't pull the clusters out. That makes the hole bigger and it won't be able to tighten back down.
I was a little worried when I first received the jacket, as it seemed WAY too puffy, and I nearly returned it! But I tried it on a few times, and soon got used to it, and now I just don't want to take it off - it is SO warm and snug, and really comfortable to move around in. You can just wear a t-shirt underneath, and still be toasty, which is something you probably couldn't in a thinner down jacket on a cold day. I also think it's one of the nicest looking puffy jackets out there. So, I'm glad I didn't send it back!
I bought this jacket about 2-3 years ago and I just love it! I've used it for cold days and I've taken it on ski trips. It's very warm and light (a little bit puffy, but I don't mind)...I'm about to get one for my mother!
Was wondering is this a good jacket for...
Was wondering is this a good jacket for skiing?
Sasha,

This jacket will be VERRRRRY warm which, depending on how hard you're skiing, might be perfect. This is a 700-fill down (I've been known to wear my 800-fill on particularly disagreeable ski days) and the outer material is not as super-durable or waterproof as "ski" jackets. However, if you don't plan on falling often, are a fair-weather skier, and don't mind unzipping during long runs, this will work nicely... This will also be much lighter and compress more than a normal ski jacket.

If you're just looking for a ski jacket and don't necessarily need the light-weight warmth of a puffy, I'd look at ski jackets specifically. However, a warm puffy is a beautiful thing and should never be overlooked (especially when they're on sale).

Happy trails!
I'm 5'8" and 150#s. Unfortunately, a Medium was a good fit but was too short in the arms and body. The Large was way too poofy but was the better length in the arms and body. Be prepared for this jacket to be very poofy. It is very warm though.
Love, Love, Love My Northface Jacket
This jacket is awesome. I would recommend it for anyone looking for warmth, comfort and style.

The jacket has exceeded my expectations for warmth. The quality and quantity of down suggests that this should be warmth, which is why I settled on this particular jacket. I live in the northern part of the US where winters see temperatures below zero frequently and I am an outdoor enthusiast so I like to spend time outdoors even in the cold. I can attest that this jacket will keep you warm even when the temperatures are freezing.

It also looks very stylish. I had to order it in a medium though I am normally a small.

I would say the only downsides I have found are the absence of a hood (which I, of course, knew before I purchased). I also have a longer torso and at times the jacket creeps up a little higher than I would like. I find this with most jackets though in this type of style.

Overall, I am very pleased with this purchase and would highly recommend this jacket.
I bought the jacket for my niece and she just LOVE IT! VERY warm jacket for Chicago. The jacket came in handy for the snow blizzard we had.
If my daughter is 5'4" and 105 pounds,...
If my daughter is 5'4" and 105 pounds, which size should I order, XS or S?
at least a small....if she has arms that are not exstreemly small for her 5'4
I LOVE LOVE LOVE this jacket! I find myself wishing for cold weather just so I can wear it. It keeps me toasty warm but does not look bulky at all. Will definitely order from backcountry.com again!
I got paint on my original North Face Nuptse Down Jacket I got 8 years ago, which I LOVED! Living in Montana and always being cold, the down jacket is a necessity. Already knowing that I liked it so much, I just ordered a new one, which of course didn't disappoint! Highly recommend to anyone wanting to stay warm in the winters. I'm usually a S, but in this I wear the medium so you have room for layers...
I wanted a short jacket to wear on the weekends. I now wear it to work also. Warm and toasty. Highly recommend buying it.