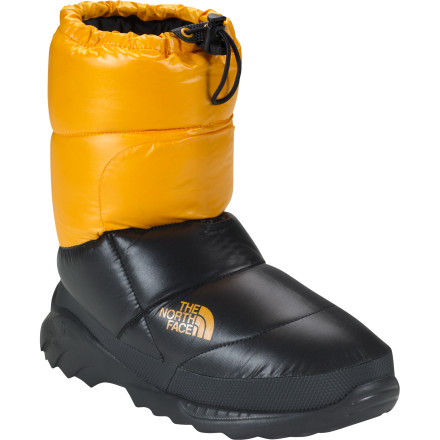 You might be waiting out a storm at base camp, or you might be doing something slightly less hardcore, like shoveling your driveway. The North Face Nuptse Bootie III warms your foot and adds traction to your step either way.
700 Grams of down insulation keeps the chill at bay
Water-resistant, 100%-recycled P.E.T. upper for earth-friendly weather protection
Northotic multi-density footbed adds cushioning and support
Ice Pick temperature-sensitive rubber pods increase traction
I used these at base camp for 10 days and wished the whole time that there was more warmth in the toes. Granted the temps were around -10f. Even doubling up on socks didn't do the trick. As for ease of use and comfort they were great. I would recommend these for hut trips, after skiing or light outdoor use in dry snow since they aren't waterproof. They are super light and pack well.
Do these pack down very well?
Do these pack down very well?
Best Answer
The rubber sole is basically the thickness they pack down to since the down squishes into almost nothing. I'd guess the rear part of the sole is 2in thick.
These things are TOASTY. Great for winter camping, or cold mornings I am sure. Personally they are FANTASTIC for around the house on the stone flooring!
Coffee pot to car, drive to resort!!!
These North Face shoes/boots are great for getting you comfortably from the coffee pot to the car and up to the hill for a good day of pow turns. The shoes are comfortable and are great for basic to and from travel. I would not recommend them for any activities more strenuous than shoveling your car free in the morning (or telling your kids to shovel the car) or shoveling the car free from a powder day at your favorite resort.
I wear 11 1/2. There's NO mention on what...
I wear 11 1/2.
There's NO mention on what to do about HALF sizes.
Do you need to size UP or DOWN?

Thanks!
Best Answer
For most boots and shoes, the rule is to pretty much always size up.
These boots are pretty sweet. I wore these around camp after a 10 hour backpacking trip and kept me nice and toasty when the temperatures dropped. The material is a little different but not a big factor, it's all about comfort
are there only sizes 13 and 14 left????
are there only sizes 13 and 14 left????
Hey,

Unfortunately that's all we've got right now...We should get more in next season though. Sorry for the inconvenience.
my husband wears a 10.5, will the size 10...
my husband wears a 10.5, will the size 10 fit? I notice the sizes don't run in half increments. Thanks.
I usually wear a 9.5 and I got the 9 and they fit well. Hope that helps.
shoveling in a blizzard in IL
I wore these while shoveling for about an hour in 18* blowing snow. These kept my feet warm with some light smartwool socks. Get these from BC or don't get them.
Perfect after a long day of snowshoeing!
Wow! where can do I start. The last few years of snowshoeing, I've been absolutely freezing my feet off sitting around in the snow after a long day of snowshoeing. This year I went snowshoeing in Kings Canyon National park during what was one of the biggest 2 day snow storms in years. The temperatures got down to about -5 degrees and it snowed about 3 feet. I wore these boots while I was preparing dinner and lounging outside my tent and they kept my feet quite nice and warm. I'd recommend getting a waterproof bootie to put around them just to insure they stay dry. Great find!!!
Nice boots, boo for elastic
These are warm, comfortable, light, and have a good grip sole. I don't know how water repellent they are, but they do good in dry snow. I would like the material to be thicker more rigid, they feel like a slipper with a heavy duty sole. The thing I don't like is the elastic around the ankle. It is pretty tight and feels like it is cutting off circulation sometimes. I would like to cut is as someone else has mentioned but don't want to make a hole in material. Not sure what to do, it is quite annoying for me. I like how Sierra Designs does theirs with draw cord, same as at top of these.
Booties are wide, both inside and out. They are comfortable, but not as warm or comfy as Uggs. They are very lightweight, and look like moonboots. Not much support of any kind anywhere on or in the bootie
Are these running small to size, or is the...
Are these running small to size, or is the quoted size accurate.
I don't agree with others that say they run small. I normally wear a 10 and so I ordered an 11 and had to return. I got a 10 and they still had room for thick socks. I also have NF slot gx boots and wear an 11 in those. I would go with what you wear, BC makes it easy to return and use the free shipping to save money...
I added an extra foot bed insert for more cushioning and snipped the elastic band inside the boot at ankle height as it was rubbing above my heel. Otherwise toasty warm and love the light weight. I purchased the larger men's size for thick socks and ease of on/off. Not waterproof.
Does the size of a man's calf matter? My...
Does the size of a man's calf matter? My husband is kind of on the large size.
, ☃bcs_badge_alumni_label☃
These have a 8" shaft height and 13.5" shaft circumference. They are very adjustable and will work for anybody smaller than that.
It's just water-resistant (not water-proof),...
It's just water-resistant (not water-proof), right? Does it mean your feet will be wet pretty soon?
Best Answer
Yep - water-resistant, not waterproof. Probably not the ideal boots for above freezing / wet snow conditions, but man are they nice when it is below freezing. Not your everyday snow boot, but great to break out for after sking / shovel the drive-way / backcountry hut trips / etc.
Hope this helps
How does the sizing run on these? My husband...
How does the sizing run on these? My husband is a 10.5-11 med-wide.
Thanks
My son wears a size 8...these run small. I had to return & get a 9 instead...great boot
Can these used for everyday wear / lots...
Can these used for everyday wear / lots of walking, or are they more like an "around the house" type of thing? I'm wondering if they would work for vacation in Moscow / Siberia this January when the weather isn't quite cold enough to break out my ridiculous Baffin Polar Explorer boots (bought those for the -50 to -75 degree temps in Yakutia).
Best Answer
Hi - I wouldn't go as far as to say that the Nuptse Bootie is good for everyday use, but they are certainly designed for outdoor use. I have worn mine in -20 or so temps in Alaska and they have treated me well. They should hold up just fine for the application that you have described. I have quite a few days in mine - everything from expeditions to driving up to the ski hill, and they are holding up well.
Hope this helps
I wouldnt plan on being too warm if your wearing these things in -50 to -75 degree weather regardless of how far your going
I didn't know if I needed booties. Why not just put on some extra socks at the campsite, or wear my ski boot liners when I need to "step outside" of the snowcave? Well nothing compares to the incredible warmth your feet encounter inside these things, and the rubber soles mean you can grippily and dryly make the trek to any snowy lou. Once you use them, you won't ever go back to the barbaric past you came from.