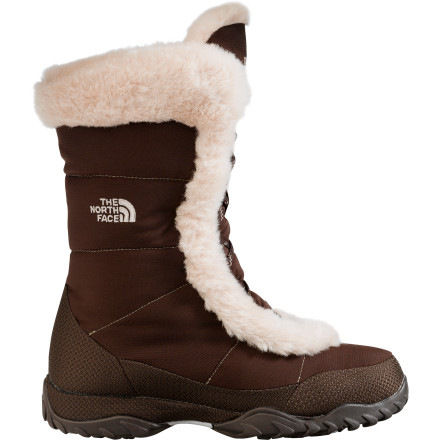 Detail Images
Share your thoughts
What do you think of the
The North Face
Nuptse Fur II Winter Boot - Women's
? Share a...
I thought these boots were way cute so a bought a pair in white. There is no real way to clean them. Ive tried everything and they are dingy brown yuck colored and I have only wore them a couple times.
These boots were just what I was looking for! Light weight and very warm.
I love my boot, it's so warm. I got it to my Nuptse vest.I got a lot of compliment for this boot.
I first saw these at Snowshoe, W. VA., but they did not have my size. I now own three pairs of them, but really, I have to send at least one pair back.....two is all anyone needs! They are the most comfortable boot ever. Not clunky and over exposed like UGGS. Check them out for your self, you will love them.
Cat
Stylish Warm Winter Boots
Went up to Lake Tahoe a few times with these and I absolutely love them. They were warm enough to wear while snowmobiling and playing in the snow. Had enough traction with the snow.
I've gotten many complements on them. They look great w/skinny jeans tucked in.
They do run a tad big. Would recommend you getting a half size smaller than normal.
Only con I found was that I wasn't able to get FREE shipping. However, the package did arrive in just 3 days with regular ground shipping.
Warm and snuggly. 1/2 to 1 full size larger, at least for my foot, and I normally even get 1 size larger in boots. So definitely get your size or the next one down.

We got 6-8 inches of snow for me to test them in and I got no water in them at all.
All I can say is that I am happy that I went with my gut feeling to buy these boots. I initially saw my friend wearing them and waited awhile to purchase. They are stylish, warm and ever so comfortable. They have have that nice rugged look, with a feminine touch. Like the brown color the best as well.
These are the BEST boots in the world....I am 65, but young at heart, and having owned lots of boots in my years these are the first EVER that keep my feet warm, even in Chicago winters. Plus they are sassy...especially for a woman of age! I hope next year they create some with funky prints...and backcountry service was fabulous...
These are the BEST boots I have ever had in my life and I am 65 years old so I've had a few pair in my life. Even though I am a "woman of age" I love the sassy look they give...They are the warmest boots ever and that says plenty for trekking through Chicago winters. I hope next year they come out with some funky patterns...and backcountry's service was out of this world....very speedy and the size runs very true...
My feet are finally warm!
I bought these boots because I work in a basement office where we have little heat and was looking for a lightweight yet very warm and stylish boot. These boots were exactly what I was looking for! They are functional (waterproof as well) and look good as well.
Got these in white for my Girlfriend. She loves them though they don't have as much ankle support as she would have liked. Very warm and cozy. White is hard to keep clean.
I bought the Khombu Tusk boots from Zappos a month ago and it is not waterproof as they advertising. My feet got frozen at 38F in Tahoe.
I decided from BackCountry and I had a wonderful experience, as I chat with Mich P. and he was so helpful.
I just got the boots and they are nice. I wear 9 1/2 and I got the same size, but it is a little big, whoever it is great for a pair or insulate socks.
So I haven't worn these, but I think I will be returning because they look oddly narrow. I don't have wide feet or anything--standard women's 9.5 size. They just look really long and narrow. I have both columbia and sorel and think they look more normal! Very sad as I loved the style.
LOVE LOVE LOVE My new boots!
Wow. These boots are even better than I thought they would be!
Yes, they are true to size -- I am glad I followed the advice of the other reviews! I usually wear a 7 1/2 and I sometimes feel like I need to buy an 8 "just in case" but I got these in a 7 1/2 and they are perfect.

They are beautiful boots, too! Usually warm boots are not this stylish! And another plus is they are not stiff in any way so they seem to let your feet not feel so confined like some boots do.

Also, customer service was awesome. I received these boots quicker than I thought I would and dealing with Back Country has always been a positive experience for me.

Lisa Kidd
First I ordered them in the brown color and they were so cute,comfortable I had to order the white ones-----just hate that living in the deep south I can't wear them as long as I would want to due to the humid weather but you can bet will wear on days that I can.
I LOVE my boots--ordered them in the brown and had to have the white ones also--- very comfortable and would highly recommend them.
I just bought these boots. They haven't...
I just bought these boots. They haven't arrived yet. I paid $107.00 for them plus shipping. Is there any way at all since it is such a new order that I would be able to get them for the sale price? I would very, very much appreciate it. Thank you.
Get on Live Chat, they might knock it down for you.
I love these boots! They are super warm, relatively water resistant (I wouldn't go puddle jumping, but snow brushes off easily without soaking through). Since the actual boot shaft is down-filled, there is not too much support, which is fine for the dog park but not practical for serious winter hikes. I wear an 11 and have a relatively narrow foot & slim ankle, but these fit perfectly with the laces tightened all the way.
Help! I love these boots, but I stepped...
Help! I love these boots, but I stepped into a calf-deep puddle of gross water while wearing them and they flooded. Spot cleaning is not going to do the job. How can I wash them thoroughly? Would it be bad to submerge them?
Sounds like you kinda already did submerge them. I'd try taking them to the dry cleaners.
Has anyone had trouble with getting blisters...
Has anyone had trouble with getting blisters on the back of your heels? I've already had to return two different pairs of boots because of this problem.
I don't know about these boots, but just in general, if you're getting blisters from boots it's probably because you need to break them in more. Get a few blisters for the first week or two that you wear them, and after that they should be good... at least, that's been my experience with boots.