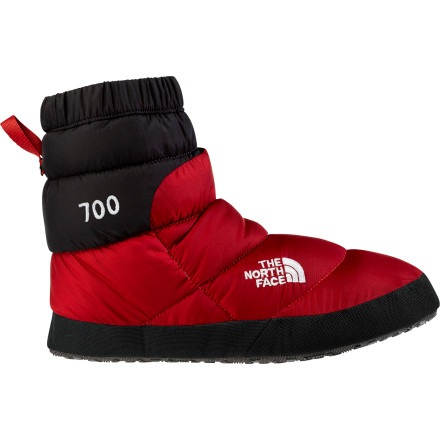 Share your thoughts
What do you think of the
The North Face
NSE Tent Bootie II - Men's
? Share a...
Perfect for tents in mild weather and great for around the pad in the winter
true to size!
Unanswered Question
I wear a size 11us what size would I need...
I wear a size 11us what size would I need to buy from you and do you have them in stock?
I purchased these booties for high altitude mountaineering and winter camping. With a heavy sock, I would rate them at about 10 deg.~F at best. Nice to have in the tent. They kept my feet dry even in the snow however, I wouldn't recommend them in a foot of snow as they suggest in the North Face description of the bootie. I wear a size 12 and bought the XL. The fit was great with enough room for heavy socks but not too slopy with bare feet. We just returned from several climbs in South America. The highest (near 23k ft) being Cero Aconcagua. I would have liked something a little warmer but the wieght to warmth ratio was not bad.
Tons of great uses for these booties! Want warm feet, get these!
I love these Booties! I purchased them with the intent to use while winter camping. Over the last few years, I have found many other uses for them. First, when winter camping, if it gets really cold, I will wear these overnight in my sleeping bag. No more cold feet! When spending the night in backcountry yurts, having these available for late night runs to the toilet (through the snow) is great! While other campers spend several minutes putting their snow boots on, I just slip these on and I'm out the door. Haven't had any issue with getting them wet. My feet seem to stay perfectly dry when trudging through the snow. Next use...after a hard day of skiing, these are perfect to wear during the drive home. You can also use these as "house slippers" if you have drafty hard wood floors. Just be a bit careful because the bottom isn't exactly what I would call grippy. Another warning...these things can get a bit stinky after some extended wear. I found that a quick hand washing takes care of that in a flash! They are true to size for me (medium fit perfect for size 8.5-9 foot). A must buy for anyone who enjoys winter activities and warm feet!
I also live in a frigid house, and I'm poor so I keep the heat turned down. These things make even the chilliest wood floors seem welcoming. And definitely worth their weight in gold when winter camping.
Unanswered Question
Is the size true to size or need to size...
Is the size true to size or need to size up?Different people at various online Q&A are stating one thing or another.I wear Mens size 11 1/2 which would mean Lge but some people state XL.Which is correct? Don't want it TOO roomy or else it won't fit properly!Thanks!
is the insulation really down or is it a...
is the insulation really down or is it a synthetic like primaloft?
It's really down. That's why it says so twice.
I use these slippers every day around the house. I live in a 1930s house with no insulation and heating so anywhere except the main room with the stove gets around 45 degrees. My feet stay warm and comfy. However, the soles are not durable enough to walk around outside a lot.
On a recent backpacking trip, at 2 am the wind was howling the rain was falling and my feet were as warm as they could be. The other hikers told me I had to get these and I thought they were kidding.
But I am a firm believer now
A must for winter camping...
Winter backpacking with these is like winter backpacking with a 11.6 oz heated floor. I love them. It is so nice to get back to camp and whip these COMFY booties on. They are nice and tight against the ankle so no powder gets inside of them and I just can't believe how warm and dry they stay. I'm hooked on these things. (I wear 11.5 in Merrel and got the XL)
very warm and comfortable
My husband loves his, although he has to struggle to get his foot through the small opening. My son says the same thing. They should make the opening a little bigger.
I have never been a fan of cold weather even as a child. My hands and feet are often uncomfortable during the winter season. It can take me several miles just to warm up during a winter jog/run. I wear these Booties inside my home where I'm often chilly as well! So far they are working out well with a pair of socks on for even extra warmth for me. For a lot of people who are more tolerant of the cold I'm sure that they would be more than adequate indeed.
Think they would be good for wearing from...
Think they would be good for wearing from my house to my car, driving to the bus for a ski trip, riding on the bus, and hopping out to put on skis in a parking lot. Then putting them back on after a day of skiing to wear home? Parking lot usually has packed ice and snow? Are they good to wear in lodge too?
Soles are not rugged enough for walking around outside. Try the $79 Nuptses instead.
bought them for my daughter's boyfriend for Christmas...I am sure he will love them because I love mine...they are sooooo warm and comfortable.
Fits great. Really warm. Durable in light snow, caution the rain however. A new fad. North Face needs to put a thicker sole on the bottom and these will sell like hot cakes.
I need them for myself (36 yr old Architect)...
I need them for myself (36 yr old Architect) for commuting on the T in Boston and walking to the job sites and home afterwards. Are these warm enough or what would you recommend? Thank you... Juan Uribe
The bottom of these are soft and not really made for walking around town, any wetness will soak through. North Face also makes a boot called the Nupste bootie. I have a pair of these and they keep my feet super warm, plus the bottoms are kind of a "Croc" material so they are super light and can be worn outside in the snow.
My Father in law has diabetes and as a...
My Father in law has diabetes and as a result his feet have poor circulation and are always cold,Would the The North Face NSE Tent Bootie II be ok to kick around in a house?How silly would they look on a 79 year old man?
These are a great choice! I've used them well below 0ºf in the mountains and my feet have been fine. They always run cold too so that's saying a lot for me. They don't look overly goofy. My wife made fun but my kids stole them from me :)Hope that helps.
How do you clean/wash the tent booties?
How do you clean/wash the tent booties?
You can wash them off with a wet rag or you can throw them in the washing machine. Dry them with some sort of tennis balls or racquet ball and you're good to go. They came very clean.....speaking from experience for sure.Hope that helps.
These look great but I felt the pad is a bit off and you slide around in them . They are very warm
What a lucky find! I guess you expect that from a company like TNF and even more that a great company like Backcountry.com would be on top of it having them available to us. I've always hated trying to lace back up the boots to go tent to tent, or let the laces drag and you have wet, dirty laces. These booties have worn very well and weren't any extra in my pack. They compress extremely well! They're wicked warm so no more cold feet getting into bed after a midnight run to the boys room.