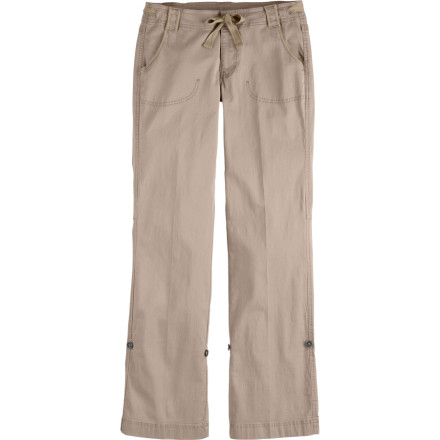 You're about to begin an epic cross country road trip; toss on the North Face Women's Noble Stretch Rollup Pant, because you never know when you'll discover a good sized rock to boulder on. Relax and enjoy the ride in the Noble's 50-UPF rated and stretch-cotton fabric. If the temperature heats up on the road feel free to roll up the pant legs to help cool you down.
Share your thoughts
What do you think of the
The North Face
Noble Stretch Rollup Pant - Women's
? Share a...
Loved 'em so much I order two additional pairs. Can't give a better review than that!
I recently returned from a canoeing, camping, and caving trip deep in the Ozarks in Missouri. It is July - this is a crazy month for intense heat, humidity, and bugs in this part of the nation. These pants truly withstood the tests that this trip put them under. They were, in turn, soaking wet, covered with DEET, and stretched to the max by cave passageways requiring gymnastic feats to squeeze through. They dried within a few hours, even in high humidity. They did not stain, despite stubborn campfires and belly-crawls. I found that I was cooler and more comfortable in them than a pair of shorts that I brought along. At the end of the day, their comfort level was so high that I even wanted to sleep in them (but didn't - they needed to be washed out daily given the circumstances). I cannot believe that such a perfect pair of pants exist - and that I am fortunate enough to own them :).
Like the old version better
The previous version of these pants fit much better-they were looser and more casual.
Although the previous years model of these pants ran about a size larger than marked I found these to be true to size. Just wish I could've gotten the short length. I hemmed these with stitch witchery and they look great and are so soft and comfy. Just the right amount of stretch.
Super soft fabric makes for some very comfy pants! They fit a little loose. I have multiple pairs of North Face pants and always order the same size. These are the only ones that seem a little loose on me. Not loose enough for me to send back though. I love em :)
Great product. They are comfortable with enough stretch that when I climb up to find a better pov (for photographs not rock climbing) I never have any problems. I am short (5'2) and rolled up there are less capri's and more ankle pants. But I expected that when I ordered them. I will definitely buy more of these.
These are the most comfortable pants I have ever owned. Love them! Thanks for the great service too!
I bought these pants a year ago and they are great. They are comfortable and fit great. I am 5'7" and the length is perfect for me. They fit true to size and with the draw string waist, I can adjust the waist so that it fits perfectly.
My wife's favorite hiking pants
She's size 16 - which is frustrating in the outdoor world. And she loves these! Not too tight in the booty and she wears them hiking and even to work on casual Friday.
I love these pants. They are super cute to wear around town or hiking, and I like the fact that they stretch. True to size.
Love Love Love these pants!!
These pants are so comfortable and flattering! I bought both colors in a size 0, which is my normal size. They fit perfectly. I like that there is a drawstring to adjust to make them tight enough to stay up on my narrow hips, as I often have problems with pants sliding down a bit. I am 5'5, 107lbs. The 31' inseam is perfect.
Love them. Can't say enough about them and need to get more pairs before I wear them out. I am 5'4" and they are a bit long but am dealing and might take them in to get the buttons moved up for the rollup purpose. I play soccer and have trouble sometimes with things fitting from the waist to knee area but these are great for me in a 4(wear pants from 4s to 6s). Super comfy too!
These pants are great. I have a straight figure (not curvy) and these pants are perfect. Great stretch and not too tight around the waist.
Odd fit, at least on my body
I wanted to love these pants. They're super soft and well made. And I could deal with the pants being say too long (I'm 5'5" with a 31-inch inseam). But the big gap in the back around the waist was too much for me.

Only Prana's convertible pant seems to be working for me in the hiking pant department. I'll look forward to what Backcountry gets in stock in the next round. More Arc'teryx, I hope.