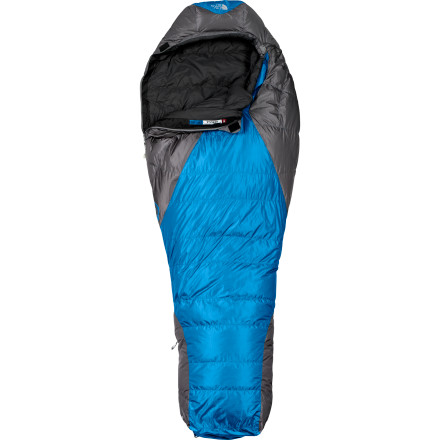 Pull The North Face Nebula Sleeping Bag out of your pack after a long day on the move. You'll be so excited to zip into this warm 15-degree down bag that you may not even set your tent up. No worries, because the HyVent fabric will shed light moisture and, with a sleeping pad, the Nebula will be plenty warm for lying out and watching the stars.
Shadowlite HyVent Shell fabric is durable and waterproof to protect the 800-fill down
Body-mapped-anti-compression pads are aligned with the areas of your body that are more often in contact with your sleeping pad (head, shoulder, butt, feet) to further insulate from the ground
Vaulted foot box is larger so your feet can flex and move naturally to keep your toes warm
Trapezoidal baffle shape holds the down in place and prevents cold spots when you move around in your bag
Glow-in-the-dark zipper pulls so you can get out of your bag for late night trips to pee
Nylon mesh storage sack and compression sack included
What do you think about this product?
Have questions about this product?
TNF Nebula 15 sleeping bag
This is a great bag, light and compacts great. The zipper works well not snagging easly like the cheap stuff.well made and looks cool too. highly recomended for a good 3 season bag.
I been thinking to purchase this 15 bag...
I been thinking to purchase this 15 bag instead the new Marmot Plasma 15.
First because I trust TNF gear and second because it cost $100 less.
But this bucks may worth the difference (or not) so would you like to advice me here on this matter?
Thanks
Best Answer
The biggest differences are weight, hood design, and the waterproof shell. The plasma weighs a lot less.
The hood on the plasma is more fitted, I've noticed cold start to leak after about 4-5 hours around the sides of the hood on my other TNF Summit Series bags... unless you're really pushing the limits on the bag, you won't notice this. When you are, it can be scary. I've combated it by stuffing a puffy jacket into the neck of the bag, which works but is not comfortable.
The HyVent shell makes this bag awesome in situations when you're expecting a lot of condensation dripping off of the tent. I've found it most useful when I'm using my bags in very cold weather when I don't need to use a tent - don't even need to worry about frost on them. In theory, it should work the same way with dew if you're using it in warmer weather.
I have the Nova (same features as the Nebula but a 0 degree bag) and the Hightail, which is more like the Plasma. The Hightail is actually almost as warm as the Nova and I find myself reaching for it 9 times out of 10 because of the lower weight and the more fitted hood. If I had to make the decision, I'd go with the Plasma.
Hi, can you make a price match on this...
Hi, can you make a price match on this sleeping bag?
I found a lower price somewhere else but I prefer to buy here.
Best Answer
Vic, talk to a customer service rep using the "Chat Now" feature. Sometimes they will adjust the price to match or give you a discount off their regular price.
Hi, I just replaced a cold weather bag that had just seen it's time. I did a lot of research and the math always comes back to "warmth to weight ratio." If you want quality go with TNF . I chose to have not quite so much quality and went with the Mountain Hardware Phantom 15 for the weight. Except for the fact that there's no anti-snag tape behind the zipper, I love it.
Frank R.