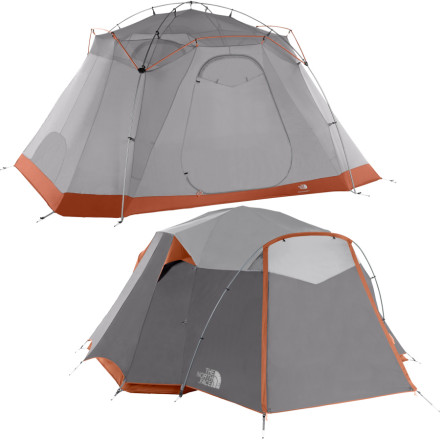 Community Images
The North Face Mountain Manor 8 Bx 8-Person 3-Season Tent is the be all and end all of family camping tents with plenty of space for everyone.
Fully taped seams on floor, PU coating on fly and floor protect against the elements
Room dividers with sealable room vents for added privacy
High and low mesh vents for improved air circulation
Stash your extra gear in the huge poled front vestibule
Comprehensive color-coded pitch for easy set-up
Durable steel stakes that last over time
Duffel-style storage sack included
Great large family tent
Familiarity:

I've used it several times
Our old tent was showing its age and it was time for a new tent. We are a family of 5 and like lots of room to spread out our junk and weight isn't an issue since we are car camping. So this tent was perfect. The tent is large enough to place a queen sized air mattress on each end and still have lots of room in the center for everyone's stuff. The room dividers have two attachment points near the floor so you can adjust the size of the end rooms. One set of attachment points is straight down from where the divider is attached to the ceiling, and there is a second set that in closer to the tent center so that when these are used, the divider angles toward the center, making the end rooms a bit larger. In order to fit the queen sized mattress into the side room, you have to use the angled attachment points. If you let the divider hang straight down, I think a full size mattress would fit.



The materials of constructions are great. We have not tested out any rain storms yet, but the rainfly appears like it could withstand a hurricane. At first I was worried about ventilation, but that is not a problem. The ceiling is fully screened and each door has a small vent near the top. There is also a low vent on each end of the tent. These are great because you can open and close them at night without having to get out of bed. The thing that may bother some is that there isn't really a window. The doors do not have a full screen like most other tents, just the little vent at the top. Not a big deal to us, but some may not like it. It does offer a lot of privacy this way though. It has a nice large vestibule on the front as well as a small one on back. Setup is straight forward but does take a bit of time. Obviously a large 8 person tent is going to take longer than a small 2 person. The only problem I have is that one of the main poles bent after the first use(just an arc, not kinked). I've got different stories as to whether or not this is normal. Overall a great tent
Will you post to the UK this item?
Will you post to the UK this item?
Unfortunately we cannot ship The North Face to Canada, Europe, Australia or New Zealand
My husband is concerned about windows/ve...
My husband is concerned about windows/ventilation since we do a lot of camping in hot/sunny weather. It is hard to tell from the pictures, but I do see folks reporting "good ventilation". How many windows does this tent have do they zip open/closed and is there a skylight?
Thanks
There are two upper windows (annoying - I'd like them to be bigger) on the main doors, two small windows close to the floor, and a large mesh on the ceiling as skylight. The ventilation is fine with or without fly, but if it's really hot, I can't imagine you'd really want the fly on. While it may breathe alright it sill won't feel good to feel all blocked in on a hot night. But it's nice in that other brands these days have too much mesh all over the tent without the fly which takes away too much privacy. This tent offers more privacy than most I think, in that regard. All of the windows (too high or too low - haha) open for air/light or close for complete privacy. I don't have many pics but did find this one from looking up one morning last summer or Fall. Hope it helps. Oh and while you can see through the walls a little, you wouldn't really be able to make anything out. Not as much privacy as some would like but it's not as bad as the picture makes it seem.
I would also like to know the distance...
I would also like to know the distance (width) in inches from the dividers to the outside walls.
I don't know that but I do know that ours (again, the 8-person) fit a queen size air mattress on each side. The inside "wall" does angle a bit if your mattress is too wide (nice option actually) so if you have a super high mattress, it may be a bit awkward. Not sure. Ours was an "all terrain" Aerobed which I think was about 9 or 10" high and it was fine.
Unanswered Question
I was thinking of purchasing the North...
I was thinking of purchasing the North Face Manor in 6 or 8 people to camp in Northern Arizona. I wanted to use 2 cots in there, preferably with the room dividers. I read somewhere that the Manor 6 was 38 @ 67 @ 38. using the dividers. Would like to know the divided for the Manor 8?
Can the fly be rolled up on sides, but...
Can the fly be rolled up on sides, but keep the vestibule?
I don't think this will work as the vestibule is held to the tent by the rest of the rain fly.
are room dividers removable
are room dividers removable
Hey Bill they are not removeable but they do roll up out of the way if you want to use the whole tent undivided. Hope that helps.
I'm thinking about buying the mountain...
I'm thinking about buying the mountain manor 8 or the big agnes big house 6 with vestibule. I know the dimensions of the vestibule for the big agnes but im trying to find more info on the manor 8. Do you have any pictures or numbers. We always have our chariot cougar 2 stroller with us and im trying to figure out if it would fit in the manor 8 vestibule.
Hi Ryan here are some numbers on vestibule size Front 33.2 sqft Back 11.5 sqft. Hope that helps.
We currently own the North Face Meadowlands...
We currently own the North Face Meadowlands 6 (I think it a 6.) Anyway, we love it; easy to put up, will be great for my son's Scouting needs in the future, etc... nothing bad to say about it. For our family camping however, it's just not big enough. We have 3 twin air mattresses and that fills our current tent; not much gear room. Also, neither me nor my husband can stand up in it. Basically, we do state park camping only, not real primitive style. Is this a good tent for that, or can anyone recommend another large, family tent brand I can look at. I've been on the net all day and am a little overwhelmed by the choices. Thank you.
The three that I would recommend would be:

The one you are looking at (TNF Mountain Manor)--very nice but pricey

The Kelty Parthenon 8 (a little less expensive, but still pretty nice) http://www.backcountry.com/kelty-parthenon-8-tent-8-person-3-season , or

The Eureka Tetragon (smaller, but much less expensive) http://www.backcountry.com/eureka-tetragon-1210-tent-8-person-3-season
Marmot Halo 6 is the ultimate 6 man family camping tent.
We are planning on camping during some...
We are planning on camping during some cold weather months...is this a good tent for cold weather?
Depends on your cold weather... are you talking snow storm or just cool temperature?
I was pretty cold in mine in early September, halfway up a mountain in a campground in the NW, but I didn't have a super warm sleeping bag and I was on one end of the tent with plenty of room between me and the next person over. If you have a warm bag, something to put over your nose in case it gets cold (!), sleep in warm clothing/socks and have someone near you for more body warmth, you might be fine - depending again on how cold do you mean by cold. But if it's winter weather, seems to me you're pushing it a bit. One night at that same time I was soooo cold without the fly (we set up in the dark and were too tired to do anymore) and the next night the fly helped. I was still cold but went to sleep with more clothing and my coat on and I was much better.
The Mountain Manor 8 is an awesome family tent! Its huge, solid in wind, water tight, well ventilated, high quality constructed, easy to setup and tall. I really like the size and design of the vestibule. Lots of space and very comfortable. This thing will last a long, long time.

Its heavy, but who cares when you just lift it out of the car, walk 3 steps and then set it up?

Highly recommended!
, ☃bcs_badge_alumni_label☃
The Spacious Mountain Manor!
We are thinking of buying a Mountain Manor...
We are thinking of buying a Mountain Manor tent. Recently we borrowed another brand of tent from a friend. The tent had 2 rooms. The rooms were divided by a just above floor to just above ceiling zip, this meant that no dirt or water in the one room could get to the other room . Do the room dividers on the Mountain Manor 8 work in a similar way?
Best Answer
Nope. The dividers have this zipper thing and it is not waterproof.

Proof? My daughter shot me with a water gun from her room and I TOTALLY got wet. I'm serious. I had to change my boxer shorts.
I would like to buy either the North Face...
I would like to buy either the North Face Mountain Manor 6 or Mountain Manor 8, but need the actual floor dimensions to make my decision. The overall floor area (93 vs. 120 sq. ft.) is less important to me than the floor dimensions. I would like the shortest side to be at least 108 in. long. I realize the floor is not a perfect rectangle, but perhaps you could give me an idea of the peak floor dimensions.

Thanks.
Best Answer
After some more searching found the answer myself:
- Mountain Manor 6 - 11'11"x8'1"
- Mountain Manor 8 - 15'4"x8'1"