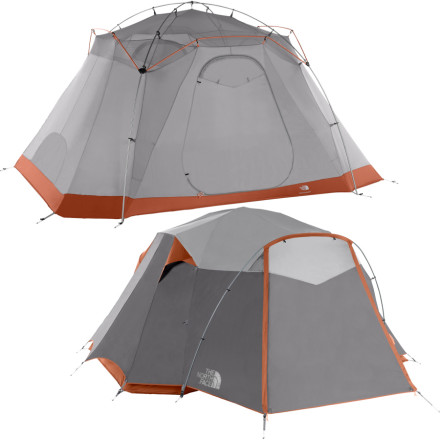 Community Images
Get the family out of the house and into the wilderness with The North Face Mountain Manor 6 BX Tent. This roomy six-person, three-season tent makes you feel right at home and lets you leave life's daily distractions behind.
Color-coded poles with snap-on exterior lash points make pitching easy
Fully taped seams and 3000mm PU-coated oxford nylon floor protects you from the wet ground
High and low zip vents let in fresh air and dump excess heat
Room dividers provide privacy when needed
Duffel-style storage sack keeps everything organized in transit
Simply put, a great tent
Familiarity:

I've used it several times
I have used this tent quite a few times this year, mainly at festavals and as a base sleeping quarters when a bunch of us went on an adventure somewhere. Two of these trips it rained incredably hard and drentched everyone that was not in this tent, the second night it was realy cozy because everyone wanted to be dry. On that note, I know it says 6 person, and 6 will fit without much of an issue, but 6 people with gear will not happen. Just wait for it to go on sale and jump the gun, it is a great tent that is very durrable and (so far) has kept me dry through everything I have been in, and we all know what its like to be in a damp sleeping bag.
Awesome
Familiarity:

I've used it once or twice and have initial impressions
Great tent, very roomy and not too bad on carrying it around. Just that the plastic clips. I broke one, so be careful other then that great tent
A Walk Through The North Face Mountain Manor 6
GREAT customer review of the Mountain Manor 6
I love this tent. It is ALMOST the perfect...
I love this tent. It is ALMOST the perfect tent, but has one serious design flaw: poor ventilation. Spring, Summer or Fall, it's just too hot. I finally gave up last week when I woke up and the tent felt like an oven at 7am (again). So, does anyone know when the next generation of NF family tents will hit the market? How long do product cycles at NF usually run? Thanks
Thanks for the post. I really wanted to buy this tent but we mainly camp in the desert in Dubai where it gets pretty hot and you need to get all the breeze into the tent. Looking at that outer a little more closely it dosnt look like it will purge any heat that is rising. Looks more like its designed for europe. Anybody recommend a hot weather alternative?
Mountain Manor 6 Dimensions
Hi, Does Zippered vents means that I can...
Hi,
Does Zippered vents means that I can close the bottom and door vents during cool nights? I am deciding between Meadowland 6 and Montain Manor 6 and I wonder which one allows me more ventilation control...
Best Answer
That's what it means, but the ceiling is all mesh on both tents. On the Mountain Manor, the lower vents and door vents zip up, so it should be the one that will give you the best control, especially since you were concerned about wind blowing through the lower mesh in one of your previous questions. Even with the fly on, that's where you're going to feel it coming in first.
The cieling should be less concern since the wind blows mostly on the sizes, but I wonder is air heated buy my family of 4 sleeping in the tent would vent faster in a mesh ceiling and make the tent fiil colder. My old 3-seasons TNF stratos, purchased in the late ninties, has zipped venting in the ceilling. I wonder if the stop doing that becuase it is unncesary or just toreduce costs.
Unanswered Question
I am torn between the NF Mountain Manor 6...
I am torn between the NF Mountain Manor 6 and the Kelty Palisade 6........ We car camp in Florida, usually during winter (which means 65 deg at night). Ventilation and dryness are very important. Pls Help.
thanks
This is a great car camping tent! We have used it a couple of times so far and are looking forward to this great piece of gear to last a long time!

Pros:
It is a great size 6 person tent that actually fits 6 comfortably. I am 6ft 3in and can stand up in this thing too. The build quality is superb. I am impressed with the reinforcements everywhere there are clips. All the materials used for everything included is excellent... Poles, stakes, rain fly, even the duffel it comes in is awesome. We had some heavy rain over a couple of days the first time we used this. Water beaded up beautifully on the fly and not a drop of rain got in. The vestibule is big and tall on this. We had no problems with condensation either... the vents on the tent actually work. The clip to pole hub system is pretty slick.

Cons:
It is heavy, not that we plan on packing it anywhere though. Also, I have set it up with two people every time because it is much easier that way. The pole system takes some getting used to. I still don't feel like it is very smooth process to setup for me, even after practicing several times before our trips and after multiple trips with it. I think it is mostly related to the size of the tent and not the actual design. I am sure I will get more proficient at it from time and use.

Recommendation:
This is one awesome 6 person tent! I have experience with plenty of competing products and would recommend this over any of them. This has been a great buy!
Does this model replace the Trailhead 6...
Does this model replace the Trailhead 6 tent?
Best Answer
Bombo - The Mountain Manor is the replacement for the Trailhead series, and there are a number of improvements. The new hub pole system cuts down the number of pole sections needed making the tent significantly lighter - and the clip system (as opposed to sleeves on the Trailhead), make for a much easier set up. Some really nice upgrades.
Hope this helps-
I'm not seeing the old standby, the Trailhead...
I'm not seeing the old standby, the Trailhead 6 on any retailers' websites. Is this tent taking the place of that model in the North Face's line? I hope not because I love that tent.
Best Answer
The Mountain Manor is the replacement for the Trailhead series. I have set up and used both, and the Mountain Manor was a needed update. The pole hub system is much easier to use than the sleeves on the Trailhead - and faster to set up (not to mention lighter...).