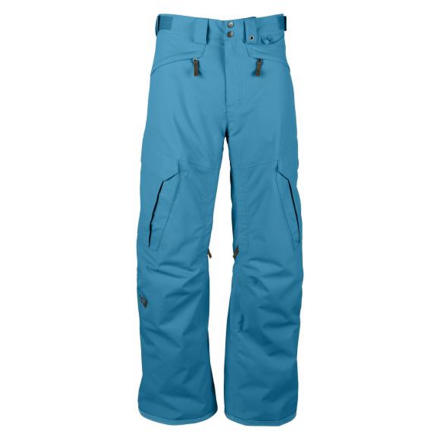 Share your thoughts
What do you think of the
The North Face
Monte Cargo Pant - Men's
? Share a...
The 'select options' drop-down menu above displays all available sizes.
very simple design, bordering on minimalistic. only the front pockets zip closed; the back pockets and cargo pockets use velcro. nice, roomy fit. no bells and whistles on these, just solid construction from a reputable name in outerwear.
This is my go to, for the price you can't beat this pant. They have plenty of insulation and keep you warm on the coldest days. On top of that they have a nice comfortable fit and bomber construction. I have one pair that I've used for a bunch of days over two seasons and they are fully intact and rolling. If you want a warm pant, that's affordable with a good fit, and will last, this is it.
They work and look great, and weren't very expensive. I wore these while skiing 3ft of powder and in blizzard conditions. The pants kept me warm and dry. I don't have one complaint. I also received a bunch of compliments on them. People loved the color! I was also easy to spot on the mountain and in the trees.
I have skied in these pants for the past season and have been very pleased. They are a great economical pant that you don't have to worry about destroying while flying through the trees. The material is very burly and they have a lot of pockets. My only complaint is that they need to have scuff guards at the inner ankle to prevent wear and tear from ski edges.
I have last years electric blue and i couldnt be happier. I have never gotten cold once and sweating is not an issue either. I am 5'10 225 and rock the large. Waist is just right(normally wear a 34-36) length is a little long but with my boots on its a non issue. Great pockets!
Overall a pretty good pant. The fit is awesome (Kinda baggy) and the material is pretty darn water resistant, and tough enough to lay down and chain up your car when the time comes. My only complaint is that, like other people have said, the cuff material shreds easily and gets packed with snow.
Hi, I'm wondering how big the waste is and...
Hi, I'm wondering how big the waste is and how long the inseam is on a medium. I'm 6'2" and have 32" waste on jeans. Will a medium be fine for me?
Best Answer
I'm 6'2" and also have a 32 waist. I ordered a M in the TNF freedom pant last winter and they were to tight in the hip area and were also had a short inseam in my opinion. I dont like really baggy pants. But they may fit different. I went with a large and they are a really concfortable fit. Best of luck
I am a 34inch waist and got a large and they fit well over my impact shorts. After 3 days of skiing the inside ankle material has small cuts from my ski edges, booo. Also, the cuffs need better adjustment capabilities so that the pants don't drag when your in your street shoes.
Definitely a baggy fit. The waterproofing is very good, except for the pockets, which are so-so. Like other TNF pants, the ankle area is already getting a little banged up. I expect them to rip down there pretty soon. Marmot does this best; they have a very tough guard at the ankles. Sick color, electric blue. Overall pant is pretty dope.
I have the North Face Decagon jacket and the Monte Cargo's are the perfect pants to put them together with.
Windproof warm and waterproof, nothing went wrong with these. More of a relaxed fit and basically delivers everything you expect when buying North Face. I liked the pant-a-lock system as I could connect them to my North Face jacket so there was no snow getting in, and the chimney venting worked great if I started getting to hot.
Managed to get mine for $100 which made it even better!
Would rate this 11 out of 10 if only...
PRO:This is probably the nicest pants I've ever bought/had. Pockets are nice and deep, cargo is nice. The thigh vents are a godsend when in the car, hiking up that ridge, etc. The "chimney" venting system or so they call it WORKS... albeit too much. It was below 0 and had some cold wind up my inner thigh to my... Maybe because it was baggy as well, but I could feel the wind when snowboarding. After the weather/me warmed up, it went away. The fit is just like a nice baggy pair of snowboarding pants. Never cold because I wear some sweat pants/snowboarding socks underneath; if it gets hot, then I open up the vents.

CON: Price, but I got it at a outlet for less than $100. I'm 5'6, 135, and this would be so much better if it were 1 inch shorter in length. For some reason, TNF thinks people have 20 inch ankles so the gaiter diameter is huge. What's up TNF?? Seems like they used the same rubber "cuff" for ALL sizes..

If it weren't for the CONS I would have spent the $160 or so on these pants.... but fortunately, I got em for $80, so for the price, they rock!
Im trying to decide between TNF Freedom...
Im trying to decide between TNF Freedom Pant (free fit) and TNF Monte Cargo Pant (park fit)... I'm not sure the difference between the free fit and the park fit: which one is less baggy?
Best Answer
I recently purchased the Monte Cargo pant and owned the Freedom pant a few years ago. I can tell you from both personal experience and from the stats listed that the Cargo pants are baggier and fit obviously more like snowboarding pants whereas the Freedom pant is more for skiing because the area around your knee is tighter as well as around the ankle. I should say that the Cargo pants are not nearly as baggy as Burton pants if you have any experience with them.