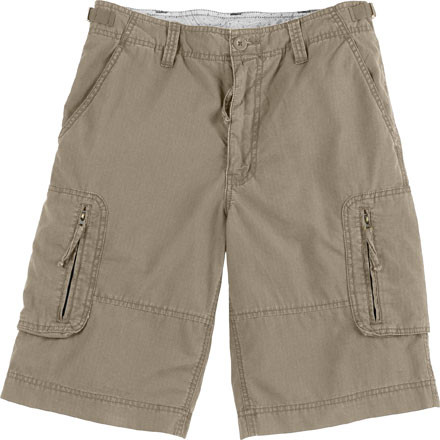 These are great shorts! Comfortable, functional for a day hike or a bbq. Like the verticle zip pockets.

Beware of the sizing though. I liked my grey shorts so well I bought another pair in the lighter colour andd they were significantly smaller. If you're on the edge of a particular size I'd recommend going up a size.
Great do anything shorts.
These fit true to size - adjustable waist band to dial it in even further. Shorts dry quickly when wet, and are very comfortable on long days of wear. Zip pockets give security to wallet, keys, etc. Great shorts all around.
These are nice shorts, but my husband didn't like the way they fit. He likes a really relaxed fit and these are a little less roomy. The fabric is described as "rip stop" so I was expecting a lighter more nylon-ish fabric. These were a bit heavier. They are really nice shorts overall. The pull tabs are pretty neat!
Great fit. Hold up well. Dont cost an arm & a leg.
The hubby loves these NF shorts...so much that I wish you would get more inventory; he barely allows enough time for me to wash them before he dons them again! So, my big wish is this style doesn't get discontinued and you bring back more sizes and colors. Thanks.
I've been looking for a good pair of cargo shorts for a long time now, they all seemed too slim or too baggy, or too long or too short though.
this one is just perfect, great fit, very nice fabric to the touch, overall, the perfect cargo short, only downside (for me) is the zipper fly, I prefer button flies, but that's something I can live with...
nice shorts, light weight and nice built in belts but i did get a little hole in them however a great comfortable pair of shorts.
A very nice short from TNF. Great fit, and quite comfortable. So far very durable which is nice considering some of TNF's quality has diminished recently. I particularly like the pull tabs on the waist that allow me to cinch up the shorts for a perfect fit.
Asphalt Grey bad ass color.
Extremely comfortable and durable. Well worth the cost.