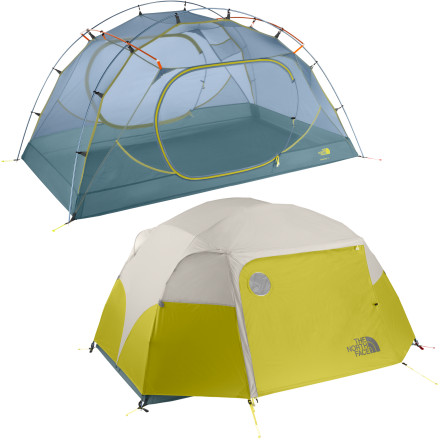 Community Images
If you and your buddy are planning on summiting Kings Peak in Utah this spring, The North Face Minibus 2 Tent is ready to take care of your shelter needs. This three-season, two-person tent has reverse-combi poles and a unique pole configuration to deliver copious amounts of interior space and headroom.
Fly and floor fabric features a PU coating and taped seams to protect you and your gear from wet weather
Bathtub floor design keeps seams off the ground to help eliminate seepage
Double doors make for easy entry and exit; large vestibule storage space lets you keep wet bags and boots outside of your living space
DAC Featherlite poles provide structure and stability without weighing down your pack
Reverse-Combi pole construction utilizes a thicker diameter at the top of the tent and a thinner diameter on the sides, which change the arches of the poles so the tent walls are steeper
Poles made with DAC's Green Anodizing process, which eliminates the chemical polishing stage, reduces the need for hazardous chemicals, and recycles water throughout the rinsing process
Compatible with square gear loft (sold separately)
Fast-pitch compatible; just carry the poles, fly, and footprint to save weight (footprint sold separately)
I <3 this tent!
Gender:

Female

Familiarity:

I've put it through the wringer
Pros:

- Sooooo roomy! I have the 2-man, and you can comfortably have 4 people sitting in there. The roof of the tent is as wide as the footprint.

- It's got glow in the dark zipper pulls so you can find them in the middle of the night.

- I really like the tiny circular window so you can look outside with the rain fly on without getting out of your sleeping bag.

- It has two side doors with big vestibules for easy access, easy in and out, and TONS of gear storage space.

- The tent is mesh so it's great for buggy nights when you'd rather not be in a tent, and also great for star viewing and keeping lots of air flow.

- You can set up the rainfly with just the footprint for some shade or overhead protection without being inside a tent.

- It has inside pockets in all 4 corners.

- I know this doesn't matter terribly, but it is a really cute tent (and it looks like a VW bus :)





Cons:

- It's not the smallest or lightest tent (by default of having so much extra room inside, it uses extra materils)

- it's fine for me (I'm 5"5') but my boyfriend (6"3') says he's a little too crowded because it's not long enough.

- not a winter tent (although it never claimed to be). Because the top is essentially flat, snow (and if it rains a ton) stays on the top and will start to leak through after several hours of inclement weather.

- Set-up is a bit more time consuming than the average 2-pole tent.
What sort of stakes (and how many?) come...
What sort of stakes (and how many?) come with this tent?
It comes with 8 tent stakes.
Does this tent's fly get really tight and...
Does this tent's fly get really tight and nice looking when its set up or is it one of the ones that stays floppy in someplace making it noisy when it is windy?
I have this tent and most times when I set it up, I just throw it over the top and hook it on the poles in each corner and that works for most nights. That method doesn't work that well for rain or wind however. You've got to fasten the Velcro straps to the poles and cinch the fly down real tight, and if you do that, this tent is pretty solid in the wind.
The North Face Minibus Tent Video
This tent could be used in bad weather?
This tent could be used in bad weather?
Yes, this tent would be fine in rain and light snow, maybe even moderate snow. Just make sure you seal the seams first.
Aren't the seams all taped-sealed? I'm not sure you can (or have any need to) seal them further.