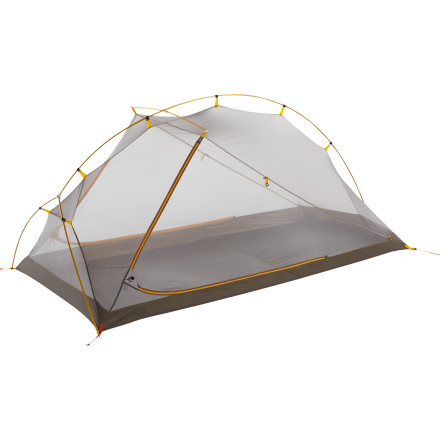 Colors

Videos
Description
Light doesn't have to mean cramped.
Normally, tents are either lightweight or spacious. The North Face Mica FL 2 Tent is the exception to the rule–it's both. The trick is its full mesh main body and lightweight nylon ripstop fly. The mesh main body lets you sleep under the stars without being eaten alive by insects and allows cooling breezes to flow through the tent all night. Amazingly, the just-over-three-pound Mica also boasts a full 38.5 inches of headroom–great for sitting up to read or play cards when the weather isn't cooperating.
Full mesh body is lightweight and airy
Ultralight nylon ripstop fly keeps the weight down and the rain off
DAC Featherlite NSL poles are lightweight and rigid
Two main poles for lightweight rigidity
Crossing ridge pole maximizes interior space and provides a dry entrance
Two doors make it easy to sneak out without disturbing your partner
Two vestibules for plenty of wet storage space
2-person capacity allows you to split carrying
Unique pole design provides tons of headroom without adding a ton of weight
Trail weight of just over 3 pounds for ultralight hiking
High-low ventilation provides increased airflow with fly in place
Fast pitch option weighs just 2.5 pounds
Hubbed poles and color-coded webbing for fast, easy setup
Multiple stake types included for different types of soil
Packs light and small.
Familiarity:

I've used it once or twice and have initial impressions
This is a really light, easy to use tent that is perfect for minimalist camping. I did 4 stars, because it's still new, to me. However, I've been very happy with it and feel confident that it will be an all-star tent.

I love how small this packs down, even with the footprint and rain fly. I was able to strap it all down on the bottom, outside of my pack, which gave me tons of extra room, inside. The width is just enough for two pads, but there's plenty of room for your gear to be stored either at your head, feet, or in the vestibules.

Sitting up is a dream. There is plenty of head room. Also, the views this provides, without the rain fly, are gorgeous. 360 degrees, can't complain!

This is easy, easy, easy to set up. I figured it out, without reading any instructions.

More questions? Let me help!

Emily Jenson
Expert Gearhead
801.746.7587
ejenson@backcountry.com
Love it
Familiarity:

I've put it through the wringer
I don't understand why this tent didn't catch on better. I've owned it for a couple years now, and it's been an absolutely great piece of equipment. I've exposed it to days of driving rain without any significant leakage, it's light, simple, and roomy enough for two 5'5ish people who get along well. I love the mesh upper, although the floor walls could come up just a couple inches higher to improve protection. Bonus, the doors zip in a logical direction, unlike some competing tents.
so many conditions, so much fun
Gender:

Female

Familiarity:

I've put it through the wringer
I originally got this for bike touring with a friend in the rainy Pacific Northwest and the double doors with vestibules were great for two soggy people. It was light, things folded up in different ways so we could split it between bike bags, and was comfortable for two people. I've since used it in cold high elevations with snow in Colorado, crazy mountain rains, and stunning wind in the New Mexican badlands. I've been impressed that it still hasn't had any tears or leaks.

Things I love:
- it survives and thrives in crazy wind/rain/snow conditions. I've always been dry with the footprint and rain fly, in many rainy conditions.
- seriously, I've been so impressed in how it stood up to wind that sent other people's tents into tatters.
- I've had to pack it wet 90% of the time and it dries quickly later and has never had problems with mold.
- it's super comfy for one person and ok for two (I've had gentleman callers who were over 6ft join me)
- condensation hasn't been a problem with the mesh walls vs rainfly
- you can regulate the temperature by opening the vestibules
- it sets up really easily in 5 minutes.
- the details on the tent related to staking it down are very well done (ways to cinch in tighter, etc)

Things I'm still not 100% sold on:
- while it's possible to put up the tent without stakes, you lose floor space and the vestibules, which makes it feel a little floppy. It's not a big problem, and worth it for less weight, but not my favorite thing and would be problematic if you couldn't stake it down and there was any wind.
- it certainly fits two people, but it would be awkward if you weren't cuddling
- it's true to being 3 seasons, as advertised. While I've camped in cold snowy weather, we used every layer possible, and I'm in the market for a 4 season tent for when I expect snow.
Is a footprint required or is the tent's floor robust/waterproof enough on it's own to withstand severe wet weather? Does it have a bathtub type floor? And description or relevant experiences with the floor would be great. Thanks!
A footprint is not required, but highly recommended for any tent to avoid having water seep into it through the floor of the tent being that it is nylon and not a plastic or waterproof material.
Any thoughts on how the lightweight materials...
Any thoughts on how the lightweight materials hold up to heavy sustained rain and wet muddy ground? I've had mixed luck with lightweight tents standing up to New England weather. Am I better off with a heavier but burlier option? If so what would you recommend?
I have a similarly lightweight tent from Mountain Hardware that I used fairly extensively around Maine and New Hampshire for a few years. Now I haven't personally used this tent at all so if it's poorly constructed then what i say doesn't matter, but in general I found the lightweight materials hold up fine. Weather isn't generally that extreme in New England, especially if you pick a good camping spot (usually easy with all the hills and trees around). Good luck!
Light weight
Familiarity:

I've used it once or twice and have initial impressions
This tent will be awesome for backpacking. Very excited to use it and I love the all mesh top so it will feel like we are sleeping under the stars.
what is "packed weight" and what is Trail...
what is "packed weight" and what is Trail Weight?


Packed weight refers to everything that comes with the tent--accessory bags, poles, stakes, fly, body, etc. Trail weight only refers to the absolute minimum needed to pitch the tent--typically, the body, fly, and poles are all that is included in the trail weight.
Anyone know how it does with condensation?...
Anyone know how it does with condensation?
Best Answer
Adam,

The Mica FL is a full mesh body so it breathes extremely well and the double-wall style allows moisture to exit easily. This tent is designed to be a lightweight and breathable 3-season tent, so condensation won't be a major issue in most weather conditions. The lightweight PU coated nylon fly will condense in heavy rain, but your breathability won't be compromised and it won't drip or rub off on your sleeping bag due to the double wall design w/ No-see-um mesh.
Hey Adam, i have had some condensation on this tent when sleeping in the higher alpine areas, but honestly it probably could have been avoided if i had properly staked the fly. It was easy enough to give a quick shake and dried in the sun in the time it took us to eat some breakfast before heading on.
Best 2 man backpacking tent ever?
Familiarity:

I've used it several times
If you are looking for a tent that has a bit more room than the typical 2 man backpacking tent but dont want all the extra weight this is the tent to get. with the 2 door 2 vestibule design it allows you and your partner to have their own space for gear and allows easy entrance and exit to the tent. It's a "freestanding" tent it has one pole making it very light weight as well as offering a fast pitch option allowing you to remove the body of the tent and set it up with just fly and footprint making it around a 2lb tent. which is ideal. The only downfall is that the two bottom corners of the tent will need to be staked out but i have yet to run into the problem of not being able to do this, rocks seem to work and i have also heard of people just using a trekking pole
So i have had this tent the whole summer and it has been hands down on of the best tents i've owned/used to date. I ended up purchasing the footprint to have the ability to use the fast pitch option. I have always wondered how this fast pitch option would work in storms and i got to experience that first hand with hail, rain and winds of 45-50 mph and was quite pleased with how it handled it all below is a small video of our trip, the double vestibule really adds the extra space to make things a bit more comfortable. Unfortunately we were not able to summit, but the experience was well worth it and it made for some good storm watching
It says the tent is freestanding, but it...
It says the tent is freestanding, but it appears at one end there is only a single pole in the middle (right side of picture above). Is this truly a freestanding tent?
Best Answer
So-so. It will stand on its own because of the three points of contact (tripods are stable), but you'll definitely have to fix the brow pole and stake the corners to make it what you would expect a "freestanding" tent to do in the way of taking its final form.
Is a matched groundsheet available?
Is a matched groundsheet available?


Yeah, if you didn't find it already, it's item #TNF8133. Type it into the search box above and it should come up.
How much lighter is the Big Agnes FlyCreek...
How much lighter is the Big Agnes FlyCreek UL vs. this for approximately the same internal space?
The Big Agnes Fly Creek UL2 has 0.3sqft less space, but is the closest in size that you will get and it weighs an entire pound less. 2lb 2oz trail weight and 2lb 10oz packed.
The North Face Mica FL 2 Tent