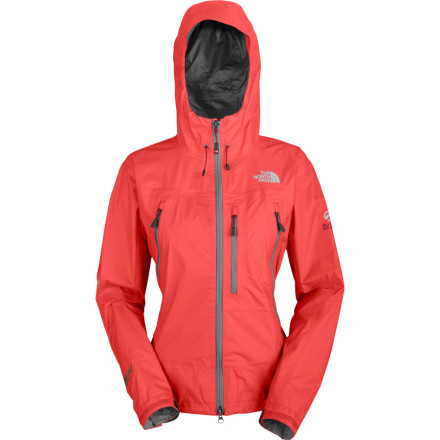 Community Images
a great layering piece, as well as storm protection, for trekking, climbing, and hiking. Wore this jacket almost daily traveling through the country.
This jacket is not to be underestimated. It is extremely lightweight and "paclite". It is minimal to bring and a jacket that will save you when the elements come at you unexpectedly. I bring this jacket as a "just in case" back-up for every adventure I do in the outdoors. It is fully rain and wind proof and has great pockets placement, and zippers for ventilation, when needed. Excellent durable material.

I am 5'8 and an athletic build- Medium fits great for me.

I use this jacket for skiing, climbing, running, hiking, and use around town. It's got a sleek female cut, and a great functional hood. The melon red is also a pretty, bright color.
Not the best jacket for the price.
In my recommendation for a nicely fitting jacket The North Face Meru Paclite Jacket would not be it. I was definetly looking forward to wearing this jacket on ski trips and through the rain but apparently it is UPS bound for return. The jacket is short and seems to be a little larger than i hoped.
Instead I am exchanging the jacket for The North Face K Jacket which is a longer length with a sturdy lining. The price is significantly lower if you go with the Fiesta Red or Ink Blue. I would highly anticipate a better choice if you are looking for a reliable jacket.

Bre :-(
I had high hopes for this jacket since I trust The North Face to make a quality product. Unfortunately, I never got to test out how well it performs in the rain because it just doesn't fit me. I got the XS and it's far too short to do me any good (it hit two or three inches below my belly button, which isn't much help when you want to stay dry) as well as being baggy in the body. The cinches at the bottom are nice, as are the pockets and the fact that the Meru jacket is easily compactible so you can store it in a pocket, but it's just not practical for me and has to go back. I'm sad to say that this one just didn't work out.

For reference, I'm 5' 5 1/2" but long in the torso. Even so, I don't normally find jackets *this* short. They typically hit at the top of my hip, which is better than the fit I have with the Meru but still too short for my tastes.
This jacket will be perfect for hiking and skiing! I had to order up a size to make sure I had room for layers. I'm a size small according to the size chart and I really didn't have enough room to put anything but a fitted midlayer underneath it and still be comfortable. If you need room to layer order up a size. This jacket it very thin, but that's one of the reasons I like it. Because it's so thin it moves with you really well.
Here is a solid informational video about the mens version of this jacket.

http://tnfvideo.com/video/meru-paclite-jacket/
Will this work well for skiing?
Will this work well for skiing?
Paclite jackets are great for skiing, you just have to be sure to layer properly to stay warm. If you are in to backcountry skiing these type of jackets are great since they are so packable and light.
meru paclite at to 21,000ft